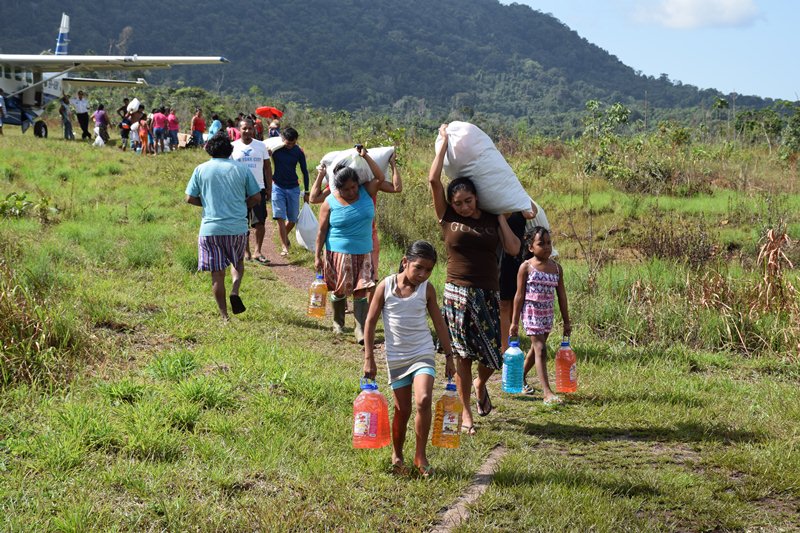 The Ministry of Indigenous Peoples Affairs and Brian Tiwari Aviation Service earlier today collaborated in a major way and brought relief to residents of Region 8 who are affected by flooding due to persistent rain fall.
Several families are affected by the flooding in Chenapou, Sand Hills, Waipa and Karabarupai.
Minister with on the Ministry Valerie Garrido-Lowe and Team meet residents of Chenapou earlier today.
Minister Garrido-Lowe along with the Ministry's Principal Regional Development Officer PRDO Anil Roberts and Management Development Officer Bisham Ramsawak visited Chenapou and Kanapang and assessed the situation there.  More than seventy families have been affected with nine completely losing their homes in Chenapou and more than thirty farms inundated.
Minister Garrido-Lowe said "we visited the health post in Kanapang, at Chenapou, they have medical supplies except for diarrhea, but we are making a list of supplies, and we will send in those supplies that the residents need".
Meanwhile, Food for the Nation which is among the Ministry's biggest donor agencies is playing a major role in the relief efforts with the provision of food supplies and clothing which were flown into the affected areas along with cleaning and other items.
PRDO Roberts said according to residents the water has receded about two and a half feet during the course of yesterday and today bringing hope that the water level will continue to drop.
The Ministry, the CDC and other sister Ministry's will continue to monitor the situation carefully as more relief is being air lifted to the region.
The Ministry is appreciative for the support received from BK Aviation as it ensures it social cooperate responsibility is felt near and far. The Aviation Service today offered an Aircraft free of cost to fly Minister Garrido-Lowe and team to Region 8.
In the meantime, INET Communications has also collaborated with the Ministry and as soon as tomorrow (Saturday May 20) a base will be set up in the area to ensure a line of communication between the Region and the Georgetown Offices of the MoIPA, CDC and the Public Health Ministry is available.
MoIPA and INET have also set up a donation drive campaign seeking the public's help in offering further assist to the affected communities. Donations can be delivered to the Head Office of the Ministry of Indigenous Peoples' Affairs located on 251-252 Thomas and Quamina Streets.