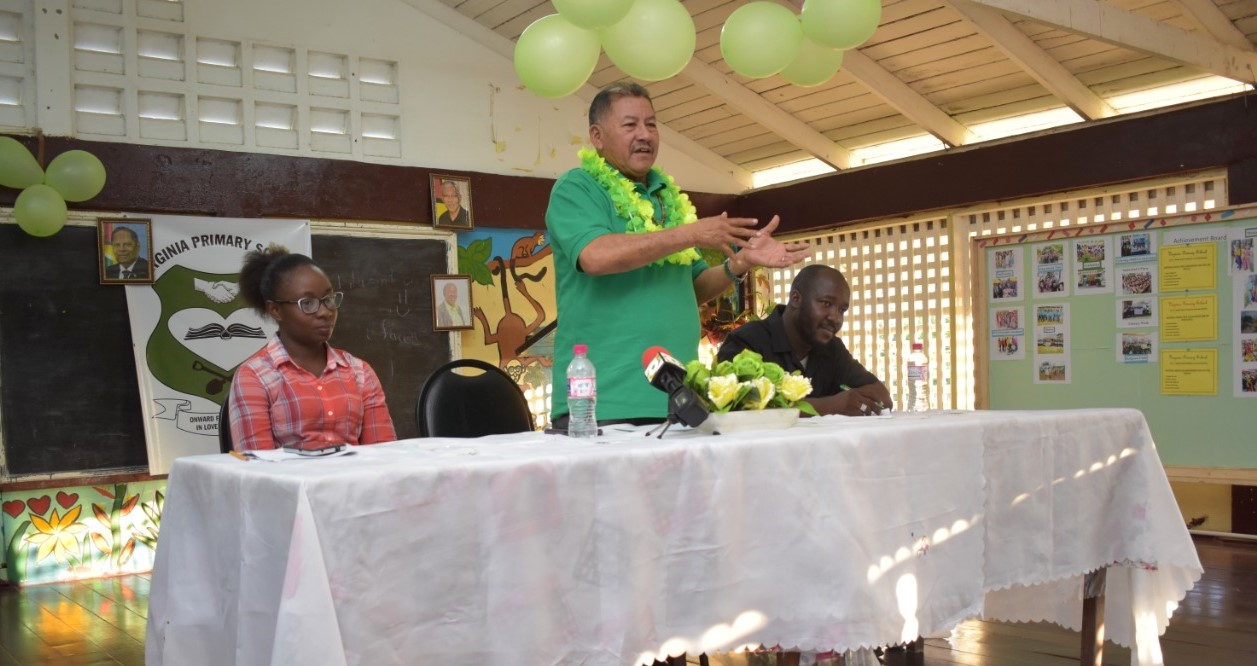 Residents of Cane Grove, Demerara/Mahaica, Region 4 bemoans the deplorable state of the roads in the area which according to one resident last received a major upgrade in 1992.
Road infrastructure, negative effects of the stray catcher's unit, drainage and irrigation, youth development and the unavailability of recreational facilities were among concerns raised by residents during a visit to the Community by Vice President and Minister of Indigenous Peoples' Affairs Sydney Allicock as part of ongoing Ministerial outreaches nationwide.
Hoyte McKenzie a resident who is a farmer said "I can't say is how much years it like that is many is like fifty years it like that so we like our road to be fixed".
Bernard Amsterdam another resident noted that "we are looking for the problem and the solution so for the bridges we are looking to have concrete bridges in the space of the wooden bridges we've been having for years, Hoyte said about fifty years but I can remember that in 1992 was the last time the road was done I think the PPP Government came into power then and after then nothing".
Sections of the crowd attending the Ministerial Outreach in Cane Grove, Mahaica, Region 5.
Minister Allicock said after 2015, the David Granger led coalition Government had to, and continues to address numerous Governance issues since "we had no proper system, all systems had actually broken down and because of that there was not organized progress".
"Before the end of 2015, we were able to have local government elections done in order to put things in place so that persons who would have been elected to positions would be able to be in a better position to manage the affairs of their communities", the Minister added.
Addressing the woes of farmers who complained about the harsh treatment meted out to them by the stray catcher's unit operating in the area, Minister Allicock said the Local Neighborhood Democratic Council must be able to mobilize and effectively bring relief to the affected farmers who during flooding, have no designated space to keep their animals protected.
"here we must have the council to help the people".
McKenzie (farmer) said "the stray catchers are collecting your animals from in your yard and during the flooding they are there three to four times a day rounding up your animals and impounding them".
Speaking on improvements to the community's road infrastructure, Minister Allicock said contact will be made with colleague Minister David Patterson (Minister of Public Infrastructure) to bring relief to residents at the earliest possible time.
Meanwhile, Government continues to place heavy emphasis on youth empowerment and only recently the community received a quantity of sport gear which was donated by the Department of Culture, Youth and Sport with the aim of ensuring the youth become involved in extra curricula activities, which received high commendations.
Steps will also be taken establish an active Sports Club there as well as much needed upgrade to the recreational ground.
Minister Allicock assured villagers that the Government is working assiduously to ensure continued development across the board and the "Good Life" promised is realized.
He said "today we have to be forward thinkers, forward planners because the opportunity is here for every Guyanese to become whatever they want to be. The opportunity is better than other country, I believe, in this hemisphere".
Cane Grove which is located along the Mahaica River has an estimated population six thousand with its main economic activity is agriculture.