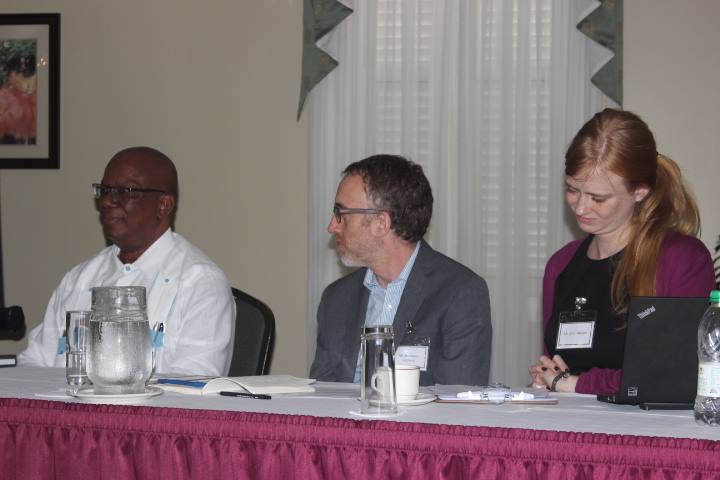 The Ministry of Finance in partnership with the United Nations Development Program UNDP through Innovations for Poverty Action IPA have provided training for staff from a number of Government Agencies in order to improve livelihood programmes within the various institutions.
Finance Minister Winston Jordan reminded representatives from Government Ministries including Ministers of the Government, Permanent Secretaries, Livelihood Program Coordinators and Management and Evaluation Officers of his commitment made during his presentation of the 2017 Budgetary Estimates that "our Government's intention is to ensure results based approaches increasing, programs are required to demonstrate the level of credibility of expenditure allocation on the basis of performance indicators. We have gathered to demonstrate some of the global evidence available from graduating people from poverty and to ensure that we incorporate evidence-based ideas into our thinking as we design or re-design our intention to support sustainable livelihood and create jobs."
In keeping with the employment objective Minister Jordan continued by pointing out that opportunities must be made available which will gainfully and meaningfully engage the citizenry.
"Work must not only be seen as a source of income and a pathway out of poverty, but also as a means of self-fulfillment and social inclusion. As part of our strategy for sustainable green growth our Government is pursuing programs to support employment especially for small entrepreneurs whose idea and innovation will provide the basis for growth and economic diversification in years to come."
To ensure opportunities are available to all, Minister Jordan said the current livelihood programmes target vulnerable and disadvantaged populations, including young people, women and residents of rural and hinterland regions.
The Finance Minister remains optimistic that guidelines to direct program designs will be formulated to transform the several livelihood programs currently being implemented.
One such program undertaken by the Ministry of Indigenous Peoples' Affairs is the Hinterland Employment and Youth Service HEYS and it and is hoped that information garnered during the conference will ensure the program meets its desired opbectives.
It also focused on projects that fall under the Amerindian Development Program ADF's Community Development Plans.
The final session of the three day conference saw the agencies and organizations represented develop a short proposal on improvements of their respective livelihood programs by incorporating evidence from previous studies and by increasing the use of evaluation.
The conference was conducted by Ms. Kelsey Wright who is the Program Manager for IPA's Social Protection Program and who currently manages a six-country randomized control trial of integrated social safety net programs in Francophone West Africa and Mr. Nathaniel Goldberg Program Director IPA.
Among the Government Minister in attendance was Minister within the Ministry of Indigenous Peoples' Affairs Valerie Garrido-Lowe and Permanent Secretary within the Ministry Mr. Vibert Welch.