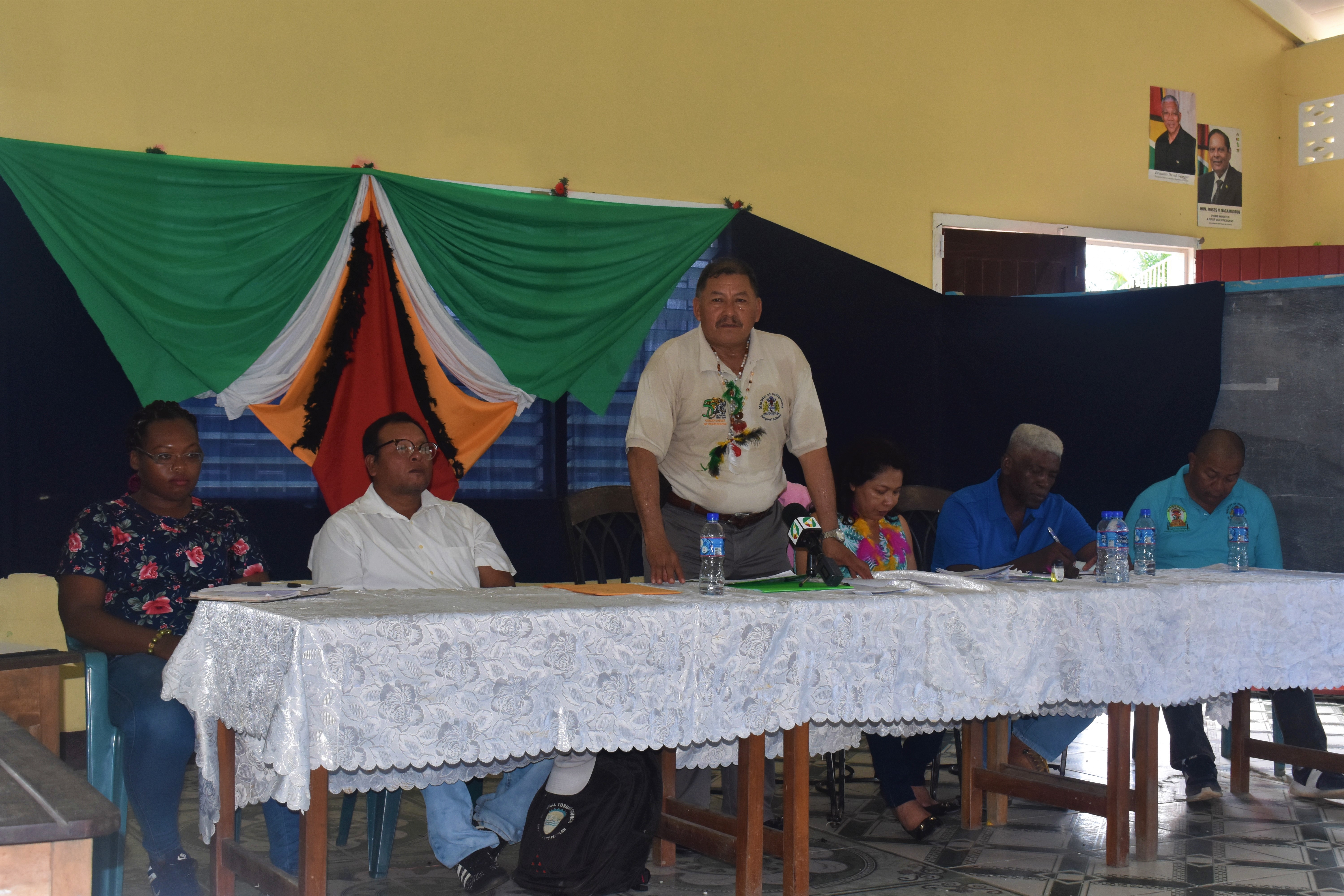 Some twenty five families are now proud owners of a new home through Governments Hinterland Housing Development Program which was successfully executed in Sebai, Matarkai sub-district, Barima-Waini, Region 1.
Among the beneficiaries were young mothers and pensioners who were selected through a transparent process conducted by the village.
Among the beneficiaries were a mother of four children, twenty three years old Melrose Bennett and thirty six year old mother of six, Wavney Benjamin.
Both mothers say how grateful they are to the Government for making the dream of living in a comfortable home a reality.
 A Section of the gathering attending the meeting in Sebai Village. 
During a recent outreach to the village by Vice President and Minister of Indigenous Peoples' Affairs Sydney Allicock and Minister of State Dawn Hastings-Williams and team, Minister Hastings-Williams noted that "the persons now have three bedroom houses with an outhouse and a source of water supply".
The Minister said Government is committed to improving the lives of all citizens since "we are a caring Government, we care for our people especially where you live even if it's a small community you are Guyanese, and Guyana belongs to all of us and that is why whatever opportunities or benefits that are in order must be distributed not really equally but equitably".
Commending the village on a smooth and transparent selection process Minister Hastings-Williams noted that "we will continue to promote transparency and accountability because these monies that you receive are taxpayer's money and it's not free and you ought to cherish it and use it wisely to get maximum benefits".
Meanwhile, residents of Sebai have not only benefitted from housing improvements during this calendar year, but other valuable items.
The Village also received from the Ministry of Indigenous Peoples' Affairs a brush cutter which will be used for village enhancement purposes as well as create job opportunities.
Residents are also beneficiaries of a number of agriculture tools as well as twenty five thousand dollars to purchase plant materials.
Before handing over the items Minister Allicock encouraged residents to "support the council that you put in place, so the more you can support the council the better you will be in your development, more ideas will come and you will have a good future".
The three hundred and seventy two residents of Sebai which is located approximately twenty five miles away from central Port Kaituma depend mainly on logging, small scale farming, fishing and hunting for their daily sustenance.