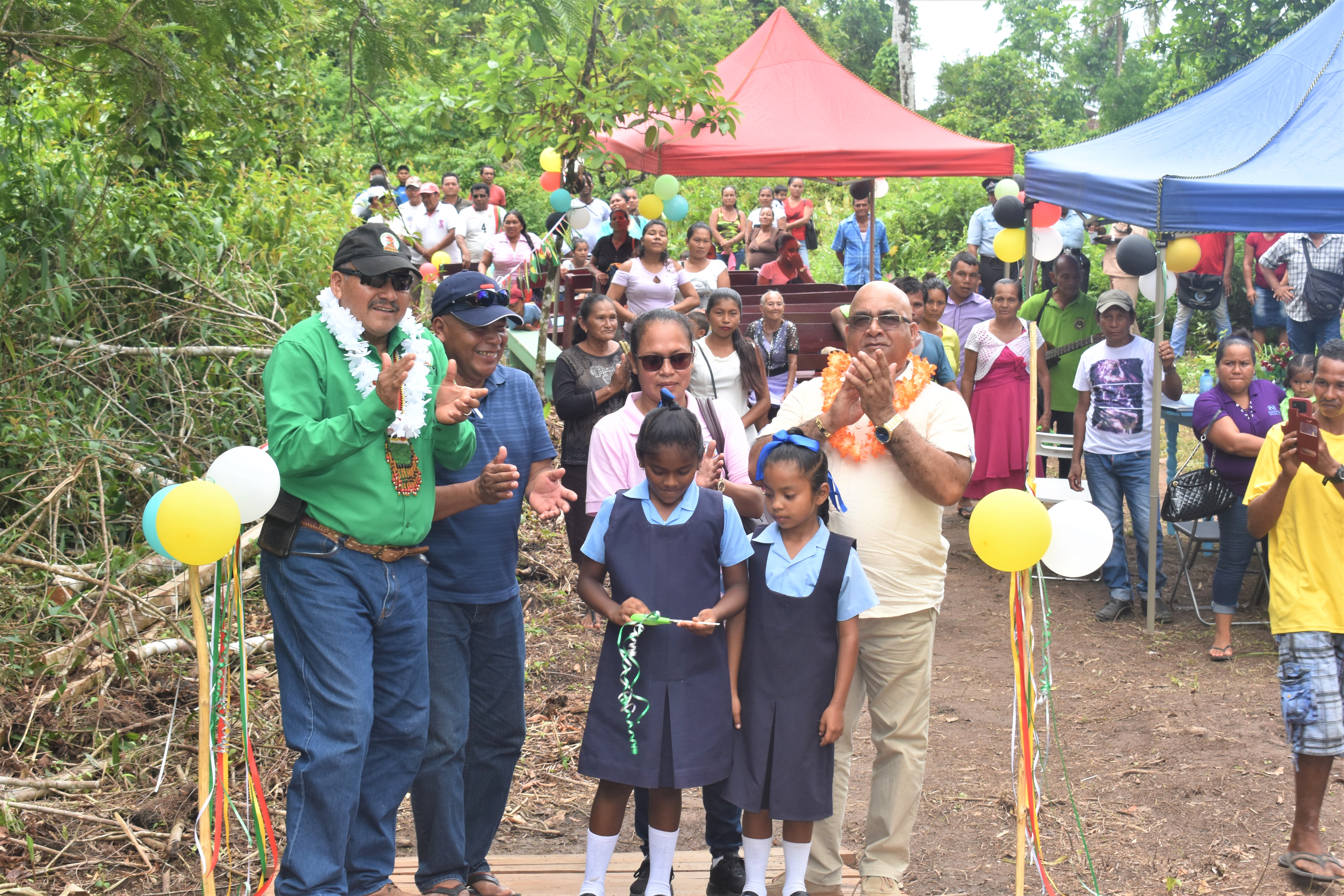 Minister of Indigenous Peoples' Affairs Sydney Allicock on Thursday commissioned a one million dollar bridge in the Upper Koria-Yarshirmima, Wakapoa village, Pomeroon-Supenaam, Region 2 as Government intensify efforts towards bridge the economic and social divide.
The funding is part of capital expenditure under the Ministry of Indigenous Peoples' Affairs and was deemed by Toshao of the Village Howard Cornelius as historic.
Minister of Indigenous Peoples' Affairs Sydney Allicock while addressing residents said Thursday's commissioning is a representation of Governments commitment to development since a request to build bridges within the community fell on deaf ear, however it is now a reality.
This will be the second new bridge constructed in the village since 2015.
The Minister said "I am happy to be here to witness the opening of another new bridge for your comfort, more so for the comfort of the children getting to school easier and quicker… we are happy that we can deliver what we promised you and this a good example of building bridges".
"We are very pleased with the results it has taken time, there's plenty of work to do but with your support, your commitment for the building of your own community…we have seen signs of coming together, and we are hoping that this relationship will continue to grow for the sake of the development of the economy of your community and for the good life of everyone here", Minister Allicock added.
Regional Executive Officer (REO) Denis Jaikaran reaffirmed that "our Government is not an idle Government we do not only make promises, but we deliver on our promises and you would have recognized for the past couple of years every single promise we made to you in this community, in this region and across this country we were able to deliver".
"This is a clear indication that you have a caring government, a government that looks in the direction of your welfare, a government which seeks to sort out with you what are projects to be done and therefore, it is important for us to understand that as we commission this bridge it is bridging the gap between one community at two points and we can use this as a reference to say that as we bridge two points, in our own relationship in this community we should be able to bridge our gaps and to erase the differences that we might face", .
Meanwhile, Toshao Cornelius commended efforts made by residents for the execution of the project noting that "I am very proud of you because of what you have done and as a result we have a bridge and a new road that was open up to the school and as the Toshao we want to pledge our support for the development of this community and we want to work with the Government of the day and the government has been very supportive".
According to the Toshao approximately four hundred residents especially school children and farmers will be the beneficiaries of the project.
Gavin Prince a resident and a beneficiary said "it will benefit us in plenty ways when we have to go to our farm when water high, the hospital, the school because when the water high it does come to like four feet and does got plenty electric eel, big one too so it does be dangerous so now we ain't got to punish when water high you just got to cross the bridge now".
Villagers were asked to continue to work together for the benefit of their village so that the "Good Life" promised can be realized.