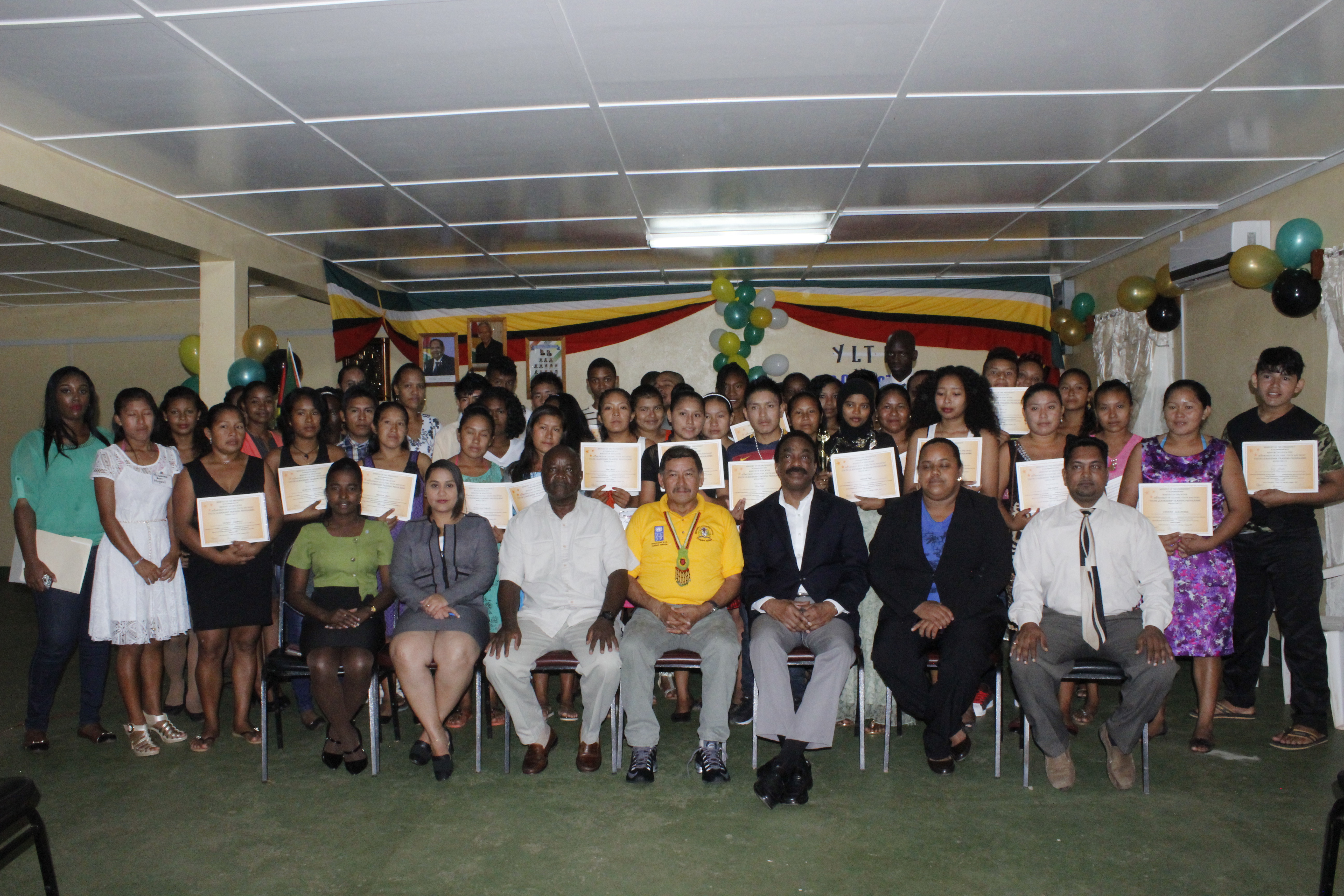 Forty four youths from Region nine are now in possession of valid leadership certificates after successfully completing a one week Youth Leadership Training Program YLTP.
A graduation exercise was held at the Indigenous Peoples' Conference Hall, in Lethem following a one week training program.
Youths were drawn from Moco Moco, St. Ignatius, Culvert City, Nappi, Parishara, Tabatinga and Lethem.
While delivering the charge to graduates, Vice President and Minister of Indigenous Peoples' Affairs Sydney Allicock said "Government has heard the clarion call for the improvement in the quality of our local leaders. We learnt of the need for strengthening or leaders' capacity to negotiate, to conceptualize projects, create project proposals and to record and report on finances."
Minister Allicock who is himself a leader to emulate noted that "it is not by mistake you are being trained it is because it is a need for Guyana and first of all for region nine to be fully prepared for the development that we anticipate. I am quite certain you are aware of the great oil find. We cannot wait until we see the oil we have to prepare now we have to prepare today."
It was emphasized that the incumbent David Arthur Granger led Administration is a listening Government and more so one that care and is always ready to answer to the call as it relates to creating that enabling environment where the nation's youths can be empowered.
Minister Allicock reminded that "education is a right not a privilege," and as prospering pioneers challenged the young minds to make the best of this opportunity.
He added that "your responsibility now must be to ensure you pass on this information to those in your respective villages and communities and find ways of serving your villages and communities using the knowledge you have gained here."
Meanwhile, Presidential Advisor on Youth Empowerment Aubrey Norton who has and continues to work tirelessly to impart knowledge to youths is also the brain child behind the YLT initiative.
Norton came in for high commendation from Minister Allicock who noted that he "remains one of Guyana's foremost youth leaders, he lectured at the University of Guyana for several years and fully understand I believe better than most, the dynamics of education and the progression of youth in the different spheres of life in Guyana."
The Minister noted that because of his work in this capacity the graduates have "benefitted from a high quality of facilitation. Some of you may have found here an awakening that may lead you on to higher education."
Norton told the Ministry's Communications Officer that for years critical youth leadership programs were absent and as such "this is a comprehensive program that seeks to give persons the required information they need to develop as leaders… it emerged because across the country we find a lot of young people are in youth organizations etc but they have not been exposed to training to improve their performance."
He posited that "Government believes that solutions to a number of problems in Guyana will have to be solved at the level of the youth so as part of the trust of youth we have developed a youth policy which will be going to parliament but we can't so we have to do some of the work now."
Minister Allicock said his Ministry is grateful to Mr. Norton and his seven member team from the Ministry of the Presidency for this initiative and is hopeful similar training programs will be carried out in all two hundred and twelve 212 villages and communities since it seeks to compliment the ongoing Hinterland Employment and Youth Service Program HEYS.
This according to the Vice President is a "bold and enormous step taken in fulfilling the coalition government's commitment to Guyana's Indigenous Peoples in a positively impacting way."
Meanwhile, nineteen year old Maxine Welch who is also the Regions youngest Deputy Major and Mark George received awards for exemplifying best leadership qualities, while the most outstanding personality male went to Frederick Stephen while Hayeeyah Asgar took home the female award.
The facilitators for the Program include Head of Education and Training Ronald Austin Jr., Head of Research and Planning Adeti De Jesus, Head of Administration Fayon Marshall and Community Officers Fiona Hamilton, Atisha Daly and Suraj Narine.
According to Austin this is the fifth leadership program conducted so far for 2016 with engaged youths from Regions 2, 3, 4,5,6,7 and 10 at the Ministry of Education, Department of Culture, Youth and Sports' Madewini Training camp.
The graduation exercise was also attended by Legal Affairs Minister Basil Williams, Region Nine Assistant Regional Executive Officer Althea Fitzpatrick, friends, relatives and well-wishers.