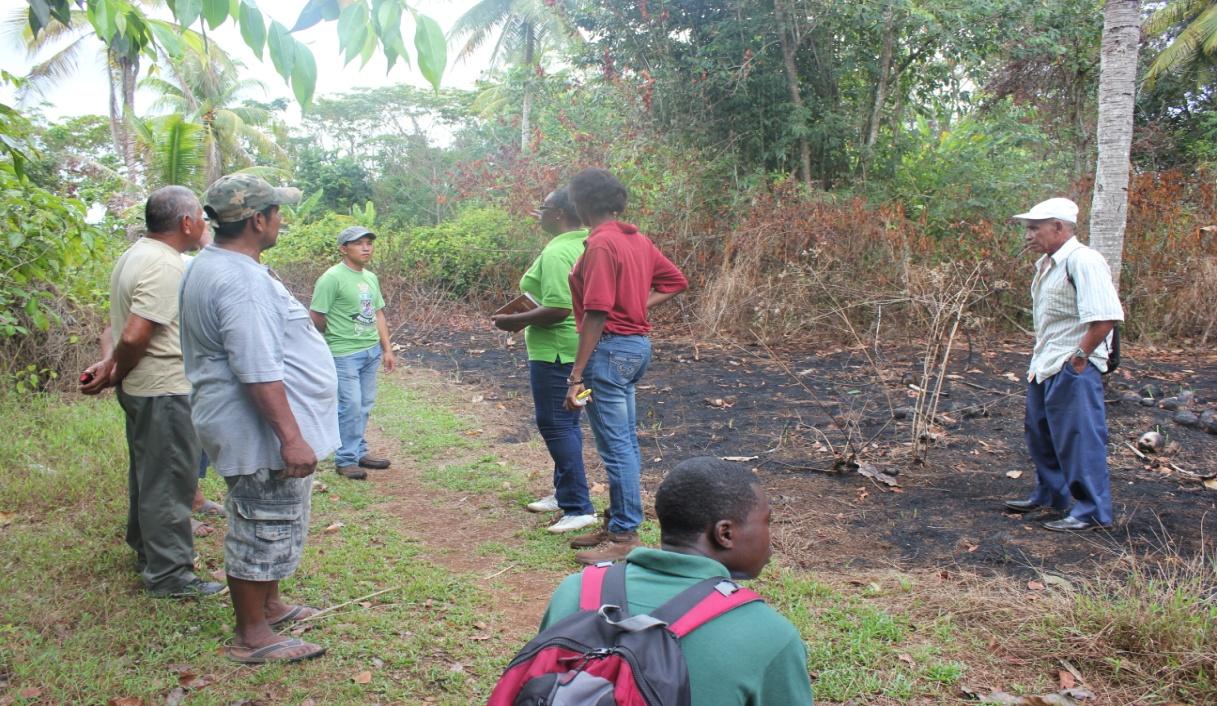 To ensure the readiness of Amerindian villages and communities for the initiation of their community projects financed under the Amerindian Development Fund (ADF) through the GRIF , the Ministry of Amerindian Affairs (MoAA) together with partner entity UNDP embarked on a scoping Mission for 8 villages/communities in Region 1 from April 17 to April 24.
Technical officers from the two lead implementing agencies and a group of technical experts from NAREI, Guyana Livestock Development Authority (GLDA), and Ministry of Agriculture's Fisheries Department visited the sites of the various projects and advised farmers and villagers on the technical requisites of their projects.
MoAA staff explained the background of the projects that emanated from villagers since 2010; the process by which these projects were chosen by villagers and how these are now being funded through the LCDS. The UNDP officers meanwhile discussed possible financial mechanisms, the budgets for each project, record keeping, procurement plans and Monitoring and Evaluation. It must be recalled that on March 22-23 this year, the Toshaos of the 27 Villages chosen for the initial implementation of their Community Development Plans (CDPs) attended the ADF-GRIF launch and initiation seminar to officially start the implementation phase of the various economic project. $5M is allotted for each community/village under this project.
The villages/communities that were visited by the team include: Kamwatta ,Morucca (Hussar Production); Manawarin (Cassava Farming), Waikarebi (Sustainable Logging), Barabina (Poultry); Hobodeia (Ginger Farming), Three Brothers (Hussar Production); Baramita ( Village Shop); and Four Miles (Honey Production). The team met with villagers and village officials to discuss the projects.
The technical team is composed of:
MOAA: Renato Gonzales, Oragnisational Development Advisor and Kalima Ali, Project Officer
UNDP: Kenroy Roach, Monitoring and Evaluation Officer; Ronald Cumberbatch, Community Development Facilitator; and Gian Luca Nocera, Financial Expert
NAREI: Premdat Beecham, Agronomist
GLDA: Collin Bascomb, Livestock Development Officer
Fisheries Department: Raulston Gillette, Aquaculture Specialist
Regional Chairman Paul Pierre, also joined the team in the Morucca and Mabaruma visits, while AREO of Matarkai sub-region, Gerald Rodrigues accompanied the team in Baramita. Regional Officers of GLDA and NAREI likewise joined the group.
MoAA Community Development Officers were also part of the team and they facilitated the entire course of the scoping mission. The second wave of visits will be conducted in Region 9 next month.