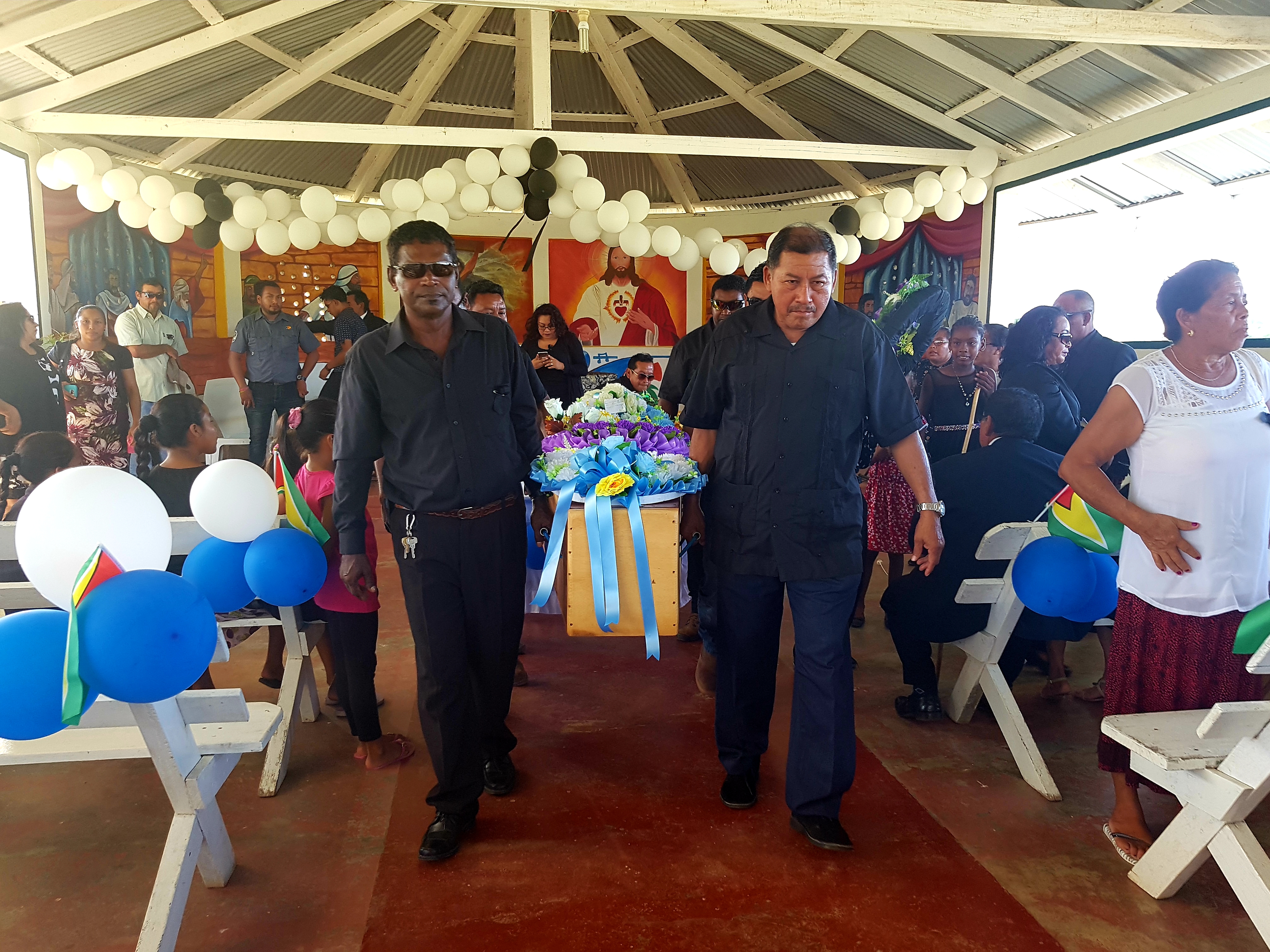 Ministers Dawn Hastings-Williams and Dr. George Norton joined Regional Officials, Staff in the Ministry of Indigenous Peoples' Affairs, relatives, friends and villagers as they paid final respects to the late Robert Fredrick Allicock, M.S at a moving farewell in his home village of Suruma, Region 9 (North Rupununi) on Monday.
Uncle Fred as he was fondly known was the father of Vice President and Minister of Indigenous Peoples' Affairs Sydney Allicock, M.S.
He will be remembered for his staunch contribution to conservation and is nationally recognized for his role in establishing the Iwokrama Field Station in 1993.
Minister of State Dawn Hastings-Williams in expressing profound sadness at his passing, noted that "I am quite sure that V.P (V.P Allicock) is quite proud of his father and all the other brothers and sisters and more so as in indigenous man, I am proud of the late Robert Fredrick Allicock to know that he lived and lived well".
On behalf of the Government, Minister Hastings-Williams said "I wish to bring our deepest sympathy. It is a very difficult time when you lose someone that you love so dearly, someone who you see as a role model, someone who you look up to as a stalwart and especially someone who cared and loved…I also want you to be comforted as we sang the song "Because he Lives" we can all face tomorrow".
Minister of Social Cohesion Dr. George Norton in celebrating the life of Uncle Fred noted that "Mr. Allicock had to wait for twenty three long years before that medal that he so well deserved that Medal of Service to be bestowed upon him. I want to say here today that, that's a medal he deserved in no uncertain terms. And I wish all of you friends, admirers and particularly the many great grands, look upon Robert Fredrick Allicock, M.S as an example, he was an icon, one that you can follow and be a leader to your people".
Mervin Williams who was recently sworn in as a Member of Parliament and who is also Advisor to Vice President Sydney Allicock said "I believe that we can pay tribute, and the best way we can do that to leaders such as Uncle Fred is by recording for posterity, the works, the accomplishment, the humour, the energy, finding a way to record it so that grandchildren and great, great grandchildren and those yet unborn can benefit from the teachings of great people such as Uncle Fred. I think it is a debt that is owed to him".
"I believe, that knowing the family as I do, the History of Robert Fredrick Allicock is in good hands and would be appropriately recorded and we will all share that history if not in the formal education system, at least in the lives of our young people in indigenous villages across the length and breadth of Guyana" he added.
There were also tributes from Regional Executive Officer Carl Parker, popular radio personality Michael Williams and other friends and relatives.
During the Eulogy, grand daughter Sarah Allicock in remembering the jovial and professional grandfather she was blessed to have, said "he was an icon for most us and almost an institutional figure, an embodiment of the values of the greatest generation. He lived a life that was full of pride, joy and happiness".
President David Granger in 2016 bestowed on Mr. Robert Fredrick Allicock Guyana' 5th National Award the 'Medal of Service'.
Mr. Allicock passed away on Sunday, May 12, thirty nine days shy of his eighty eight birthday.
He has left to mourn his wife Francisca Allicock, thirteen children and more than a hundred and fifty grand and great grandchildren.