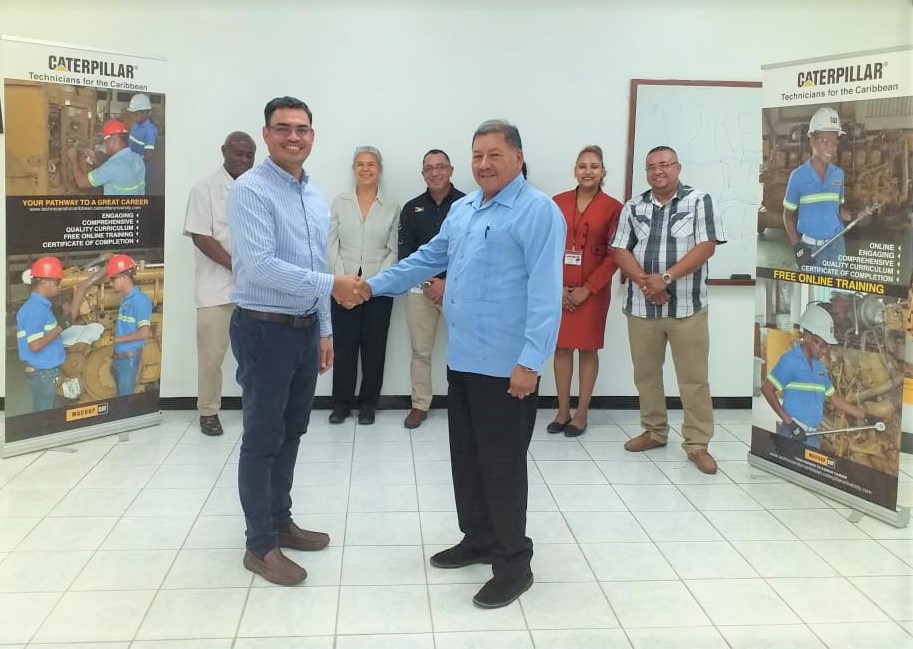 A Memorandum of Understanding (MoU) between the Ministry of Indigenous Peoples' Affairs and Machinery Corporation of Guyana (MACORP) was on Monday signed with the aim of assuring growth and development of youth across the hinterland with respect to Education for Empowerment within the primary productive sectors.
The MoU will see the delivery of specialized training through MACORPS "Technicians for the Caribbean" Program which will target approximately one thousand youth, sixteen years and older.
Before the signing, Vice President and Minister of Indigenous Peoples' Affairs Sydney Allicock said he is pleased with the strides made following prior discussion and he noted that "I believe this is the way how business should go or development should, go because time waits on no one and the longer we wait we could miss the boat and the hinterland is a key component in this development".
Minister Sydney Allicock and MACORP's Chief Executive Officer Guillermo Escarraga and staff of the Ministry and MACORP share a light moment after the signing of the MoU. 
The Minister added that "I really love the concept and for me this is the type of thing that Guyana needs forward thinking, forward planning and for a country that is taking off we should be on that first flight and here is an opportunity for us to make it work".
The success of this open collaboration according to MACORP's Chief Executive Officer Guillermo Escarraga will weigh heavily on the willingness of technicians to complete the program.
He added that "as required we will be visiting and providing the assistance and the training department in MACORP is committed to assisting in the completion of this program for many students. It's for a good cause and we are excited to be working with you during this partnership".
This past June, during a tour of MACORPS' Providence location, Minister Allicock pointed out that the Bina Hill Institute for Learning which is located in Region 9 (North Rupununi), is perfectly positioned to capitalize on this opportunity since Agriculture is among its main focus as well as its role in spare heading Government's Green State Development Thrust.
Bina Hill's Principal Dr. Laureen Pierre who also witnessed the signing noted that "this is very important to have because I have had young men in the Rupununi say to me I can operate all of these things and when is MACORP coming, and we need to be able to fix things (machinery):.
MACORP currently offers a free six-month training under its Technicians for the Caribbean Project which provides extensive training for young people, making them eligible for employment internationally.
Technicians are expected to complete the mandatory six hundred hours of training to successfully complete the program which caters for three main categories.
Category one caters for persons with some amount of knowledge and experience and who do not possess qualifications from a recognized institution, category two caters for persons who successfully complete a formal secondary level of learning including a vocational institution.
The third category caters for persons who want to learn, or a person desirous of becoming a technician with no limitations.
According to MACORPS top brass, the company continues to see remarkable success since it thrives on "getting it right the first time, every time" as the company lives up to its Motto of Lets Build Guyana Together.