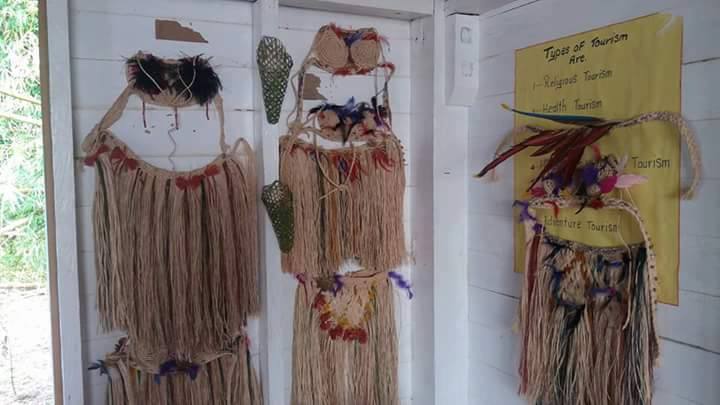 The Batavia women's Handicraft Centre is meeting its objective of generating income for the women and by extension their families.
The Village received $M2.798 from the Ministry in 2015 to undertake a Handcraft Production Centre for the Women's Group.
The center is thriving due to prudent management of the resources received from the Ministry of Indigenous Peoples' Affairs.
The group occupies the bottom flat of the Village Office and ICT Hub. The money was used to enclose the bottom flat of the building to accommodate the group; purchase and transportation of materials nibbi, tibisiri, cufa, feathers, mocuru among others and training.
In this regard, the group has set up a management body which oversees the Centre's day to day operations. Together with two resource persons from the village the group also sought external assistance where trainers were sourced from Orealla in Region 6 to provide additional training in the various skilled areas.
The women are producing beaded jewellery using forest products, nibbi and tibisiri hats, vases and ornamental products such as jewellery boxes, small matapis and cassava sifters.
Just recently, the group embarked on an additional venture and begun producing traditional wear for both indigenous men and women, hand knitted cotton bags, chains and actual sizes matapis and cassava sifters.
These items are being sold to villagers and nearby villages.
The Centre is open to the public on Thursdays. Members Management can be contacted on 659-8628 and 673 0316.
Batavia has a population of four hundred and thirty two (432), with Eyon Boyal serving as Village Chief.
Toshao Boyal has indicated that "this Handicraft project from the Ministry of Indigenous Peoples' Affairs is greatly benefiting the women of Batavia. It is especially of great benefit to single parent mothers who can now have a source of income. I want to thank the Ministry for this great initiative where our women can become self-sufficient while preserving their culture."
Management Development Officer in the Ministry Ms. Vivette Wellington said "I'm satisfied with the accomplishments of the women's group which has enabled them to become self-sufficient".
The village is hopeful that in 2017 its ICT Hub will become functional which will improve communication there.