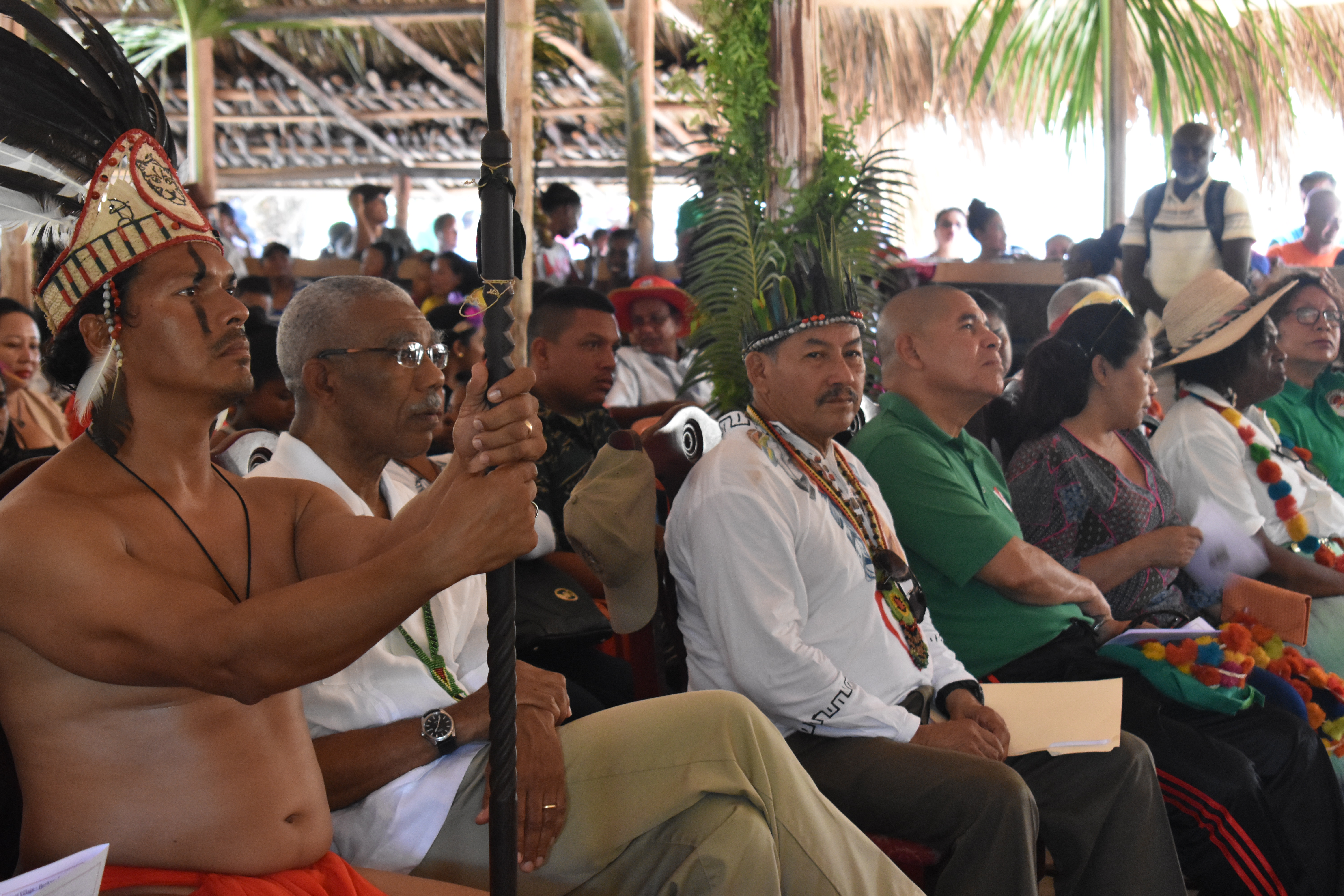 Vice President and Minister of Indigenous peoples' Affairs Sydney Allicock said the current band of leaders from St. Cuthberts Village/Pakuri must recognize that good governance is the key to success.
Vice President and Minister of Indigenous peoples' Affairs Sydney Allicock addresses the gathering during the annual Village Day Celebrations.
The Vice President was addressing hundreds who turned out Saturday last for the annual Indigenous Villages Heritage Day Celebrations hosted by St. Cuthberts Mission or Pakuri, in Region 4.
The village day celebrations are part of activities to mark Indigenous Heritage month observed annually in the month of September.
Minister Allicock said 'we need to recognize that good leadership is among the things which are necessary to move any village to prosperity. It is in this context that we should engage our wise sages. The village of St. Cuthberts or Pakuri as it is historically known is potentially a very rich village. All of the ingredients to realize the good life are right here in this village".
Minister Allicock noted too that success comes from the involvement of everyone and working in tandem with "a strong village council of independent thinkers and action oriented persons who are committed to the task and who will step up to their roles, rejecting improper directions from all corners and ever mindful of  the expectations of the village".
The Minister also pointed out that there should also be meaningful engagement with village elders "who have blazed the trail of development long before the current generation arrived" as he believes "the best tribute that we can pay them is to live out their dreams of constructing a village of which they would have been proud of".
The day's celebration also included cultural presentations from resident of the village and actively participated in several entertaining indigenous challenge including a female "fly drinking" competition which was won by a team from the Ministry of Indigenous Peoples' Affairs.
It was attended by His Excellency David Granger, Ministers of the Government and other Government and non-governmental organizations, agencies, representatives from other villages and scores of indigenous and non-indigenous persons.
Persons also had the opportunity of witnessing the processing of cassava into cassava bread as boots were set up on spot for the display.
There were also boots set up with a number of handmade art and craft pieces produced by villagers which received commendations form His Excellency.
The 2017 Indigenous Heritage Celebrations continue on Thursday September 14 with an Educational Lecture at the Umana Yana from 17:00HRS.