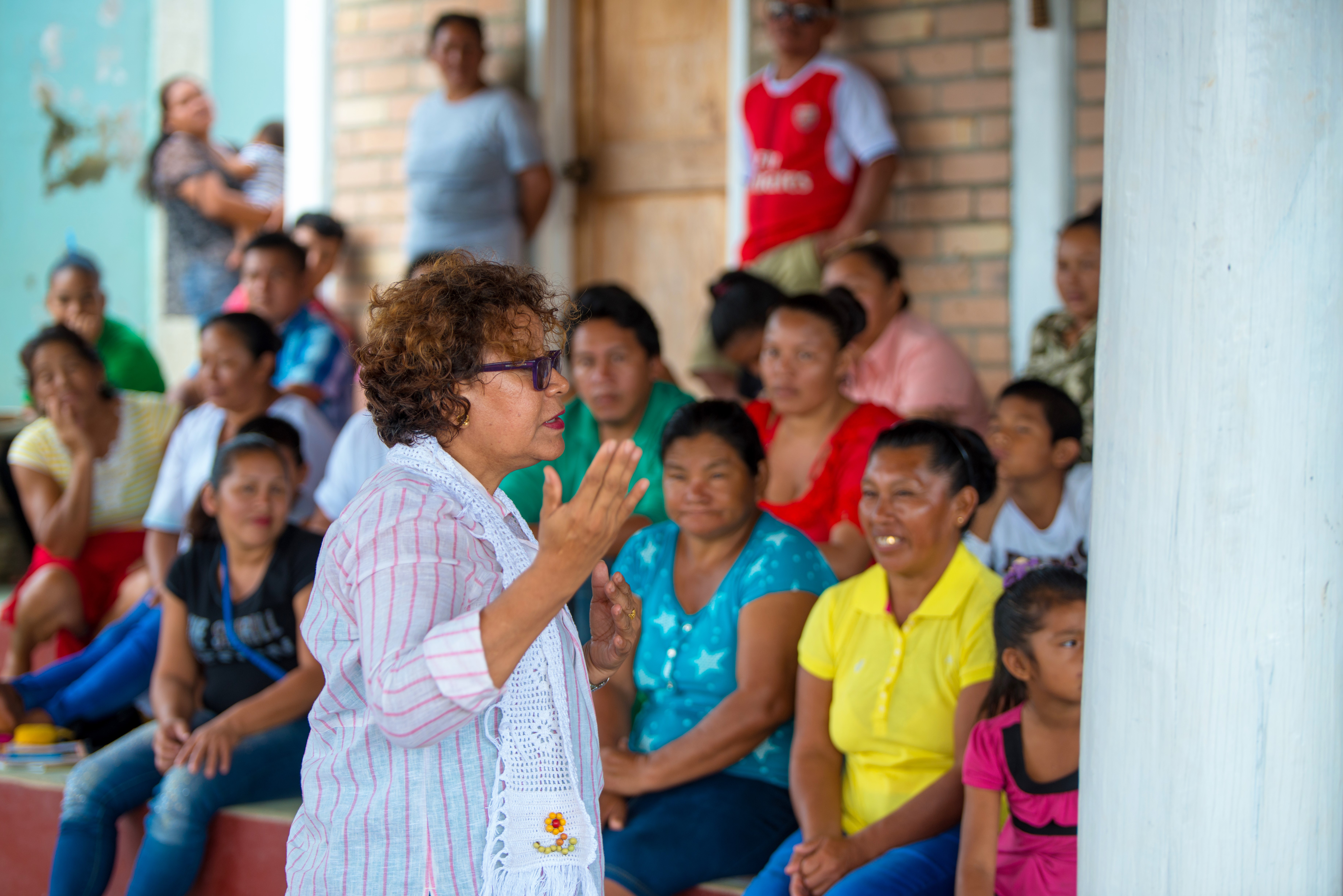 Suruma Village in Region 9, over the past three and a half years, has significantly benefited from Government support through economic and social interventions.
Since 2015, the village has received in excess of twenty million dollars towards improving its standard of living.
More than thirteen million dollars was injected towards economic projects (Presidential Grants and other projects), while close to ten million dollars was invested in empowering the youth through the Hinterland Employment Youth Service HEYS Program.
Minister within the Ministry of Indigenous Peoples Affairs Valerie Garrido-Lowe who is part of a massive Ministerial outreach to Region 9 over the weekend, visited Suruma where she met with residents and highlighted the tremendous efforts the Government continues to make to improve the lives of the indigenous peoples.
The Minister said, "the previous government give you a tractor or an ATV and things like that, which will help a community, but what about your personal pocket, it certainly didn't raise your standard of living. I have been examining long before I became a Minister, how we can put money in your pockets and help you, our people financially; so when you put your hands in their pockets you will be able to buy a lap top, buy a fridge, buy a TV or buy whatever you want. That is how the Tomato Project in Paramakatoi came about, we started off with forty eight farmers…and remember this was a new thing and nobody would believe that tomato ketchup would be made from those tomatoes; people would laugh at it, but the forty eight stuck to it".
The Minister said from forty eight farmers then to now one hundred and thirty five are planting" and you know what, the farmer who topped December production got over two hundred thousand dollars. This is the kind of commitment we need from our people because for the first time in their lives they were able to produce an get paid and they are so proud of what they do. We as a Government will continue to support them".
Another success story was the Fish and Crab processing facility in Smith Creek which is expected to benefit not only Smith creek but neighbouring villages.
Fish and crab will be processed to meet the demands of the local and international markets brining in much needed income for residents.
Speaking of success, residents were reminded about their very own the Rupununi Essense Facial Line which is on the shelves of several businesses in Georgetown.
"So this is the difference with your government, your government cares for you individually, as a person, cares for you as a citizen of this country, and we don't care if we have to come very far to reach you and help you and give you that support, we are committed to giving it to you", the Minister emphasized.
Minister Garrido-Lowe also reminded residents that the Government since taking office in 2015 has ensured an increase in several services including old age pension, public assistance, the number of scholarship offered to the Guyanese people, all because "the Government cares".
Meanwhile, Senior Councillor Abiola Allicock in highlighting the villages' achievements over the past three and a half years noted that "with the HEYS, the investment that the government has made for our young people….it proved to be a means of livelihood for them at the end of the day. I know everybody throughout the country appreciate such a program and it is working in favour of what it was intended to".
Updating residents on the current political climate, Minister Garrido-Lowe said that the December 21st No-Confidence Vote what many deem "the betrayal vote" is currently engaging the Courts meanwhile the Government remain in office, and will continue to execute the 2019 Budgetary allocations.
Glendon Allicock who spoke candidly about the situation noted that the Government must be mindful of persons who are chosen to represent the people at the highest office in this country.
Allicock said "this is a wakeup call and we need to know who are our partners and our true friends and then we track back. The amount of money that has to be spent to run elections, that could be spent to pave the road from Linden to Lethem, billions of dollars have to go down".
Among other matters raised by villagers were placing an ambulance at the Annai Cottage Hospital which will directly benefit residents of the North Rupununi which Minister Garrido-Lowe promised to bring to the attention of her colleague Minister and also addressing the current situation which involves overcrowding of the Annai Secondary School, furnishing for the teachers quarters and the general administration at the Annai Secondary School.
A very vocal Loreen Jarvis thanked the Government for its continuous support not only for her village, but the entire indigenous population and noted that "I am very happy to hear about giving Amerindian people the opportunity to work and earn for themselves and not just giving them because you have to give and we just want to receive. I am happy to hear that".
Government over the past three and a half years, has invested billions of dollars across all the sectors, whether on the coastland, or in the hinterland and it is evident that Guyanese are beginning to receive the "Good Life" promised.
Minister Garrido-Lowe reiterated Government's continued commitment to national development.