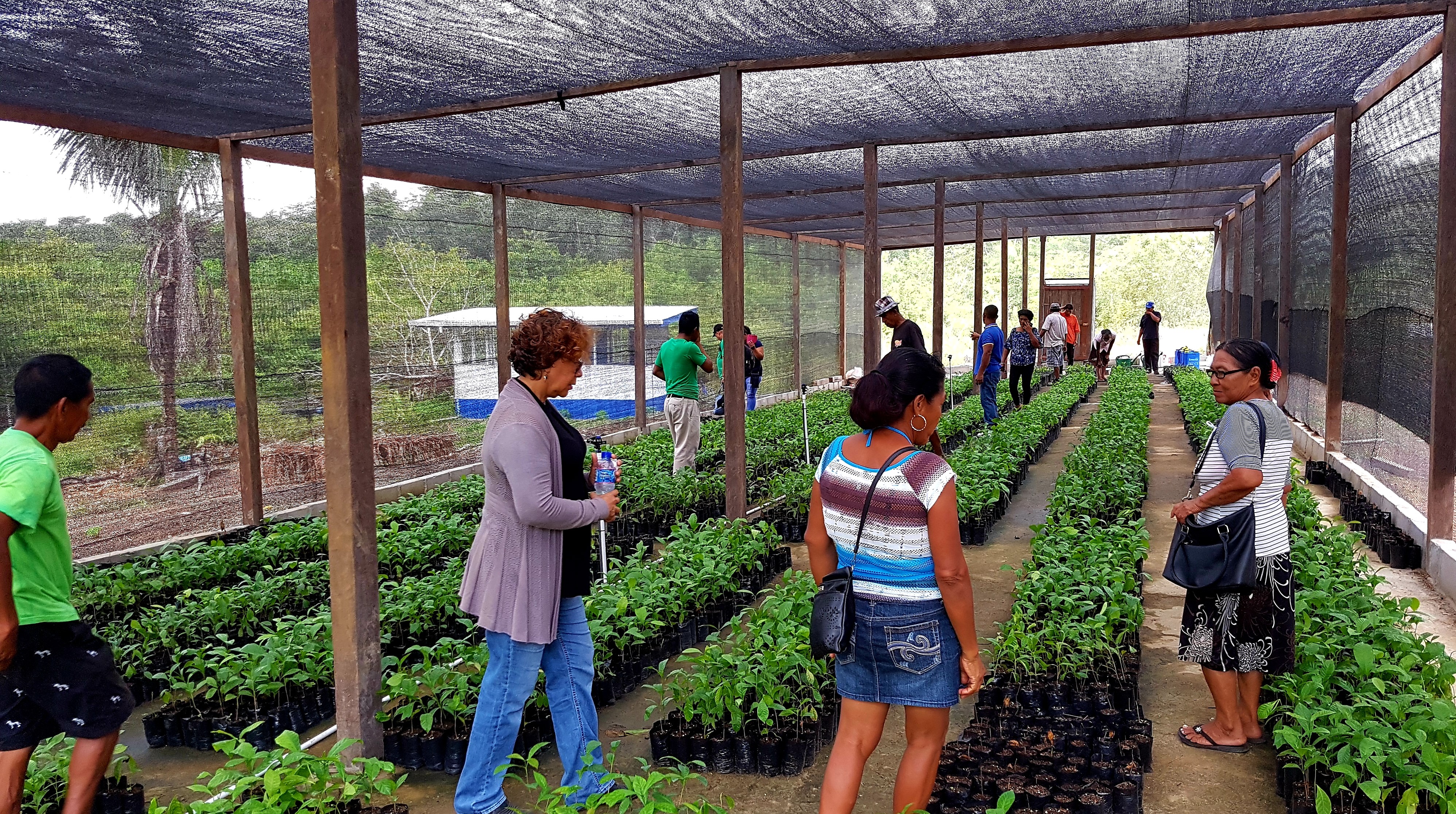 Coffee Farmers in Moruca have received staunch commendations from Minister within the Ministry of Indigenous Peoples' Affairs for their commitment to the project which is intended to significantly contribute to the upliftment of their families and ultimately their communities.
The farmers are caring for approximately twelve thousand coffee seedlings on an effective rotation basis in a nursery which was established in the village.
Toshao of the Santa Rosa and its ten satellites, Whanita Phillips, has lauded Government efforts saying, "this is big for us, this is awesome and something that I'm very excited about and I can see this project prospering. It will be massive I know that, and the farmers are very excited too".
Sharing similar sentiments were several farmers who noted the significance of this initiative which is now being realized.
Solomon Abrams said "this is something really good and a good start in helping us in getting something from agriculture, I'm happy about it, because I have my sons and they will help me look after this thing. We here never expected this would happen and it will come as a great help".
Earl Rodrigues who is a teacher and the youngest farmer related that, "this is one of the best projects we have seen in this area, there are many other projects that have failed because of bad management and I feel that as this project goes on, we the farmers will look forward to continued support from the Ministry in whatever area. In the next five years I would like to see this project double because farmers will have a better idea how to do it better".
A senior villager and a farmer Roy Atkinson, "noted that coffee is important to the people of Moruca and we are learning so much and the man who is teaching us is teaching us real good how to take care of the plants. Minister Lowe and Dr. Santiago had this vision for the people of Moruca which will benefit us well into the future. No other Government has ever given us such a project and it is very interesting and even the youths are being drawn to agriculture. In the long run we will be able to start new projects which will in the future help us build our community".
A very excited Janet Rodrigues said "I feel real proud with this project and I must congratulate Minister for giving us the support and doctor Santiago too because I learnt a lot and it will help our community. I must also say that we must not abandon the nursery we must plant other things here citrus and so on. Another thing, with the project, it would see Moruca great again and everyone working together".
According to another farmer, Rose Francis, "it is a very good project and a long term one at that and it will be here for generations to come. My father used to plant but not this type and we were not conscious that we had to take so much care of it but now we see it differently. We will also get a factory and learn more things so that why this is a very good project not only for farmers alone but for the entire community and especially for the employment of our youths".
"It is a boost for me to get up in life, so far right now I lil down in life and is this project will give me a good start in life and for my family", the second youngest farmer Anton Williams who has shown great interest in farming and the project stated.
According to Assistant Regional Executive Officer Rennita Williams, "for me I'm impressed with it, it is like bringing back something that was long gone from the community and a lot of people see it as something beneficial not only the community but generally. During this phase, (the past three years) the interest being placed on this area will go a far way. For me it's a plus… long long now Agriculture was down and now it's back and on its way we could see clearly".
Minister Garrido-Lowe who engaged farmers on Friday noted that "I am very proud of you the farmers, and I will also be proud when the coffee trees start bearing and you start producing and packaging ground coffee and of course supplying not only here but the Caribbean and that is what this will do. This right here is history for you".
Shortly, farmers will be caring for their own seedlings (in the nursery) after collectively deciding that's the best way moving forward, since in a few weeks the seedlings will be less susceptible to the natural environment and will subsequently be transplanted to well-prepared fields.
The group also collectively decided on security arrangements at the facility which is critical at this stage in the life of the plants.
Some fifteen farmers have been selected to execute this project, all of whom have been playing their part in ensuring this project is a resounding success.
Minister Garrido-Lowe also joined farmers in thanking Dr. Santiago for his commitment to this project and for providing the technical expertise needed for success.
Moruca has long been known for its ability to produce Coffee, however this venture will ensure farmers receive triple dividends for their efforts since approximately twelve thousand seedlings will be planted by fifteen farmers, reaped and processed to supply both the local, regional and later, international markets.
"The APNU+AFC Government, I am proud to say, will continue to support green, sustainable, income generating projects that will benefit the indigenous and hinterland peoples", the Minister stated.
The Santa Rosa Ground Coffee project, as well as other projects that are being implemented by the Ministry of Indigenous People's Affairs, is in keeping with Guyana's Green State Development Strategy.