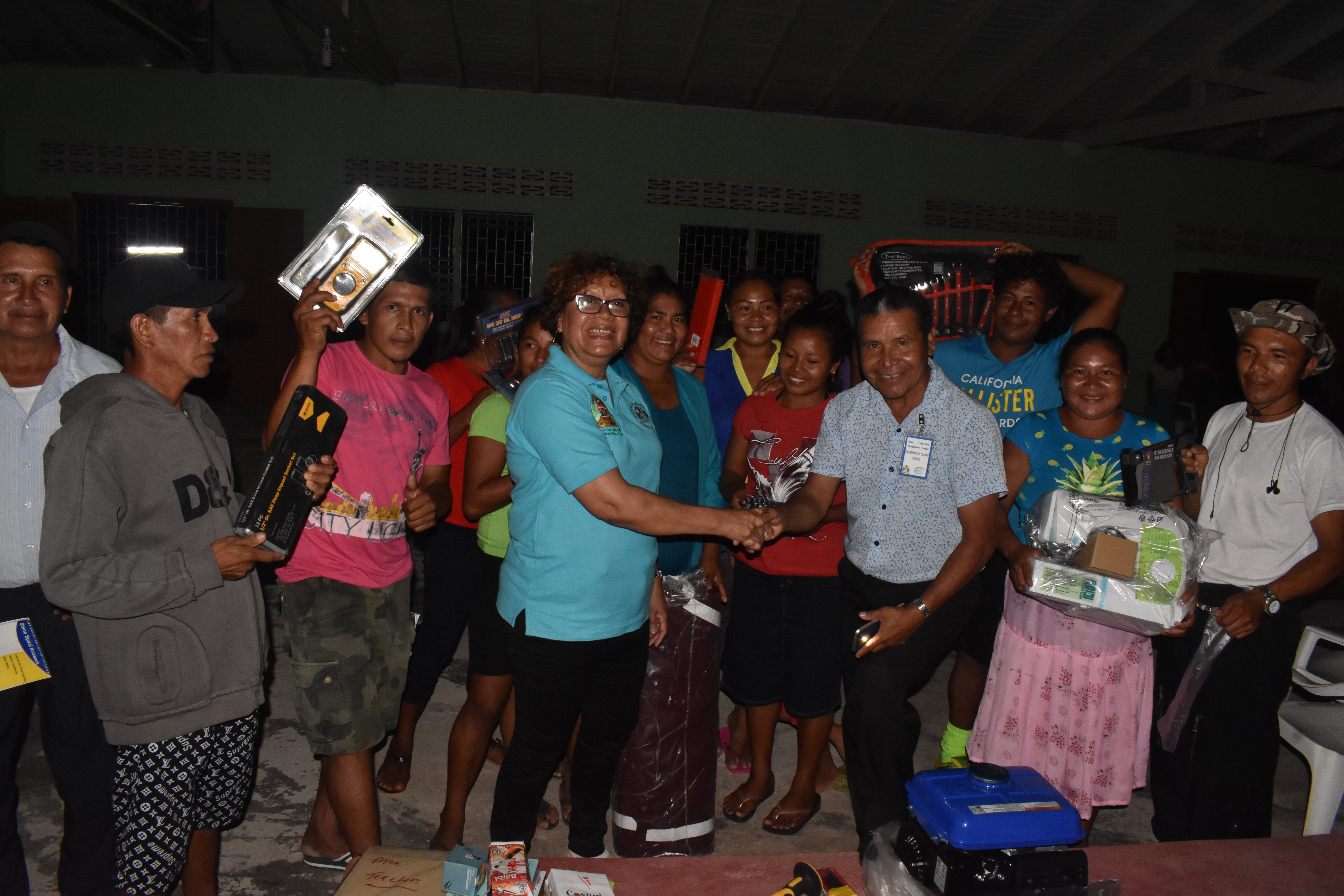 Minister within the Ministry of Indigenous Peoples' Affairs Valerie Garrido-Lowe on Sunday handed over Resource Kits for the Hinterland Employment and Youth Service HEYS program to participants in Shea, Awerawarau and Maruranau during a Ministerial outreach in Region 9.
Speaking at public meetings, participants said that they are excited about receiving the resource kits since this will significantly boost their various businesses which were established under the Youth program.
The villages will also benefit since they lack such resource kits, hence, the use of the kits will be shared with the village Council.
Minister Valerie Garrido-Lowe presenting Resource Kits to HEYS Youth in Achiwib and Maruranau Villages, South Rupununi, Region 9.
Minister Garrido-Lowe said the Government is faithfully keeping its promise to the indigenous peoples and more so the youth, in ensuring they are empowered enough to provide for themselves and their families.
Minister Garrido-Lowe said "this is the APNU/AFC Government showing you how much, as a Government, we care for our indigenous peoples. It is our duty, if we care for our people, to build the capacity of our youth… to give them the knowledge and skills in different areas. HEYS youth were trained in different areas – building self-esteem, anger management, a little math and English, business/budgeting, eco-tourism, agriculture and at least two vocational skills; these skills include garment construction, carpentry and joinery, masonry, catering, information technology, small engine repairs and electrical installation. This means that you can earn money with the skills you have gained; you will be able to raise your standard of living and that of your family's, and the entire community will benefit in the end. And this is what the APNU/AFC Government is all about – ensuring that our indigenous people receive the opportunities that you deserve so that you too will have a chance to enjoy the good life".
The Minister added that "we have made sure we have touched 215 villages catering for twenty youths in each village with thirty thousand dollars per month to assist them while they learn the different skills including how to do business, how to identify business opportunities in your villages and how they can be successful. Instead of depending on their parents to clothe and feed them the business is there to take care of that".
To date the program has achieved its desired outcome and participants have been vocal about the positive impact it continues to make in their lives.
Daniel Charlie of Maruranau said "I do pig rearing, that is what I started off with and now I have eleven pigs and early next year I will have more".
Sylvin Robison who is also into pig rearing said "I have three mother pigs and they are ready to drop and so I expect to have plenty more".
Other participants are involve in snackets, joinery, gardening and poultry rearing which are positively contributing to their lives and their respective village economies.
Addressing some of the challenges experienced, Minister Garrido-Lowe applauded the youth for their efforts noting that ´we know that the economy is slow but you are still with your business that you have not given up and that is a testimony to your character. And that is a really good attitude when you want to achieve your dreams but it takes effort, dedication and patience".
Minister Valerie Garrido-Lowe also assured participants from these villages that this year (2019), their existing businesses will also be receiving an additional boost from Government, with a fifty thousand dollars Grant.
This grant was already approved in the National Assembly and youth will soon begin to receive their disbursements.
Minister Garrido-Lowe thanked parents and villagers for supporting the youth through this journey and assured that Government will leave no stone unturned as it relates to youth development.
Over the last two years, three thousand seven hundred and ninety five (3,795) youth in 215 villages were able to benefit from training in life skills, vocational interests and entrepreneurial skills.
The APNU/AFC Government has invested more than two billion dollars in indigenous and hinterland youth development.
Meanwhile, Minister Garrido-Lowe also updated residents on the current political situation and they were assured that Government will continue to function within the confines of the constitution which will ensure that peace and harmony prevail.
Residents were proud to say they are up to date with the latest news since the establishment of Radio Aishalton for which they praised the Government for making this a reality.