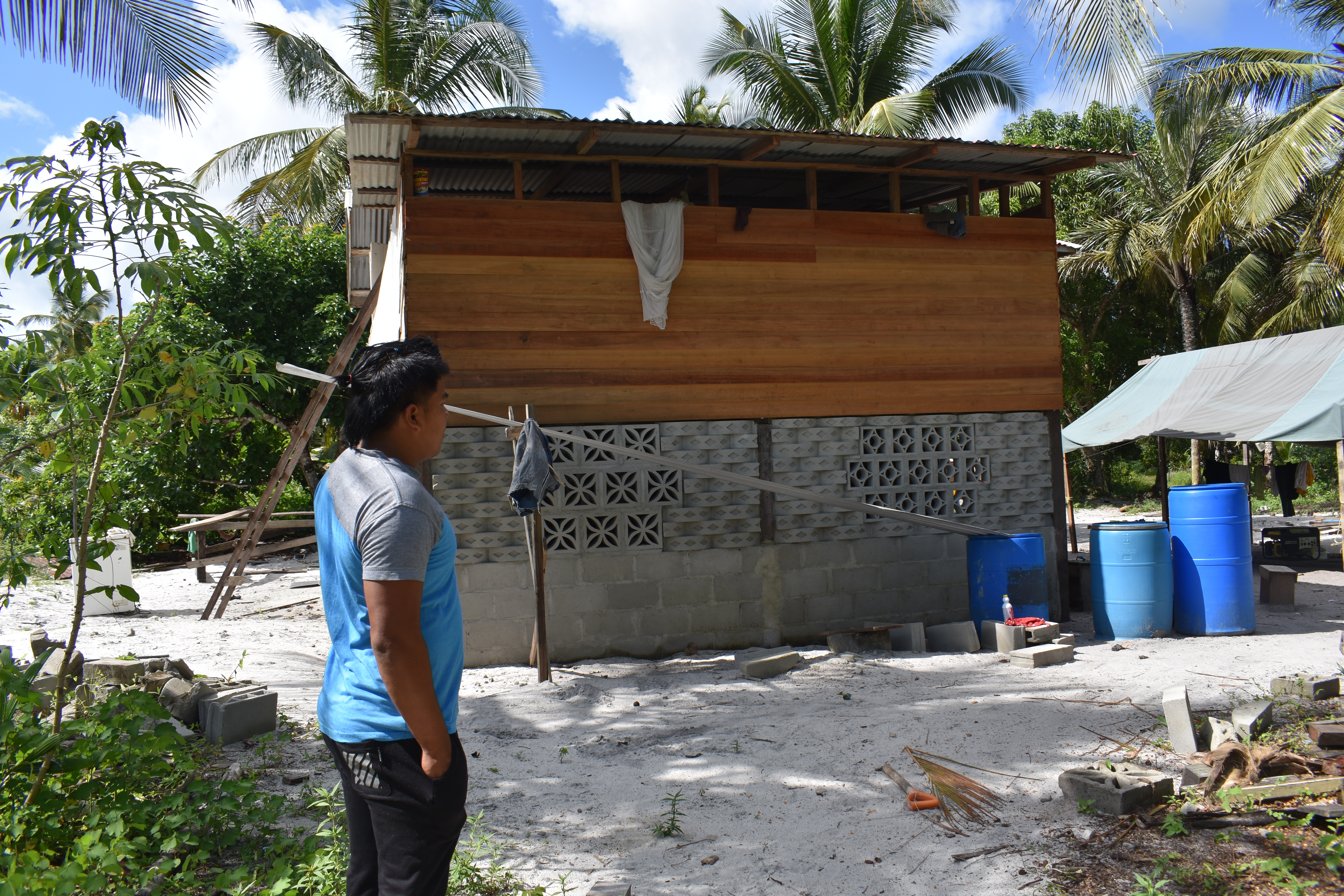 Dan Richards and Shanna Boyan have ventured into economically viable areas of local production. Dan and Shanna are among the success stories coming out from Governments thriving youth initiative the Hinterland Employment and youth Service (HEYS) Program.
Twenty youth from the village were given the opportunity to participate in the program with the aim of establishing their own businesses.
                                                            Dan exhibiting his molds.
Twenty two year old Dan said it was always his passion to establish his own business and with the introduction of the HEYS program he was able to realize this dream.
On a recent visit to the village the young entrepreneur revealed to the Ministry's Communications Department that after receiving the first payment of his stipend he spent the entire amount to several cement molds as well as a sling of cement.
He said despite the cost associated with acquiring this feat; he was determined to make his dream of producing cement blocks a reality.
He said at his first attempt at block making, he was able to produce one hundred blocks and to date is successful in producing more than enough to supply to the newly constructed wing of the only secondary school –the Wakapou Secondary School located in his village with cement blocks.
This would be the first time that a local contractor was able to purchase cement blocks from a skilled member of that village, an achievement Dan said is rear.
What is also remarkable is the manner in which he markets his business. From humble beginnings, Dan with the support of his parents and younger siblings was able to transform their humble home into a work of art.
While some block makers will have their work displayed in different areas of their work space, Dan chose to display his work on his newly constructed home. Staff of the Ministry was overwhelmed to witness his cleaver business maneuvers which gives customers the perfect picture of what their end product would resemble.
Dan who lives with his parents and four siblings successfully constructed their two flat home with the bottom flat made from blocks he produced (plain and designed) and the top half completed from dressed lumber.
He has given the Ministry's staff the full assurance that on a subsequent visit, his home will be completed, painted and fully furnished.
When asked why that particular marketing strategy was effected, an easy going Dam smilingly said his personality and aptitude outweighs his block making skill which allowed him to remain grounded and a successful entrepreneur.
He adds that he takes pride and joy in what he does owing to the fact that it provides for his family whom he credits to his success combined with that determined spirit.
His mother and father are both religions leaders (pastors) in the village. Dan is hoping that other participants, who were given a second chance at improving their living standards grasp this opportunity with both hands.
Fellow youth and villager Shanna Boyan has ventured into coconut oil and Casareep production. According to the mother of a beautiful daughter, she has already been reaping benefits from her hard work.
Boyan said when she first started her little business she would produce about 5-10 -2litre bottles of fresh coconut oil and cassava Casareep. When the team visited, the level of production had increased significantly to more than five gallons of freshly made coconut oil per week. The same can be said for the Casareep production.
Shanna proudly holding her finished products.
She has been receiving assistance from her parents and her father in particular who has put his creative indigenous skills on full display. He has built a coconut and cassava grater for his daughter which makes her work easier in preparing her boil over a make shift fireside.
Boyan also produces virgin coconut oil.
Her dad Matthias Boyan is now in the process of making another grater and frame since according to him, this will further ease the hassle of having to clean the lone grater before usage. He added that the process is very time consuming and having two engines operating, the work will become lighter as two persons will be able to work simultaneous.
The family has already acquired a new grater to the tune of thirty thousand dollars for a part of the design of the teeth setting alone, while works on the frame will begin shortly.
Speaking to her marketing strategy employed, Boyan welcomed the support she is receiving from her villagers as well as a regular customer in Adels Resort located at the mouth of the Akawini Creek, approximately a half hour boat ride from the village and through the winding Wakapou savannahs.
The family through this initiative was able to acquire several acres of land form the village council as coconut and cassava estates, since currently they are dependent on villagers to meet their coconut and cassava demands.
The senior Boyan said while they have already planted a number of young coconuts plants and cassava sticks, more land is needed to meet the growing demand.
Shannon anticipates that in the next five years, with the help of her family, she will be able to construct a simple yet unique factory that can supply the market demand in Region 2 as well as other Regions.
Toshao of the village Errol Williams pointed out that support for such initiatives are key and the village council and villages will be giving the youth their fully support towards maintaining these lucrative business ventures.
The Indigenous Village of Wakapou which is located approximately an hour from Charity passes through the cascading Wakapou Creek then through the winding savannah. It is home to more than three hundred inhabitants.  It boasts a Nursery, Primary and Secondary Schools, a Community Health Outpost, a church, several well established shops and a beautiful landscape.