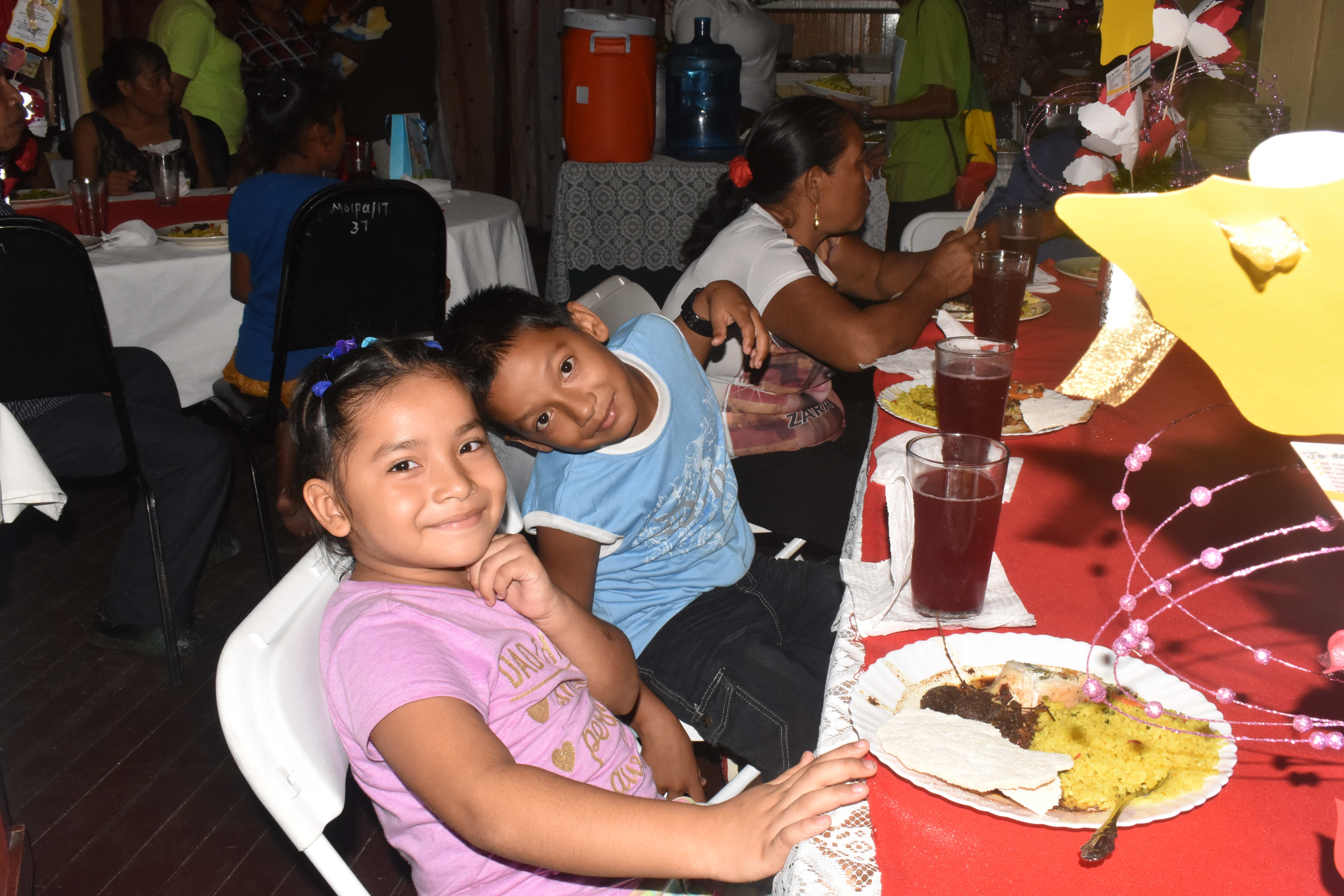 Permanent Secretary and other senior functionaries in the Ministry of Indigenous Peoples' Affairs on Tuesday hosted one hundred persons at the Indigenous Residence for its annual Christmas Lunch.
The Christmas Lunch is hosted by the Ministry to spread the season of cheer to persons, who would be leaving for home shortly and more so those who would be spending the holidays away from their loved ones since they are in Georgetown seeking medical assistance.
The festivities saw residents there, enjoy indigenous cuisine prepared by the dedicated kitchen staff led by Mrs. Gail Williams.
Guests enjoyed plantain delight, cassava bread, deer pepper pot, stuff debone chicken in orange sauce, baked fish topped with mango and tomato salsa, saffron rice, vegetable farine, chef salad, sorrel and ginger beer, fruits and a candy corner made possible by Executive Office Services.
Ten children and eight new born babies received gifts compliments of the Ministry and cooperate Guyana.
This activity is in keeping with the Ministry's vision and mission for the Indigenous people needing medical services and to also provide educational and recreation services, counseling and nursing care in an effort to improve their health and welfare.
The Ministry is desirous for all visitors to this facility to leave fully satisfied with the service provided to them.
So far in 2018, two thousand three hundred and nineteen (2319) persons from all ten administrative regions were and are being accommodated there. Among them one thousand four hundred and sixty five (1465) patients, accompanying relatives, travelers, persons who were incarcerated and several cases related to social issues.
Persons are provided with meals, accommodation and transportation, while the facility is also outfitted with nursing and Welfare staff who deal with day to day activities.
In an effort to better serve the Indigenous people, the Ministry has made a multi-million dollar investment towards infrastructural developments with an extension to the facility which will provide officer space and additional accommodation.
Currently, staff from the Welfare and Health Department occupy office space there, however, when the extension is completed early next year, where office space is catered for as well as accommodation for village Toshaos.
The space they currently occupy will be transformed to accommodate additional persons.
The two- extension is estimated at twenty seven million ($27M) dollars and is expected to be completed by the end of February.
The Residence is also equipped with a minibus which ensures all transportation needs are adequately met.
Minister Sydney Allicock presented the keys to the facilities administrator Ms. Claire Emmanuel last November, in the presence of Minister within Valerie Garrido-Lowe, Permanent Secretary Alfred King, Deputy Permanent Secretary Samantha Fedee and other staff.
Further investments towards the facility will be forthcoming in 2019.
Meanwhile, also attending the Christmas Lunch were Deputy Permanent Secretary Samantha Fedee, Ministerial Advisor Mervin Williams and Special Assistance on Projects and Community Development Martin Cheong.