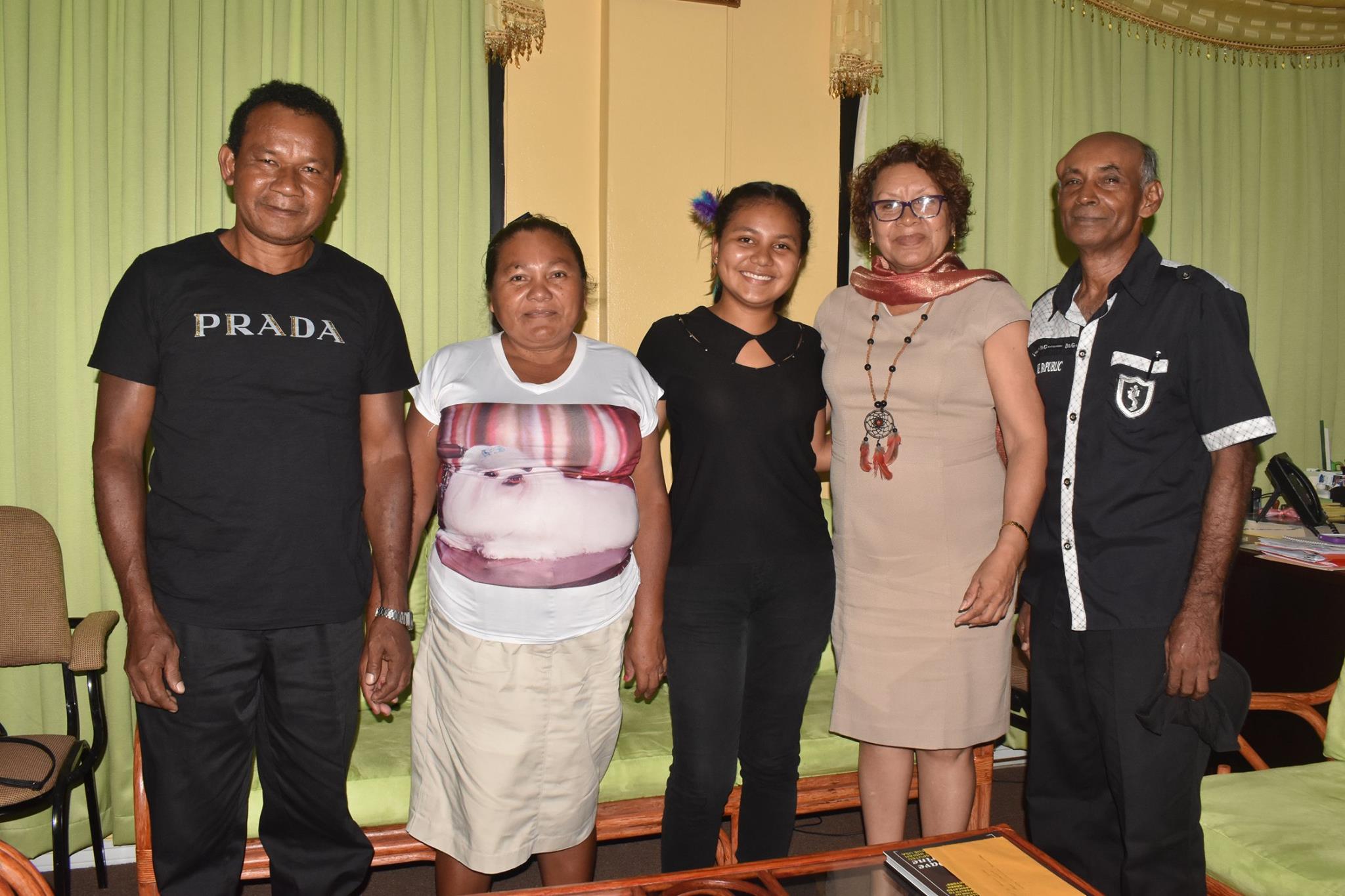 National Female Chess Champion Nellisha Johnson will be among a ten member team (5 females, 5 males) team to represent Guyana at the 43rd Chess Olympias in Batumi, Georgia, U.S.A from September 23 to October 6.
The 17 year old champion Wednesday last paid a courtesy call on Minister within the Ministry of Indigenous Peoples' Affairs Valerie Garrido-Lowe ahead of her departure for the games.
Johnson who hails from Orealla Village, Region 6 continues to improve her performance.
Following her engagement with Minister Garrido-Lowe, Johnson said "I know it's going to be a challenge because is really good players there but I will have to focus on my game and not really on the player, the focus has to be there. I would also want to come back with my ratings points improved and I will represent Guyana to the best of my ability".
He parents Glen and Carmelita who have always been by her side providing that support said they are confidence their daughter will make Guyana proud.
Mr. Johnson said "this will be a good learning experience for her and I am happy that she has taken up the game because I never to be honest expected her to meet this far but now I have lots of expectations. I am also very grateful to the Ministry for supporting her and I know she will make Guyana proud".
Johnsons who is the 4th highest rated layer in the country last represented Guyana at the 7th Junior Carifta Championships in Suriname last March where she emerged the only female player who received 1123 ratings points following the tournament and a spot in the team for the Olympias.
She is looking to improve on her ratings points when the 43rd Chess Olympias concludes.
Meanwhile, Minister Garrido-Lowe who was in high praise for Johnson and her achievements said "we are proud of you and the Ministry will continue to support you and other indigenous athletes so that everyone can excel at what you do".
Johnson also excelled at the 2018 sitting of the Caribbean Secondary Education Certificate (CSEC) Examinations as a Hinterland Scholarship Student who attended St. Joseph's High School.