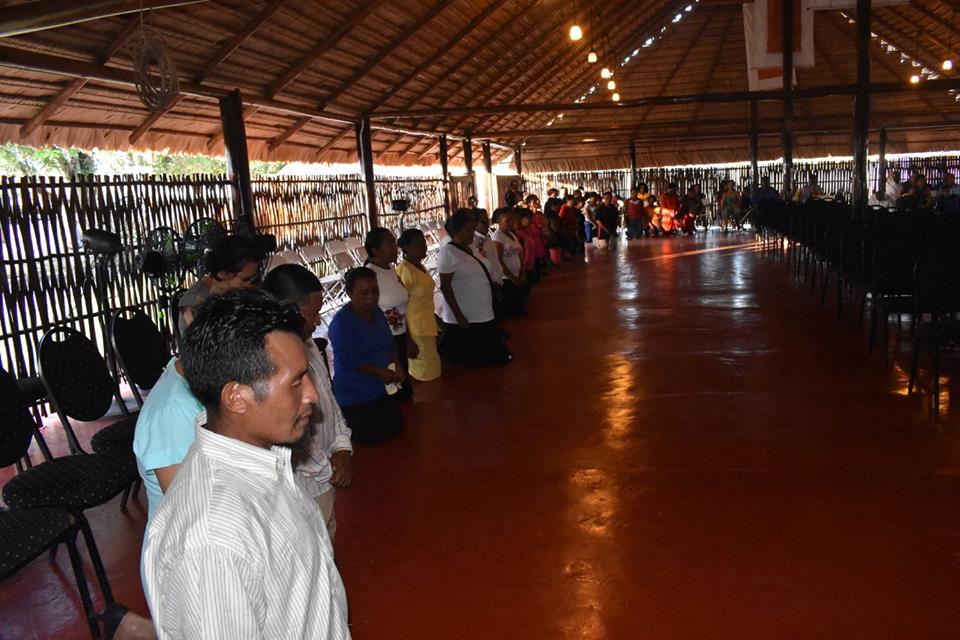 The Indigenous community countrywide is eagerly awaiting the commencement of activities for Heritage Month 2018.
The Month long activities will commence with a Religious Service at the Heritage Village, Sophia which will feature a Hallelujah Group from Region Seven.
Coordinator of this activity Ms.Valary Dorrick explained recently that the only indigenous faith that exists in Guyana is the "Hallelujah Religion" and as such, the service will embody activities in accordance with this religion.
This form of worship is predominantly carried out by several villages in Regions 7, 8 and 9.
It will be the second time Hallelujah worshipers will be a participating in the Religious Service. Last year a group (six persons) from Kangaruma Village, Middle Mazaruni and Kamarang (6 persons) Upper Mazaruni, Region 7, for the first time led the Religious Service with prayer and divine worship in their native Akawaio Language.
This year, a twelve member group from Jawalla Village, Upper Mazaruni Region 7, will lead the service and Dorrick explained that the Service will begin with a "Wada Boo Call" or the sound of a horn traditionally used by the indigenous nations cross Guyana a signal to assemble.
"That's how we are going to start along with a welcome dance into the service, this is a religious dance, so we are doing the dance, religious songs so you can come out and be a part of the service", Dorrick explained.
Reflecting on last years' service, the Guyanese populace for the first time last year was given the opportunity to witness first hand, activities surrounding worship by this group when all present participated in a religious dance after joining hands in a large group setting and moving orderly in a circle and stopping periodically to conduct various acknowledgements in accordance with the religion.
This exercise lasted for approximately half of an hour with Minister within the Ministry Valerie Garrido-Lowe's full participation. This was not the first time Minister Garrido-Lowe would have experienced this form of worship.
Given the fact that she is in constant contact with the indigenous peoples, often times this is the kind of welcome she is graced to experience.
Additionally, for many Guyanese who are unfamiliar of this faith, now is the opportunity time to experience and share in the indigenous form of worship.
Ministers of the Government, Members of the Diplomatic Corps and other dignitaries will be in attendance and share in the experience of the Hallelujah worship.
The Service begins at 17:00hrs or 5PM and will be broadcast live on the National Communications Network Radio and Television.