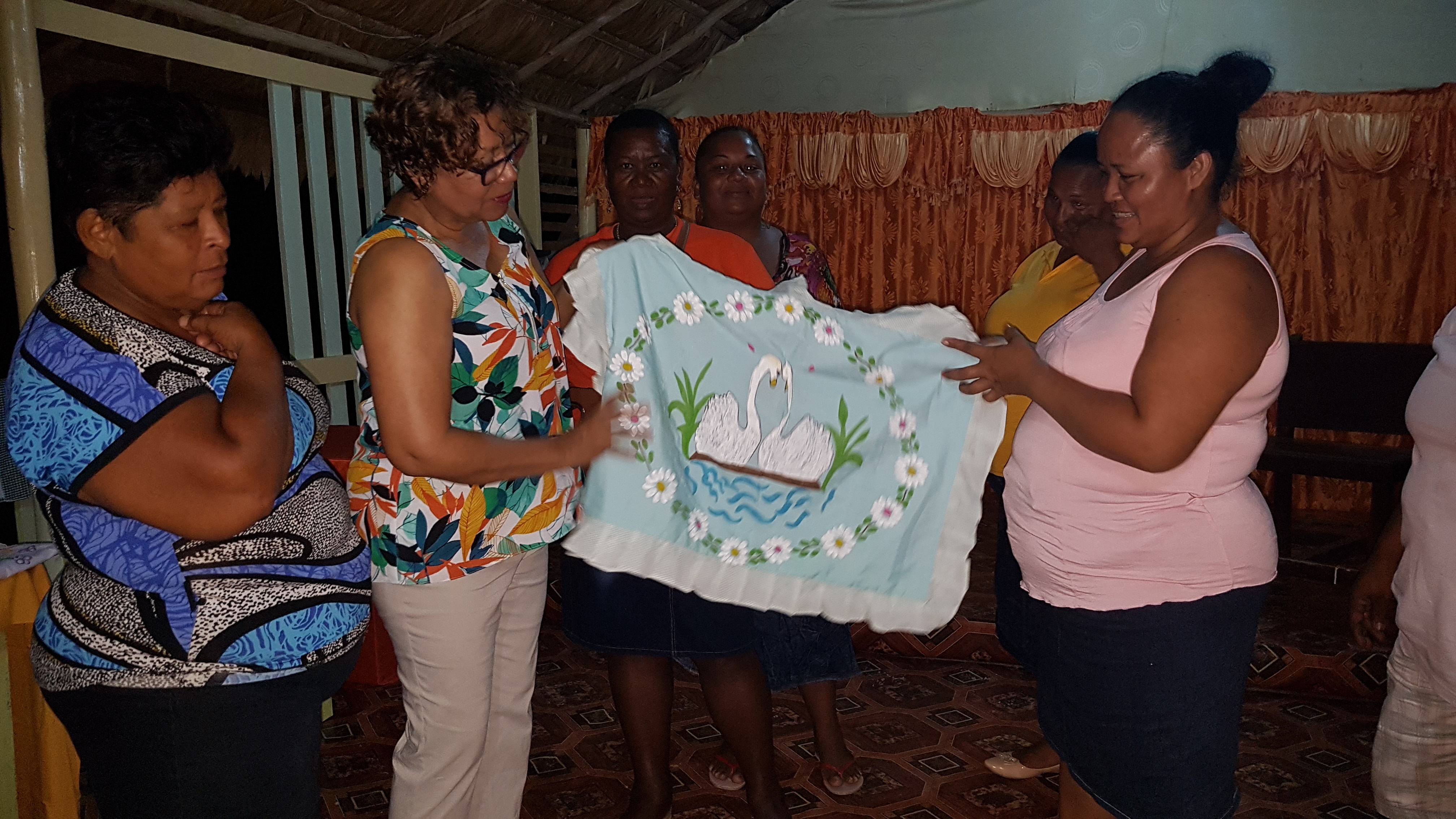 Approximately forty women in Kwakwani, Region 10 have embarked on empowering themselves and have established a Women's Group there.
The women proudly launched their group recently with several pieces of beautiful handmade craft on display.
Minister within the Ministry of Indigenous Peoples' Affairs Valerie Garrido-Lowe who has direct responsibility of Women, children and youth attended the launch was in high praise to the women who possess remarkable talent.
The Minister in encouraging the women noted that "it is always good to add more to our household, because we always want to see our children look good, feel good, because naturally we are women and we are the foundation of any home".
She added that a fundamental aspect of growing as a group is that "you should bond with each other, look out for each other and support each other. I know you can do it".
Testimony to working together the Minister told the Kwakwani women, is the North Pakaraima Flavours out of Region 8 that has seen the women there, significantly contributing to the success of this lucrative initiative, which today sits on the shelves of several supermarkets in Georgetown.
Minister Garrido-Lowe said eighty percent of the farmers who supply the factory with organic tomatoes, are women, and that the numbers continue to grow annually.
Similarly, Minister Garrido-Lowe said the women folk of Kwakwani can follow suite and can not only encourage other women to participate, but also the youth and men folk as well.
The women have already signaled their intentions of ensuring the Group remains productive and has since produced beautifully woven, knitted, crochet and embroidery towels, chair covers, pillow cases among other handmade items which will be available to local and regional markets.
Minister Garrido-Lowe also assured the group, that Government will support their efforts to ensure the longevity of their business venture.
Residents of Kwakwani depend heavily on bauxite mining, logging and cattle rearing as their main economic activities, and with the women now establishing what will be a lucrative craft producing industry, additional revenue will be in circulation.
The Minister said the Government remains committed to the people in bringing the "Good Life" to all since in the past, villages could not have realized such economic and social empowerment as they remained stagnant economically and socially.
"What I saw was the previous administration gave villages a tractor, an ATV, and every year they get one million dollars or so to do a community project but, their lives remained the same. Villages were getting no upliftment, their standard of living remained stagnant, they couldn't think of their future because they never had the opportunity to do so. This wasn't a guarantee for development of self, of young people and of community. And not because you are far, the Government has committed to meeting you no matter where you are, so all across the country we have been trying to do that", the Minister assured.
Kwakwani she said, will continue to receive Governments support and once proceeds from the oil and Gas sector begin, residents will receive further benefits.