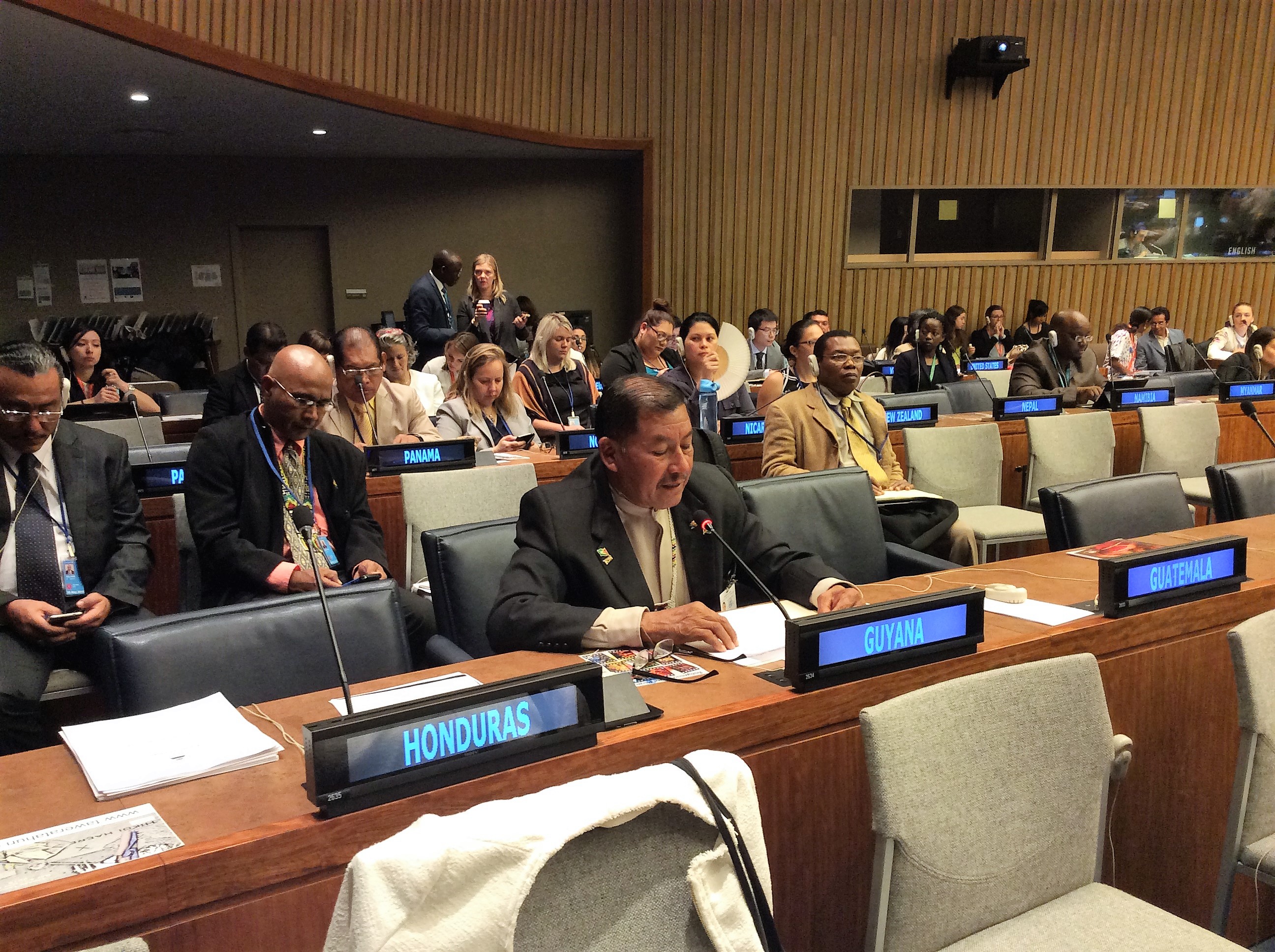 Vice President and Minister of Indigenous Peoples' Affairs has underscored the importance of achieving the 2030 Agenda on Sustainable Development within the context of opportunities available to our indigenous peoples.
Minister Allicock made this comment during his inaugural address to the United Nations Permanent Forum on Indigenous Issues UNPFII in New York.
The forum seeks to end hunger, poverty, provide quality education, addresses climate change and promotes peaceful and inclusive societies which is all laudable goals pertinent to the way of life that indigenous peoples seek to achieve.
Minister Allicock noted that "the new agenda bears relevance to the implementation of the United Nations Declaration on the Rights of Indigenous Peoples, a document that represents the will of indigenous peoples in the promotion of their rights within different social, cultural, political and economic contexts".
He has therefore, committed that at the International level "Guyana remains committed to upholding all of its international treaty obligations that ensure the rights of all people, including our indigenous population".
He posited that "Indigenous peoples' rights remain one of the Government's focal points as it advances a development agenda and in this regard, the Government has made great strides in addressing various issues relating to the indigenous peoples of Guyana".
Significant progress was made in the area of education, and the Hinterland Scholarship Programme which offers hinterland students' access to further education was highlighted.
The Hinterland Employment and Youth Service the Ministry's flagship initiative seeks to equip hinterland, youth ages 16 – 35 years, with relevant skills to enable them to support sustainable village and community development.
The senior statesman also pointed out that "notwithstanding these achievements, the Government recognizes that there is still more work to be done in areas of socio economic development and institutional strengthening in areas such as community development and project management. Paramount is the conflict of national development plans with the priorities of the indigenous communities, particularly in their rights to land and resources. The Government of Guyana remains committed to working with our indigenous peoples for a comprehensive solution to these outstanding issues".
Following his presentation which was well received, Minister Allicock was warmly congratulated by several prominent State Party representatives to the Forum.
The Minister was accompanied by Advisor Mervin Williams, Program Coordinator in the Ministry Jude Da Silva and Chair of the National Toshao's Council Joel Fredericks."