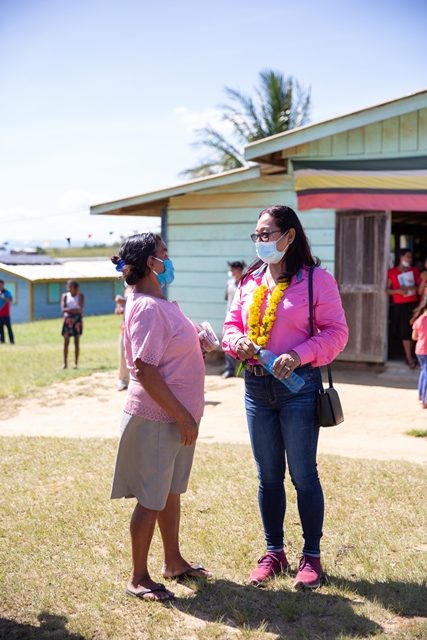 Minister of Amerindian Affairs, Pauline Sukhai MP, has assured residents of Kurukubaru, Region Eight (Potaro-Siparuta) that the Dr. Mohamed Irfaan Ali-led Administration will continue to engage and support them in every area of development.
To this end, she urged them to "concentrate" on developing their community.
She made the call during a recent visit to the village.
"Concentrate on your village developments, that is what will help to change Kurukubaru."
"the government will stand by you, the government will engage you, the government will continue to support your development"
"We are going to stand beside the people, but the people also got to work to bring betterment in unison with the government," Minister Sukhai said.
She added that the government will continue to develop all hinterland communities.
Adding that the low level of economic opportunities in the communities could affect development opportunities.
"As a government, we have an objective to be responsible to intervene and support the development…We will always come here to bring developmental intervention to ensure that every community benefits from our government and its terms."
The minister said there will always be challenges to work around, and that it would take some time to "close the gaps" and achieve equality in the communities.
However, by consistently empowering, educating, and improving services, persons in the hinterland communities will be able to access all opportunities.
VACCINATION
Meanwhile, the minister added the government's policy on vaccination must be carried out by all Guyanese and thus encouraged the residents to get vaccinated COVID-19.
"It is a government policy to try to bring back normalcy to our country because our population is not large…and the few people who want to disrupt the system have caused us trouble…if a government institutes a policy, we have to carry it out."
While in the village, the minister distributed a tractor, one of the government's commitments to the people of Kurukubaru. She urged them to care about the machine as it is important for agriculture and other developmental purposes.
(Story and Photos: Department of Public Information)