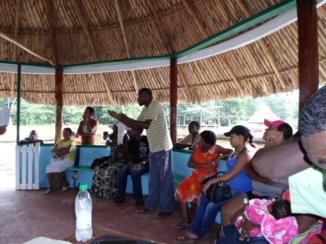 January, 2015
In January, 2015, the ALT PMU discussed the proposed Annual Work Plan (AWP) during a Project Board Meeting held on the 12th, at the MoAA.
The AWP was later reviewed and adjusted to fit the requirements of the UNDP ATLAS financial system, approved and signed on January 27th by the MoAA and the UNDP.
On January 21st, a technical meeting was called at the MoAA with representatives from the
GGMC, GFC and GLSC, to discuss the land titling process for Tasserene, Kambaru-Omanaik and Kangaruma-Assura. This would be the final technical meeting convened for this purpose.
February, 2015
1. Rockstone 3rd. Consultation: On February 3rd, the ALT investigation team visited the community of Rockstone to further the ongoing land titling process by presenting the adjusted map of the proposed title area, according to the description agreed upon by all interest groups and the Village Council during the previous consultation.
2. ALT investigation: February 10th-20th: From February 10th- 20th, 2015, the ALT investigation team visited the villages of Sand Creek, Potarinau and Moco Moco to commence the land titling process for extension of titled lands.
Potarinau General Meeting
Moco Moco Village General Meeting
Sand Creek Village Council examining maps in company of technical team
3. ALT FPIC & DR Workshops: In collaboration with the UNDP, and in keeping with ALT Project Output 2 "A mechanism in place for identifying and resolving land issues", the following FPIC & DR workshops were implemented:
– Georgetown: February 9th- 11th, 2015 (Region 1 participants)
– St. Ignatius: February 13th- 15th, 2015 (Region 9 participants)
– Anna Regina: February 17th- 18th, 2015 (Region 2 participants)