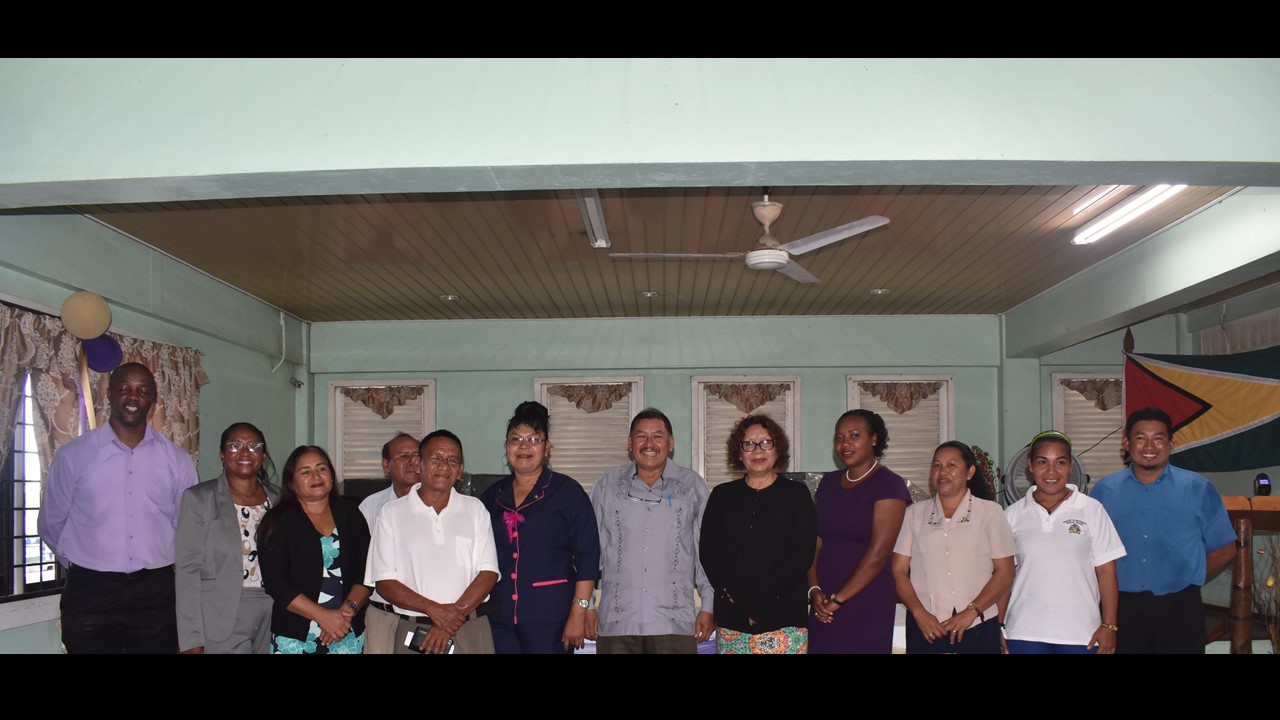 Ten Welfare Officers attached to the Ministry of Indigenous Peoples' Affairs is benefitting form a month long training which will build their capacity to adequately address welfare cases in the hinterland.
The one-month long training which commenced on Monday at the Hinterland Scholarship Division Dormitory, Liliendaal, E.C.D will see Welfare Officers trained from Regions 1, 7, 8 & 9.
Addressing the officers Vice President and Minister of Indigenous Peoples' Affairs Sydney Allicock said the Ministry is aiming to establish a core group of Welfare Officers and have them adequately trained so that they fully understand their roles and responsibilities in keeping with the Ministry's mandate to the indigenous peoples.
Minister Allicock told the newly recruited Welfare Officers that "you are part of the solution to many of those issues that we have been hearing, issues affecting our people, the people need to be properly informed, they need to be part of this whole process and you will have to be in a good position to give that advice, to give that guidance and to impart knowledge. That is why it is necessary to receive all the training possible".
Minister Allicock challenged them to capitalize on the internet connectivity that exist in some areas where they can share valuable information which will enhance their quality of work as well as be in constant communication with the Ministry.
"Be in the know just don't sit down and wait to be told, your job is to get information to help you in your job, get out there try to find out and try to advise try to be in regular communication", Minister Allicock challenged the officers.
Minister within the Ministry of Indigenous Peoples' Affairs, Valerie Garrido-Lowe, who has direct responsibility for welfare services across the hinterland, said Government continues to bridge the gap between the hinterland and the coastland and since taking office in 2015, there has been a significantly increase in welfare officers across the hinterland.
Minister Garrido-Lowe said before 2015 only one welfare officer was stationed in each region.
She said the Ministry remains committed to addressing welfare issues across the hinterland and as such there will be continuous training and recruiting of staff.
"While we may train welfare officers in every aspect, when they are placed in these communities they don't understand the language and the people's tradition, so we thought it best to bring persons directly from each region who are au fait with the culture and languages."
The training will include sessions in psycho-social first aid, counselling couching, and interactive sessions with the Probation Department, the Childcare and Protection Agency, the Department of Labour and the Counter Trafficking in Persons Unit from the Ministry of Social Protection and the General Register Office.
The training is executed in collaboration with the Ministries of Public Health, Social Protection, Public Security, Welfare and Social Service.
The Ministry's Welfare Department is responsible for formulating, facilitating and coordinating responses to social issues affecting the Indigenous Peoples of Guyana.
Officers also work with Toshaos to facilitate late Birth Registration, care and counselling, financial assistance for burial, medical treatment and persons in difficult circumstances.