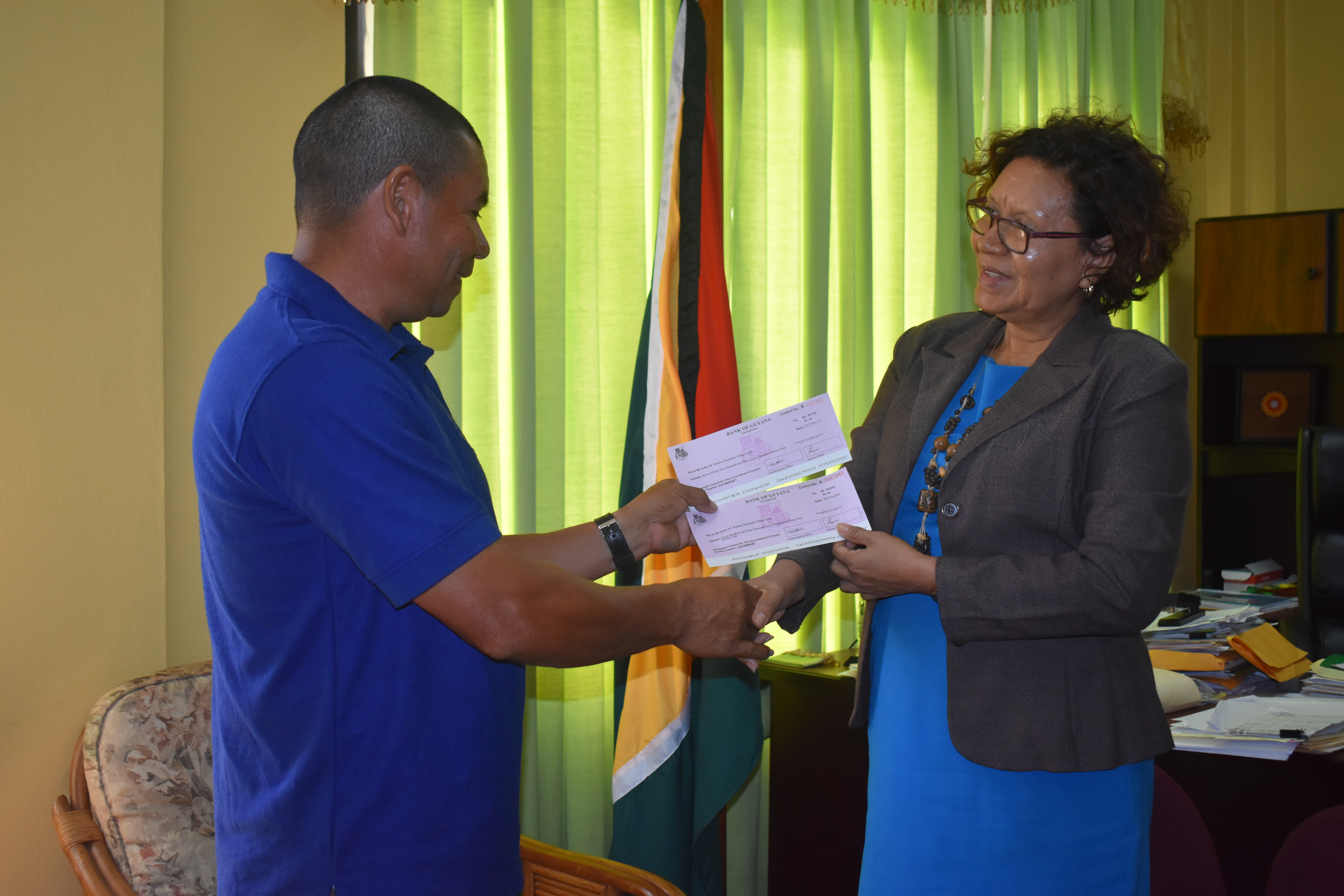 The Ministry of Indigenous Peoples' Affairs has made a significant financial contribution towards the successful hosting of the 2017 North Pakaraima Exposition which is set to open in Monkey Mountain, Region 8.
The two-day event opens on December 8 through 9.
Minister within the Ministry of Indigenous Peoples' Affairs, Valerie Garrido-Lowe, recently handed over the cheque to Toshao of the Village Hampton King at her Thomas and Quamina Streets Office.
After handing over the cheque Minister Garrido-Lowe said "the mountainous North Pakaraima sub-region is one of the most beautiful places in Guyana, and I would say, the world. The Ministry of Indigenous Peoples' Affairs will continue to support the Pakaraima Expo and the vision of the people of Region Eight so that one day sooner than later, it will be an event not to be missed by Guyanese and foreigners alike."
The two-day event, which is expected to see hundreds of villagers as well as residents from neighbouring villages converge in Monkey Mountain, will feature indigenous foods, art, craft and other talents in the form of sports.
Speaking ahead of the event Toshao King said, "Right now the village is preparing for this event, we are setting up boots, the stage area, and general cleanup because we expecting about eight hundred persons during the two days."
The seventeen villages expected to participate are Paramakatoi, Kato, Kurukubaru, Chenapou, Kopinang, Itabac, Kanapang, Chuing Mouth, Karisparu, Kamana, Waipa, Kaibarupai, Campbelltown, Maicobie, Tuseneng, Taruka and host Monkey Mountain.
Apart from the exhibits, villages will be involved in friendly competition in football and cricket with Paramakatoi, Kato and Kurukubaru male teams and Chenapou, Kopinang and Itabac female teams will clash in football, cricket and volleyball.
The North Pakaraima Expo over the years has significantly impacted tourism among other sectors in the region.
What will be significant during this year's expo is the Agricultural exhibition planned and Toshao King said "a number of villages who have their CDP's going, those who doing cattle rearing will be on exhibit which is good because people will be able to see what is going on the villages".  In excited anticipation of the Lapidary Workshop that will be established in 2018, he will be having a booth showcasing the semi-precious stones that they will be using to create exotic jewellery for sale globally via the internet.
Several villages are successful in maintaining viable CDP's which is making a significant impact on their village economies.