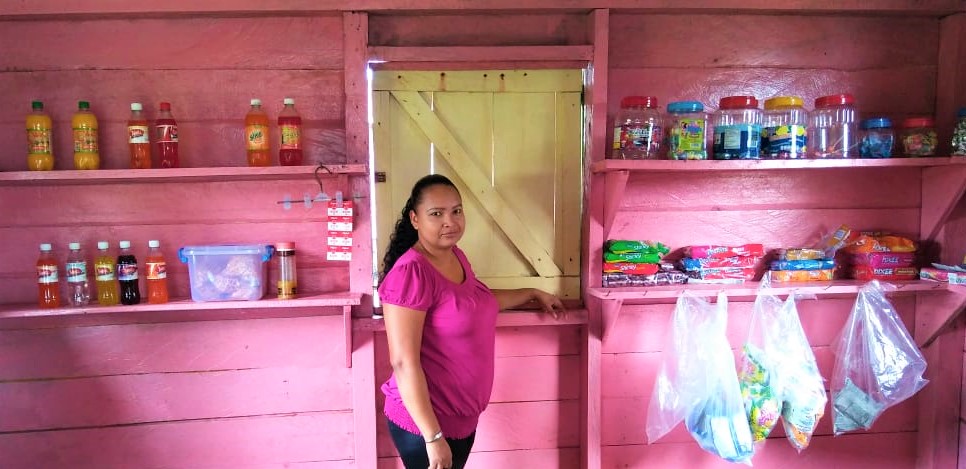 Nadeza Rodrigues an entrepreneur in the Hinterland Employment Youth Service HEYS movement continues to run a thriving business establishment that meet the needs of residents of Karawab Village, located more than sixty miles up the Pomeroon River, Region 2.
Rodrigues who is differently abled is the proud owner of a snackette that also sells a variety of locally made, delicious tasting foods, snacks and beverages.
Despite speech and hearing impediments, Rodrigues does not let the challenges of being differently-abled deter her from enhancing her vocational skills and continues to radiate a positive influence, making her a force to regional reckon with.
Close friends of the young woman also offered praises for her culinary skills as they pointed exceptional skills in making chicken curry and roti, which they dubbed as her best.
They believe too that her ability to operate in the kitchen speaks volumes of her determination to not allow her physical challenges daunt her from living a life of normalcy.
Her mother, Zelda Braithwaite believes that her daughter's aptitude and charisma in spite of her physical challenges, will allow her participation in the HEYS program to leave an indelible mark not only on her life, but on that of her peers and anyone whom she may come in contact with.
In addition to her culinary skills, Nadeza who is married and the mother of a son twelve year old Triston Rodrigues, also has a passion for embroidery and garment construction, which has ensured an additional income for the family.
When the HEYS program was introduced in 2016 by the APNU/AFC Coalition Government, Rodrigues was among more than three thousand youth between the ages of sixteen and thirty five years (16-35) to grasp the opportunity to be trained in several vocational skills while also receiving formal training in core areas. Today, many of them operate successful businesses in all ten administrative regions.
In Karawab lone, twenty youth benefited from the initiative.
Like Nadeza, many more life changing testimonies can be seen and heard nationally, which has positively influenced the target group- the youth, as the Ministry of Indigenous Peoples' Affairs and the Government, continues to deliver its mandate to the indigenous people, through well planned and executed programs and initiatives.
To date, Government has successfully concluded two cohorts, with plans in place for the execution of a third in 2020, which targets another four thousand youth.
This will bring the number of youth exposed to this life changing initiative to more than five thousand, a marked achievement under the Coalition Government.