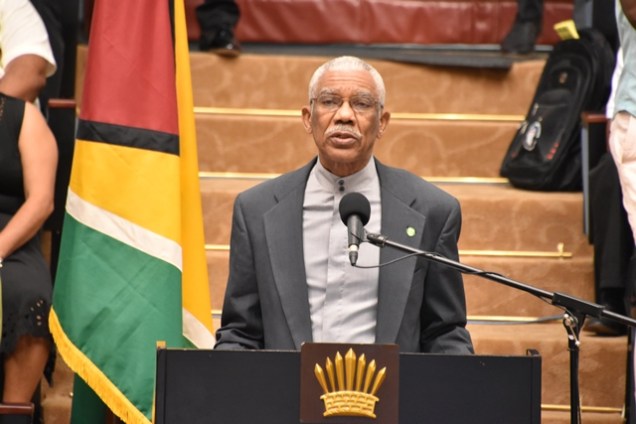 Georgetown, Guyana – DPI (July 16, 2018) President David Granger, today, called on the National Toshaos Council (NTC) to take the lead in developing Village Improvement Plans (VIPs), which are aimed at ensuring more sustainable and secure livelihoods, boosting human wellbeing, creating increased opportunities and reducing the inequalities between the coastland and hinterland communities. "Plans for the delivery of public services, particularly those related to education, economic services, energy, water, human health and the environment, will certainly yield improvements in villagers' quality of life," he said.
The President, who was at the time speaking at the opening of the 12th NTC Conference, explained that these plans must create a blueprint for improving the delivery of public services and must specifically address access to education, creation of employment opportunities, building of environmental resilience, improved health and human wellness and renewable energy.
He noted that villages have to continuously modernise their amenities and utilities in order to enhance the quality of life of their residents. This, he said, would require sound, long-term planning followed by effective implementation of those plans. In this regard, he said that the NTC conference provides an ideal platform for leaders to bring to the fore, their plans and challenges as well as to review the progress made over the past year.
"Villagers' quality of life is dependent on the quality of public services provided to them. Those services, including communications, education, information, sanitation, social protection and other amenities and utilities, are necessary to satisfy peoples' basic needs, enhance their economic opportunities, promote social integration and reduce inequality. Villages, if they are to be viable, should ensure that these services are accessible, affordable and appropriate. Public services should be enjoyed by all regardless of place of residence. They should be delivered at all three levels of government, national, regional and neighbourhood or village," the Head of State said.
The President spoke of the provisions of the Amerindian Act of 2006, which empowers Village Councils, headed by Toshaos and the NTC itself, to promote access to and the delivery of public services.
The Act, which was unanimously passed in the National Assembly, charges village councils with responsibility for the planning and development of indigenous villages and for making rules to govern the supply and use of water, the construction and maintenance of roads, bridges and other infrastructure. In Addition, the Act entrusts the National Toshaos' Council with preparing strategies and plans for reducing poverty, improving access to health and education and for the "protection, conservation and sustainable management of village lands and natural resources."
"The NTC is not an ornamental body nor is it a political party. It is vital executive organ with clearly defined objectives for ensuring the progress of indigenous communities. The NTC must establish appropriate administration, operation and organisation structures to foster cooperation between the national and regional governments and village councils and district councils and to ensure implementation of its decisions… The NTC should aim at improving people's quality of life by assisting their communities to develop Village Improvement Plans, which promote access to public services," the President said.
This year's conference is being attended by a new batch of Indigenous leaders who were elected at the recently concluded elections. Minister of Indigenous People's Affairs, Mr. Sydney Allicock in his remarks urged them to respect their individual offices and to remain focused on the bigger picture. He also warned that leaders past and present will be held accountable for any misappropriation of public funds and other resources.
Meanwhile, Minister within the Ministry of Amerindian Affairs, Ms. Valerie Garrido-Lowe in her remarks said that this is not a time for politicking but rather, a time for development as she noted that the Government has tangibly demonstrated, in its three short years in office, its commitment to the development of the Indigenous population.
The one-week forum is being held at the Arthur Chung Conference Centre (ACCC) at Liliendaal under the theme, "Preserving our past, protecting our future." During the course the week, leaders from the 212 Indigenous communities will engage the attention of Ministers and heads of government agencies on issues affecting their communities.