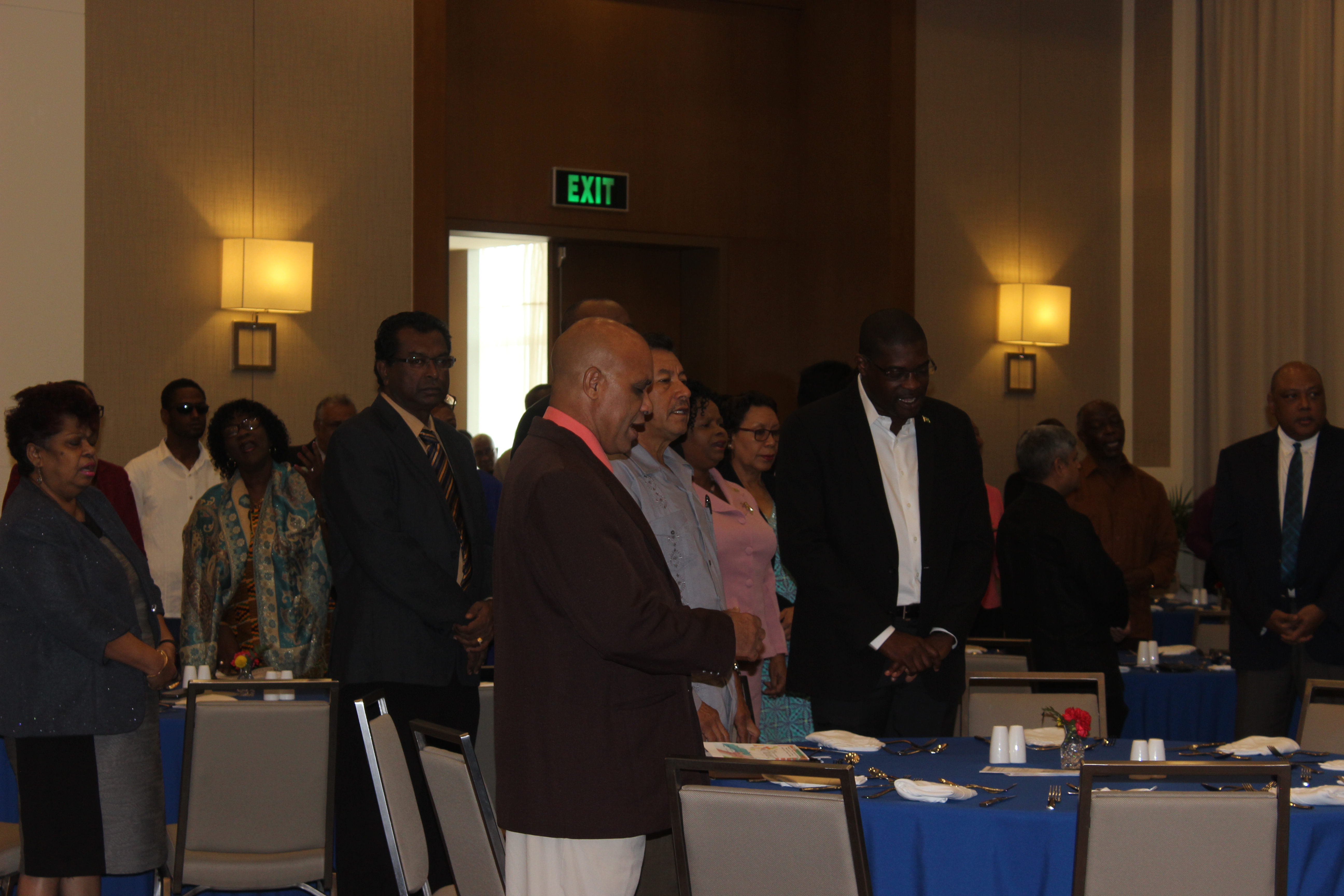 Leadership and building respectable relationships should be the cornerstone for members of the National Assembly as they strive towards nation building.
This was the message delivered by Reverend John Smith yesterday when the Georgetown Ministers Fellowship of the First Assembly of God Church of Guyana hosted law makers at a Prayer Breakfast at the Marriot Hotel in Kingston.
In attendance were Prime Minister Moses Nagamootoo, Vice Presidents Kemraj Ramjattan and Sydney Allicock, Speaker of the National Assembly and other Parliamentarians.
Reverend Smith said Guyana and its leadership can count on his organization for spiritual support which he deems crucial to Nation Building.
"You may not know it but we have a vested interest in this nation…we are here to help you so I am happy to welcome both sides of the house".
The morning session focused on the importance of good leadership qualities which according to the Reverend "the vision of the leader is to bring hope for everyone and must have the capacity to influence others, inspiration motivated by passion, generated by vision, produced by conviction and ignited by purpose".
Smith reminded parliamentarians that "leadership is an action not a position, leaders bring out the best in others… and if you do not love people you cannot lead them, and if you don't stand up for what is right you will be consumed by what is wrong".
He said to "lead one must understand that SERVE is what you do, Service is what you provide and Servant is what you are…. and God has a noble task for you and that is to serve".
Quoting from renowned Minister of the Gospel Dr. Miles Monroe the Reverend said "the Global world demands leadership that can respond with vision, confidence, results, wisdom, competences, skill and insight and provide solutions and answers to guide us through the turning waters of our time".
The Nation's Leaders have turned to the Church for the much needed support to bring about greater unity.
Just over a month ago President David Granger during his address at the launch of World Interfaith Harmony Week at the Umana Yana, said while the rest of the world is grappling with hostile relationships and religious conflicts, Guyana has policies enshrined towards peaceful coexistence.
The Head of State said "Guyana is a model of interfaith harmony".
Reverend Smith has given his Organization fullest assurance that it will continue supporting Government's thrust in this regard positing that "this is not a one off thing so we are here to help you and to make out journey easier because we are here to serve the nation".