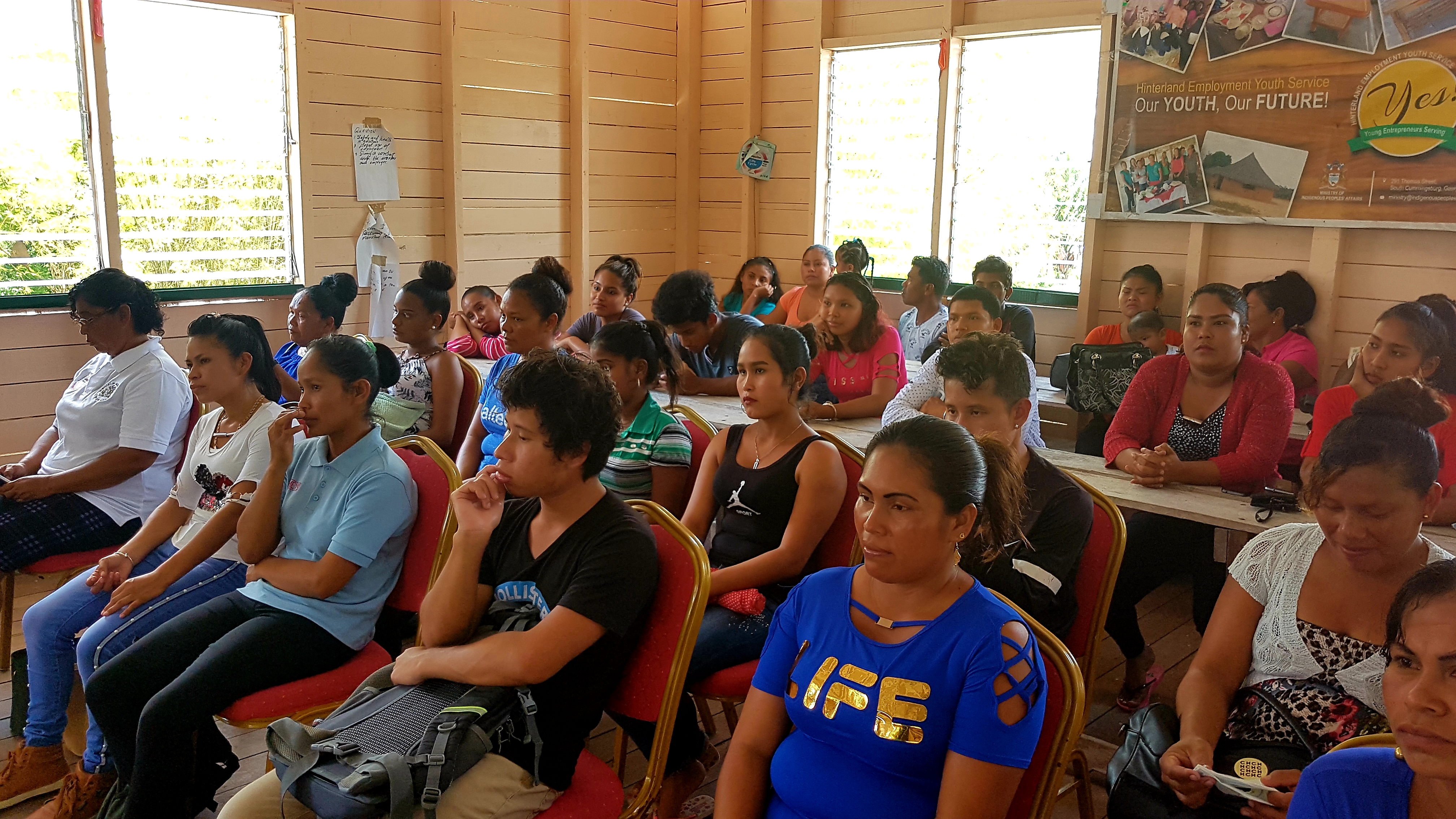 Some $1.9M were disbursed to thirty eight participants of the Hinterland Employment Youth Service HEYS Program during a visit to Essequibo Islands- West Demerara, Region 3 Wednesday last.
Minister of Indigenous Peoples' Affairs Sydney Allicock led a seven-member team to the region where participants with existing businesses under the HEYS Program met the youth from Saxacalli and Bonasika in Caria Caria where the grant was distributed.
  HEYS Youths in Caria Caria, Essequibo Islands, West Demerara, Region 3 receives stimulus grant.
Passionate testimonies were shared by the youth who noted with excitement, the positive impact the HEYS Program has caused on their lives.
Caria Caria's Karen DeNieuenkirk said "it has been a good learning experience, I am now in a better position to operate my own little business and I know that by God's grace I will be successful".
Celine Sampson another participant from Caria Caria in thanking the Government and the Ministry from giving the youth a second chance at life noted that "this program has transformed my life both morally and educationally…, there was an opportunity for one person from my community to train as a Health Worker, I embraced the challenged and the HEYS Program helped me tremendously both financially and in the academic area and I will be graduating on the 11th April, 2019.
"This program has allowed me to discover hidden talents that I am now using, my life has changed and I have a business up and running, my moral life and academic life has improved and I am confident that things are better with me now than before. I will be happy if this program can come back where more young people can have a chance to improve their life" said Crystal Decamp who is also a participant form Caria Caria.
The HEYS Program also caters to the needs of the differently abled in society and Courtley Jones a youth from Saxacalli with assistance from his sister Candida Allicock noted that "he started his business with a small amount of chickens and now he has forty three laying birds and he would like to improve his business. I would like to thank the Government for what they have done and will continue to do for the youths".
"To all participants you are blessed we all are blessed, this HEYS program has done and mean so much to me, it would not benefit me alone but I trust that it will benefit my children that is coming up. It changed my life both sides it helped me so I want to encourage you to never give up. I want to say thanks to the Government and to the Minister", said an overjoyed Glen Harris a participant from Bonasika.
Following their testimonies, Minister Sydney Allicock said he is extremely pleased with the commitment demonstrated by the youth who have embraced the HEYS Program and positive outcomes are being realized.
"What I can see and what I can hear, you are poised for a great future ahead, the mere fact that you have said these things for yourself is very encouraging. Mr. Courtley Jones your story from the chickens and eggs is very refreshing, it means that you are passionate and a lot of people might think that when you are differently abled that you can't help yourself and here is a very, very good example of what could happen as long as you are focused and dedicated".
The Minister further noted that "I am extremely impressed with the number of young women taking up the challenge, I think there are only five or six males and the rest are females who are leading in this which is a very, very good sign and I would like to ask the young men to take an example of what the young women are doing".
The Minister said right across the world, women are playing an integral role development and "we want the young men to become responsible young men to take up these challenges that will be beneficial to you".
Courtley Jones took the opportunity to capitalize on the marketing opportunity and sold fourteen trays of eggs to those attending the meeting including Minister Allicock who bought four trays to take back to the city.
Leaders from the respective villages encouraged the youth to thrive towards building on this opportunity which one leader described as "transformative".
Courtley sold a tray of egg for eight hundred dollars, and all were sold-out in a short space of time, much to his delight.
In the recent past, the HEYS initiative was deemed no more a "Program but an Irreversible Movement".
The Program which was introduced in 2015, is the Ministry of Indigenous Peoples' Affairs Flagship Youth Program one that has transformed the lives of close to four thousand youths across the Hinterland.
The program is one that was part of a ten point plan for Hinterland development by His Excellency David Granger during his address at the opening of the National Toshao's Council Conference in 2015.
To date, the "Movement" has brought tremendous benefits to the youth and already plans are being formulated to have a third cohort rolled out before the end on 2019.