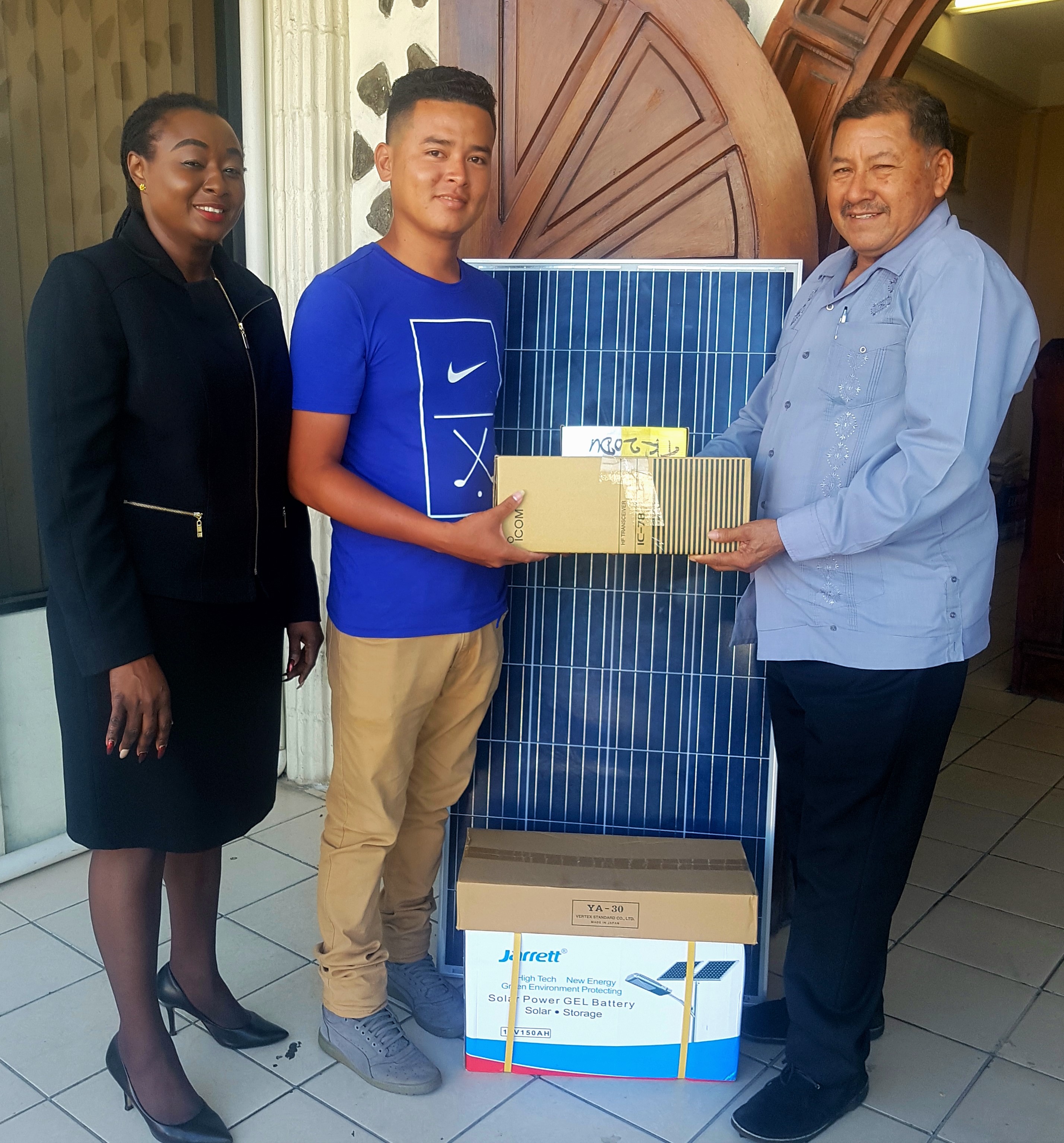 Minister of Indigenous Peoples' Affairs Sydney Allicock on Tuesday handed over a Radio Set and a Solar Panel and Battery Set to Dr. Gregory Fitzpatrick who is attached to the Imbamadai Health Center, Cuyuni/Mazaruni, Region 7 (Upper Maz).
Minister Allicock delivered on a promise made to improve communications across villages in Region 7, specifically in the Upper Mazaruni area during an outreach in the Region earlier this month.
The Minister noted that "this is a missing link that is now being addressed and we will continue to support our people with the necessary equipment. I know we have been addressing communication in the hinterland and the people of Imbamadai and other communities will now be able to keep in touch with the medical staff in Imbamadai especially in cases of emergency and I thrust that they make good use of it".
Dr. Fitzpatrick noted that the equipment will be of great service to the Health Center, since most of the neighboring villages have access to Radio Sets.
He noted that "I am in charge of the satellite communities but they have radio sets but to contact me who is in charge they cannot do that if there is an emergency. This is gonna really help us and improve our delivery of health services but also its not only the Health will benefit but the residents at large".
Residents of Omenaik, Kambaru, Chenowing and Wax Creek all seek medical services from the Imbamadai Health Center which has a population estimated at fifteen hundred.
Meanwhile, Government remains committed to bridging the gap between the hinterland and the coastland and improving communication linkages remain top priority.
The Ministry of Public telecommunications under the stewardship of Minister Catherine Hughes together with support from Minister Sydney Allicock and team at the Ministry of Indigenous Peoples' Affairs, have so far made significant strides in improving communication across the hinterland, with the establishment of Internet Connectivity, Radio Stations and Radio Sets in approximately ninety five percent of villages.