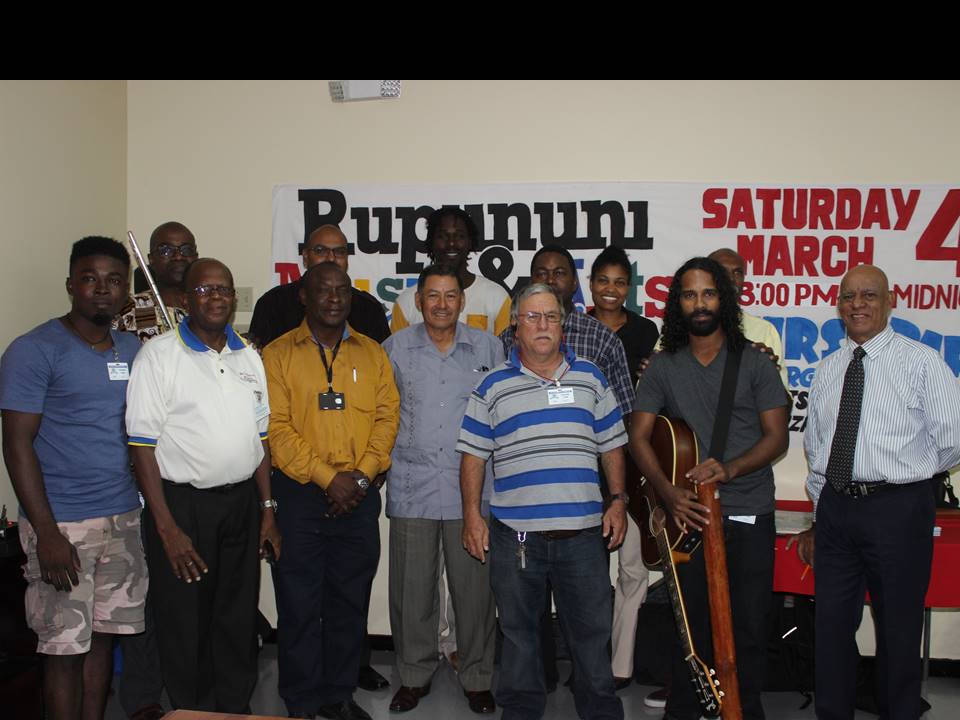 The Rupununi Music and Art Festival dubbed "Georgetown Connection" will be used as an important mechanism in Government's thrust to bridge the gap between the Hinterland and the Coastland.
The reason the Festival is being held in Georgetown this coming Saturday is to give Guyanese on the coastland an opportunity to taste some of what the Rupununi has to offer in terms of song, dance, poetry and craft among other attractions.
Vice President and Minister of Indigenous Peoples' Affairs Sydney Allicock during Monday's launch of the Festival at Banks DIH, Thirst Park Head Office, described the event as colourful as a rainbow.
"This as an opportunity that allows us to bridge our cultures and gain international recognition. If each and every group in Guyana could follow their history and be able to portray that on the National scene it will be like a rainbow beautifully coloured and enjoy the richness of a Guyanese society" the Minister assured.
Minister Allicock said this will be an opportunity for Guyanese in the Hinterland to link with their brothers and sisters on the coastland, a commitment made by the current administration to unite this beautiful country.
The Minister said the Music and Art Festival is just one way of realizing such partnerships.
"We have seen the skills of our local people here in Guyana they have been able to embrace those artists living outside of Guyana and have gained the experience that Guyana badly need and we cannot do this alone we have to do it in partnership. We believe that we have the persons who can make this happen. So this is a wonderful opportunity to Give Guyana that boost of International recognition and the artists will help us get there" the Vice President emphasized.
Barbadian based Creative Producer Bob Ramdhanie during the launch highlighted what patrons can expect come this Saturday.
"There's spoken word, there's music, there's dance and the idea is to share the flavors that are around, and we also have some special guest coming in from Barbados" this according to Ramdhanie will surely be spicing things up" he informed.
Banks DIH is a major partner for the festival and the company's Communications Manager Troy Peters said the beverage conglomerate is pleased to be associated with such an activity and called on Guyanese to come out and support this initiative saying "this weekend's festival will certainly be an experience for those who attend and our company over the years has been extremely supportive to art and entertainment and once again we continue to show our commitment".
Barbados' youngest calypso Monarch and nine time winner of the title The Mighty Gabby will be headlining the one day event, with other scintillating performances coming from Guyana's finest in music, spoken word, comedy and dance.
Renowned calypsonian Dave Martin and Friends will spearhead the local team. Dave who is known across the Caribbean as the leader and songwriter of the popular Tradewinds band will be supported by rock band, Feed the Flames along with other artistes such as Collage, Nachgana Academy of Dance, Chuckie & Gavin Mendonca, the Surama Cultural Group and many others.
International Guyanese flautist Keith Waithe will also make a special appearance.
According to Ramdhanie art and craft will also be on display, along with a book sale and games among other inter-active activities.
The Rupununi Music and Arts Festival was first held at Rock View, Region 9 back in 2013, with the 2017 festivities are planned for the Manari Ranch, Region Nine from August 18-20.
Plans are also on stream for the establishment of a vibrant Festival Village in the Rupununi, which offers a wide range of educational, music and arts related training programmes.
The festival is a collaborative effort between Government, the private sector and NGOs.
Among the events other sponsors are Giftland Mall, Republic Bank, Guyana Tourism Authority (GTA), Tourism and Hospitality Association of Guyana (THAG) and NAMILCO Inc.