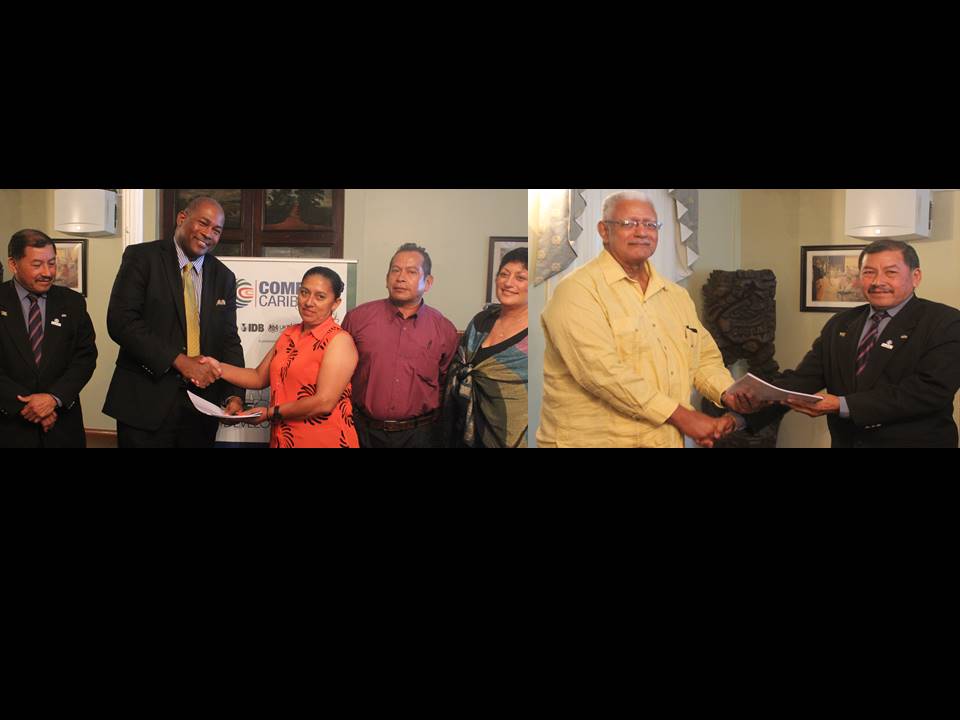 Vice President and Minister of Indigenous Peoples' Affairs Sydney Allicock and Minister of Agriculture are in receipt of the draft legislation for the "Catch and Release" Sport Fishing of the world's largest fresh water fish the Arapaima.
The legislation which was drafted by Attorney at Law Mr. Nigel Hughes with the financial assistance from Compete Caribbean and other stakeholders was handed over to representatives from the 'The North Rupununi Cluster' then to the Indigenous Affairs Minister who then handed over a copy to Minister of Agriculture Noel Holder.
The idea which came into being in 2012 saw three Eco Lodges, Surama, Rewa, and Karanambu involved in in a joint sustainable tourism venture.
The three Eco Lodges decided to contribute to Rewa's pilot program which saw scientific research conducted on the Arapaima by a team of experts led by internationally recognized Aquatic Veterinarian Dr. Ilze Berzins with the final goal of crafting a strong regulatory framework for sustainable sport fishing activities at the three lodges.
At a ceremony to recognize this achievement Vice President and Minister of Indigenous Peoples' Affairs Sydney Allicock showered commendations on the individuals from the respective communities for overcoming a number of challenges and ensuring this project gravitates towards a success story.
Minister Allicock in acknowledging the work done by Mr. Hughes said "having this document that is before us we hope it will become a legal piece of instrument which will allow us to be able to manage, protect and to develop our communities."
Mr. Nigel Hughes who was contracted as a consultant by Compete Caribbean noted that this was one of the most gratifying projects he was involved in to date.
"This is perhaps the only sustainable, reusable project that exist in which value added doesn't just stop at only one transaction but multiple transactions… it is a fantastic income generator that doesn't have a terminal life in-terms of reducing the number of pool of the Arapaima available and a rapid economic development for the communities in the cluster."
Tourism Minister Catherine Hughes in recognizing the dynamism of the project said "I think that is really what separates this product from many other products that you sometimes come across the fact that it looks at the capacity building aspect, the training aspect that actually establishes something that three communities can work around and actually see a direct impact on their livelihoods."
Minister Hughes said the incumbent administration is committed to the development of all indigenous communities and creating that enabling environment where they can be self-sufficient.
Once the draft legislation for the "Catch and Release" which falls under the ambit of the Ministry of Agriculture is accented to, it is hoped that the piece of legislation will not only protect wildlife but will economically empower members of the respective communities thus transforming their existence.
Meanwhile, Inter-American Bank Country Representative Sophie Makonnen and Canadian High Commissioner to Guyana Pierre Giroux shared similar sentiments as they remain resolute in securing a prosperous future for all.
Also in attendance was Minister of Business Dominick Gaskin, Executive Director of Compete Caribbean Sylvia Dohnert, other representatives from Compete Caribbean and Andrea and Salvador De Caries who spearheaded the project among other key stakeholders.