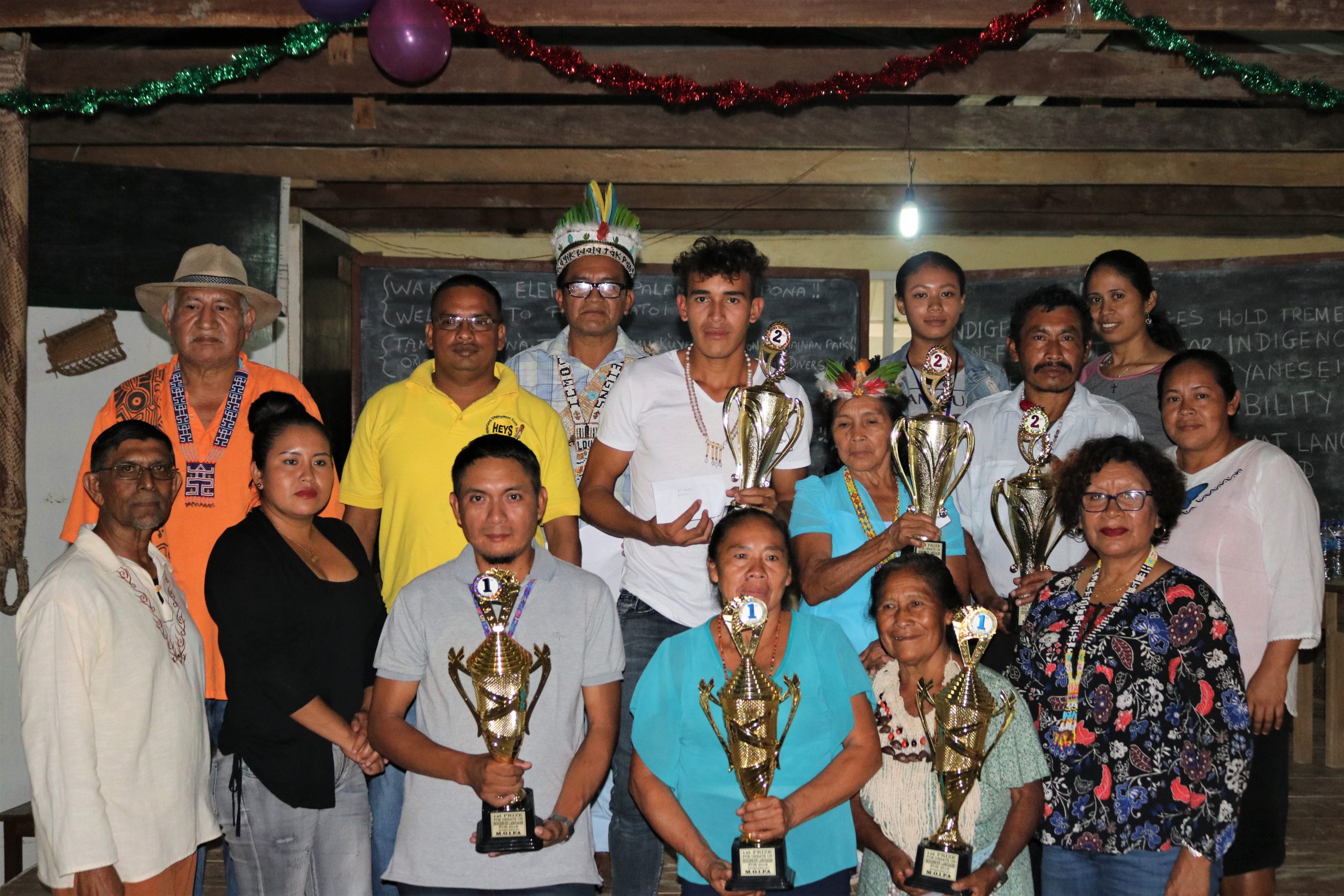 Preserving all nine indigenous languages across Guyana was undoubtedly the winner of a debate in the Patamona language recently hosted in Paramakatoi, Potaro-Siparuni, Region 8 to bring the curtain down on activities in observance of 2019 which was designated as International Year of Indigenous Languages.
The debate was historical since it was the first of its kind to be hosted in Guyana and in an indigenous village.
The moot for the heated three-member debate was "Indigenous Languages hold tremendous benefits not just for indigenous peoples, but for all Guyanese, hence it's the responsibility of the Government to ensure that indigenous languages are preserved and promoted nationally".
The proposition with fierce representation captured the undivided attention of the judges and the more that three hundred residents including children who gathered to witness history made in the auditorium of the Paramakatoi Secondary School situated in the mountainous landscape of the Pakaraima Mountain.
Taking to the podium in support of the moot, Marlon Williams speaking in fluent Patamona noted Government's continued financial investment which ensures the indigenous culture inclusive of languages are preserved and embraced by all so that the indigenous peoples can be treated with respect and dignity.
He added that doctors, lawyers and pilots from indigenous villages and communities who speak their language can be an asset since they will be able to bridge the communication gap, while also imparting this knowledge to the younger generation.
The most prolific speaker Ms. Molly Simon and winner of the best speaker incentive reminded of Guyana's Moto "One People, One Nation, One Destiny" which according to her, speaks volumes all as a people, a platform where languages will continue to play an integral role in society.
The opposition on the other hand contended that indigenous languages in this era cannot ensure one a job but creates a language barrier and easy exploitation, therefore Government should focus more on other aspects of indigenous life.
Dat Nagalla a young aspiring indigenous activist during his presentation noted that preserving indigenous languages "will be putting our students countrywide at risk as it relates to writing CXC, students will continue to fail year after year as everything is done in English and not their language."
He added that "finances should not be used on non-first burner issues when there is serious threats of drought and shortage of drug supplies nationwide."
Meanwhile, following the conclusion of the debate debaters were brought back to reality and were asked what language preservation truly meant to them.
Williams (Marlon) said "since I had the opportunity to meet a Minister in the Government, I said it form my heart, Indigenous languages are very important not only for today but for future generations and we must always preserve and promote it nationally. I'm always for indigenous languages and I was thinking that once I have the chance to publicly inform the people as to what our languages are and how important it is, I will tell the people from my heart how important it is to preserve and promote it."
Elizabeth Aaron who was on the opposing team agreed that indigenous languages should be preserved and promoted stating that "we can learn our languages for ourselves at home and teach our children and when they go to school that is the time they will learn English and they can also teach their language to their friends so everyone can learn it."
Simon who received a decent financial incentive for her performance said "when the language preservation and promotion is done nationally, I know people from the coastland will be able to learn the different languages and we will be able to communicate with each other at least and I look forward for another debate and I hope I will be able to participate."
Several activities were held in observance of International Year of Indigenous Languages which garnered marked crowds.
Minister within the Ministry of Indigenous Peoples' Affairs Valerie Garrido-Lowe during remarks before the start of the debate stated that "indigenous languages are captivating and really wonderful and highlighting and promoting the indigenous languages should not stop here. It must be something that we have to continue because the languages are dying and we need to promote it".
The Minister added that Government will continue supporting the promotion and preservation of languages and in 2020 and there are plans by the Ministry to host a grand Indigenous Song Festival.
Meanwhile, among activities executed during the year were a published Patamona Dictionary, an Arekuna alphabet, Arawak lessons and a dictionary, Akawaio and Warrau dictionaries, musical evenings, a storytelling festival and a Tourism Handbook.
Activities were celebrated under the theme: "One People, Many Languages:, Preserving our Cultural Diversity".
Members of the proposition (winning team) each received twenty thousand dollars and a trophy, the best speaker ten thousand dollars, while members of the proposition (the 2nd placed team) each received fifteen thousand dollars and a trophy each.