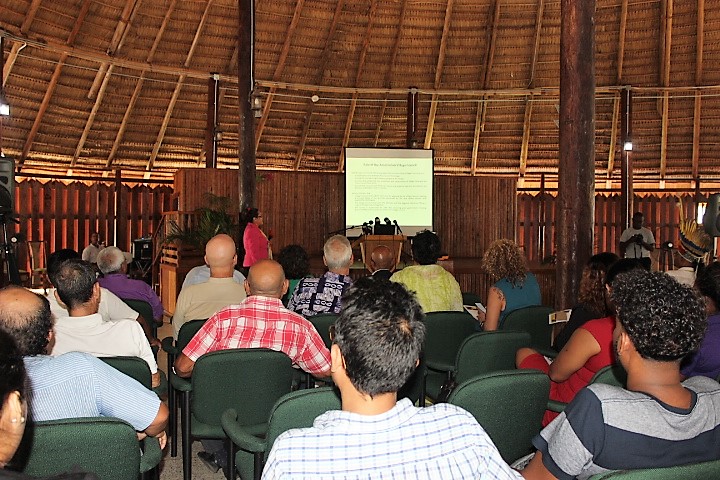 "Lack of accountability and transparency at the village level, poor planning and coordination, conflict within the villages, poor support and lack of commitment, Toshao's Changed, only families are the beneficiary of the grants in terms of the temporary employment it offers and  different stakeholders working in the villages with different objectives," were some of deficiencies highlighted by Minister of Indigenous Peoples' Affairs Sydney Allicock that the Sustainable development Framework will ultimately  address.
Minister Allicock was speaking during the launch of the Sustainable Development Agreement Framework at the Umana Yana in Kinston.
According to the Minister, this policy framework will ensure efficient and effective financial and technical support directed to the villages for social, economic and cultural development.
The Honorable Minister posited that "we cannot allow this to continue so there must be a system that will help to alleviate the problem and hence the Sustainable Development Agreement Framework which we hope can rectify most if not all of these short comings."
The Framework also seeks to provide strong monitoring and evaluation mechanism and according to the Minister "villages will be in a position to know what their annual priority projects are and send it to the Ministry and the REO in time to be placed into the Ministry and RDC's Annual Budgets."
Another key component of the Framework is the ability to foster partnerships and Minister Allicock made it clear that in order for this initiative to be executed successfully there must be improvement at all levels.
"We have the mandate to work with, we have 215 villages and communities and this is a very huge task so to do so efficiently we will have to collaborate with other Ministries, Indigenous Groups, NGO's and the donor communities…. when we work together we will see results we will make an impact and see the change that we are all working together for."
Minister within the Ministry Valerie Garrido-Lowe welcomed the initiative and noted that "this should have been implemented a long time ago."
Minister Lowe expressed gratitude to the partners for coming on board and making this aspect of the Framework possible in assisting villages and communities to develop strong village economies while at the same time maintain their culture and traditions.
"Government have had challenges in reaching out and giving the indigenous people the good life that they deserve… so we are very happy for partners like Conservation International and the Inter Development Bank that come on board and help us to help our indigenous people" Minister Lowe explained.
Meanwhile, Executive Director of Conservation International Guyana Dr. David Singh commend the MoIPA for taking this bold step which seeks to bring about the much needed deliverables as they thrive towards creating viable economies within villages and communities.
Components of the Framework Dr. Singh noted are built around achieving seventeen Sustainable Development Goals (SDG's) with the aim of ending all forms of poverty, fighting inequalities and tackling climate change.
The timely Sustainable Development Framework according to him will ensure the desired goals are achieved and therefore "we at Conservation International are particularly pleased to be associated with this initiative."
Project Coordinator in the MoIPA Jude Da Silva in detailing aspects of the framework said this initiative was crafted mainly because of the challenges faced in the villages in terms of submitting project proposals and community plans.
"We get a number of project proposals at the Ministry but most of them are weak and do not have the sustainable enhancing element attached to it so the Framework will address that aspect of development in communities."
Chairman of the National Toshao's Council Joel Fredericks lauded the initiative saying "I see the sustainable development plan or framework is fitting in with what the National Toshao's Council's mandate is all about for every village in the past villages did projects but it wasn't really structured like how the plan is catering for it so I believe it is very good for every village."
Fredericks who is also the Toshao for Mainstay/Whyaka in Region two has expressed excitement to the announcement that and initiative will next be rolled out in his village said "I cannot wait for it to come to Mainstay because our villages is ready and waiting for it."
Another partner joining the Ministry and C.I in executing this initiative is World Wild Life Fund, North Rupununi District Development Board (NRDDB), Kanuku Mountains Community Regional Group (KMCRG) that have already commenced work with villages in Region Nine.
The Ministry began working on the Sustainable Development Framework Agreement late last year which assist villages and communities produce a long term  (10-year) Community Development Plan (CDP), where programmatic areas will be outlined while projects and targets will be prioritize based on the respective CDP's.
This will be complimented with an effective feedback mechanism.
Last week end the initiative was rolled out to twenty seven villages in Region Nine with meetings were held in Lethem and Annai.