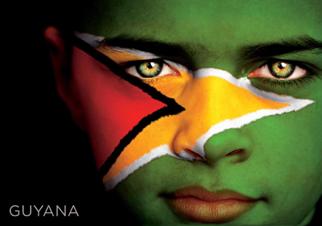 Georgetown, GINA, February 24, 2013
Addressing residents of Kato, Region Eight at the community's flag raising ceremony in commemoration of the country's 43rd Republic Anniversary on February 22, Minister of Amerindian Affairs Pauline Sukhai issued a call for unity and for persons to work across the political divide to hasten Guyana's development.
Also present at the event was Region Eight Chairman Mark Crawford and Regional Executive Officer Ronald Harsawack.
Minister Sukhai reminded residents. Of how Guyana gained Independence which was followed by Republican status.
The minister said that it was only following the post-colonial period, when a few allowed their own self-centered interests to take precedent over the country's interest was the development goal of the country hampered and to some extent reversed.
"The lessons that we should take from that, and in looking to the future, is that to obtain Republic and Independence it was a united front, but when we lost that shared vision and goal for our nation's development, we doomed ourselves and a people to a situation, where we reversed development," she said.
Calling on the nation and the leaders to remember the country's motto of "One people, One Nation, One Destiny", Minister Sukhai said that Guyana remains in a challenging situation, and in aspiring to change this and move upwards, the leaders must understand that it takes dedication, partnership and individual effort.
Minister Sukhai appealed to the leaders to stand true to their commitment given to their constituents of working towards nation-building, "At the political level we hear leaders call for unity, shared governance, and inclusiveness, but when the actions that are needed to cement all of these calls, we see a different picture".
Minister Sukhai said that as Guyana celebrates another Republic Anniversary, the time is opportune for the leaders to stop giving lip service about unity, and to instead stay true to the call of unity for development.
Harsawack and Crawford expressed similar sentiments of striving together to build the community, region and country during their brief addresses to the residents.
Harsawack echoed the called for the residents of Region Eight and Guyana to let the principles of unity that formed early struggles, guide them today, and cautioned about allowing elements to divide the region and country.
"Do not sit idly by and allow elements to come into our midst and cause strife, division and destruction among us. We must strive together to build our community, region and country," he said.
"Indeed we know that in politics sometimes we go down some serious roads, but at the end of the day it is important that we understand that we have one common goal as a country, and it is important that we together strive toward this goal," the Regional Chairman.
In neighbouring village, Kurukubaru, a simple flag raising ceremony was held on February 21. Minister Sukhai was also present at this ceremony and in brief remarks, expressed gratitude for their part in continuing Guyana's development.