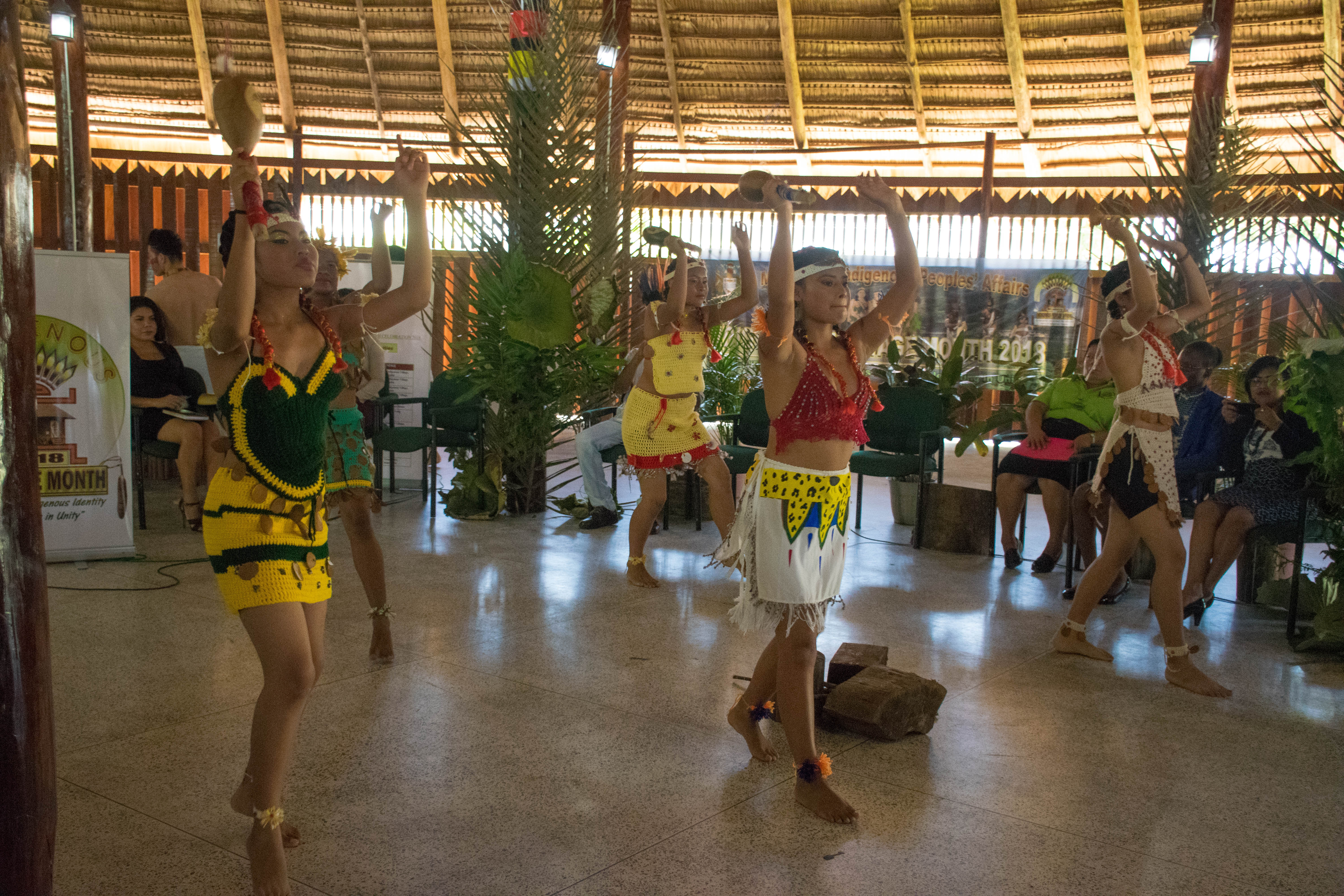 Minister of Indigenous Peoples' Affairs Sydney Allicock said the theme for this year's Indigenous Heritage Month Celebrations "Proud of our Indigenous Identity – Celebrating in Unity" is most fitting since it "succinctly places into view the path that we as Indigenous peoples should be on".
Minister Allicock made this comment at the Umana Yana, Kingston during last Thursday's launch of activities for the month long Indigenous Heritage celebrations come September.
The Minister added that "the Ministry has been working tirelessly towards the planning and execution of these events, it is expected that as we plan every year we seek to raise the standards from the previous years, to continuously raise the bar and challenge ourselves".
Elaborating on the theme the Minister noted that "indigenous identity, who we are as indigenous peoples is something so special, as is each beautiful race in Guyana. We must embrace our identity, have pride in it, no more should we shy away from our roots or who we are. To be ashamed or shy away from our identity goes against everything that people like Stephen Campbell have worked for".
The Minister also reminded that "as we continue to elevate as indigenous people, let us not forget who we are and where we came from, these attributes will ultimately determine where we will go".
Minister Allicock who is also a Vice President assured that "your Government, remains committed to speaking to issues affecting Indigenous land tenure. We are determined to continue to have open dialogue with the NTC and the Indigenous communities and NGOs as we look forward towards the amicable resolution of issues which continue to affect land tenure".
He also took the opportunity to encourage all Guyanese to "utilize every opportunity we have to celebrate and unite together and during the upcoming month, there will be a plethora of activities to be held nationwide in celebration of Indigenous culture and pride, I invite all to celebrate with us in a spirit of peace, love, tolerance and unity".
Minister within the Ministry Valerie Garrido-Lowe in echoing similar sentiments also acknowledged that "the Government of Guyana is fixed in its interest and staunch in its commitment to ensure that all efforts are made towards the protection and promulgation of the rights and heritage of our peoples".
The Minister reiterated that "as a country and in comparison to others, we have made great strides in addressing many of the issues faced by our peoples, issues such as exclusion, marginalization and denial of rights that have been so comprehensively captured in the United Nations Declaration of the Rights of Indigenous Peoples".
"Your Government is set at work to ensure that our peoples are fully empowered economically and educationally to participate in national development thereby addressing seclusion and marginalization. More of our young people are being given scholarships to attend various institutions of learning in the city and the coast land who will then return to make their communities better in the fields of their choices" the Minister assured.
She noted that "we also have to recognize that our communities need our input and expertise. We need more educators, health workers, professional agriculturists and business people. Let us renew our commitment and duty towards our people. I therefore encourage you to be bold, kind, determine and highly optimistic about your future".
The activities during the Month long celebration include a Religious Service on August 31, the Ceremonial Launch September 1, Cultural Extravaganza and Food & Craft Exhibitions from September 1-5, Indigenous Art Exhibition September 7-29, Celebration of the Life and Work of Stephen Campbell September 10, National Village Day September 15, Educational Tour September 10-14, Educational Lecture Series September 7-28, Heritage Sports September 21-23 and the Annual Heritage Dinner September 29.
Meanwhile, Leon Couchman the artist behind "Indigenous Man" and "Guyana My Home Land", Sarah Fredericks with "Guyanese Unite", a poem "It is We" by four year old Fola Cadogan and an indigenous dance by Students from the Hinterland Scholarship Division were among the cultural items on the day's program. These scintillating performances were just a precursor to the much anticipated heritage month activities planned. Several performers  young and old are scheduled to participate in the Month long activities.