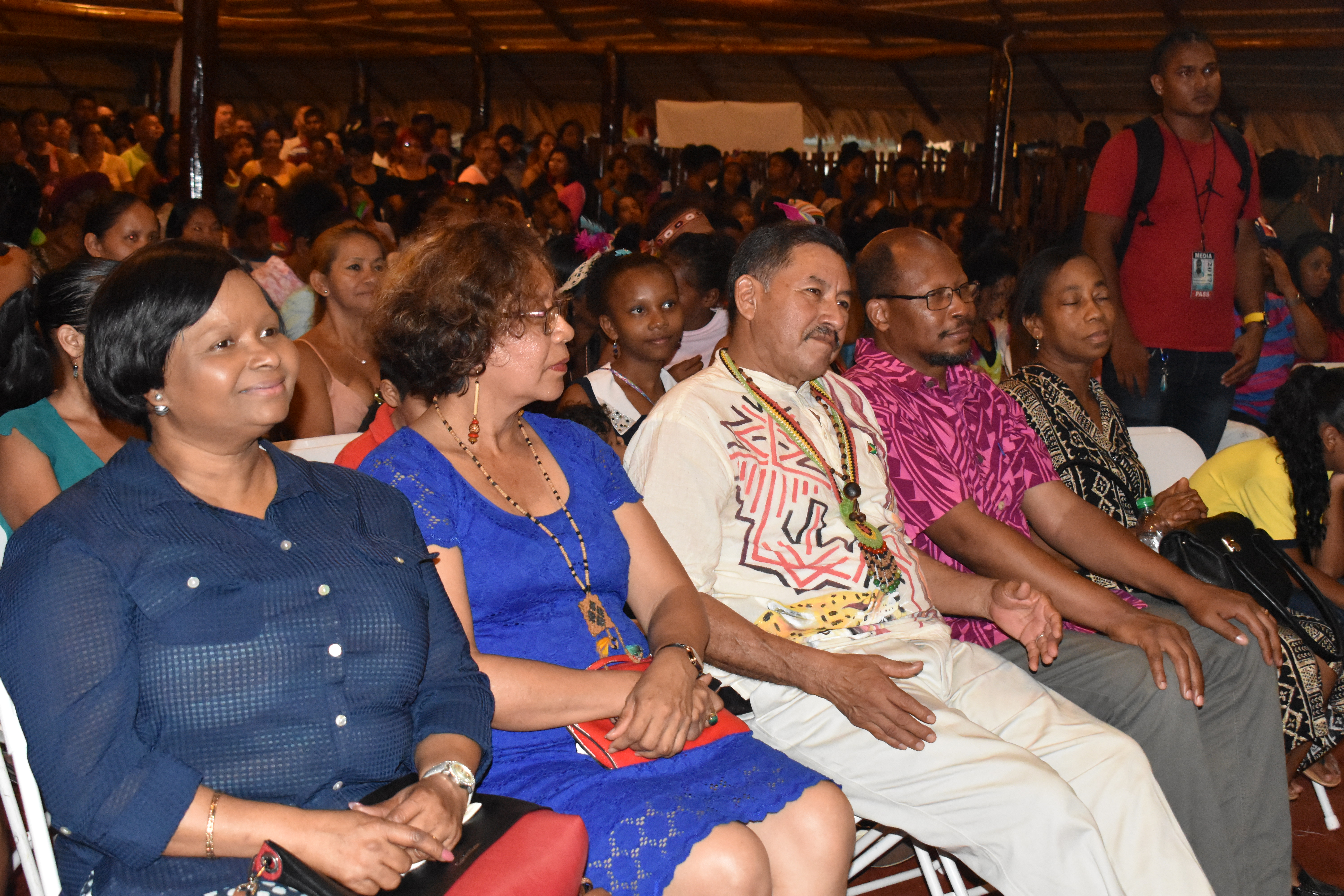 Vice President and Minister of Indigenous Peoples' Affairs Sydney Allicock at the conclusion of five days and nights of exhibiting that unique indigenous culture has expressed gratitude to participants for making the activities to mark the beginning of Indigenous Heritage Month 2017 a resounding success.
The crowd that gathered for the closing of the Food and Craft Exhibition and the Cultural Extravaganza at the Indigenous Village, Sophia.
The Vice President told hundreds of persons who converged at the Indigenous Village, Sophia on the final evening (Tuesday Evening) of the Food and Craft Exhibition and the Cultural Extravaganza that the activities were highly successful because of support from the indigenous peoples.
"The performance by the artists was so exciting and I see every year that there is an improvement and that is what we would like to see continue to happen.  We would like to see more stories, more songs, more dances, more history and more products coming out to be displayed, so that you have economic growth in you communities" the Vice President noted.
He also took the opportunity to remind the indigenous peoples of the integral role they play in nation building.
The indigenous peoples were also encouraged to remain on that developmental path while being cognizant of forces which will attempt to bring disunity.
"I call on each and every one to be positive, and according to Minister, let us leave a legacy, let us prepare for what is coming, because there is a bright future ahead, let us leave the petty politics, the gutter politics aside, let us rise above that, let us be matured enough to say no and to say yes and say why to these things, let us unite this is Guyana and the indigenous peoples have a role to play for uniting this country".
While this year's activities were well attended, Minister Allicock encouraged the public to send suggestions to the Ministry on making the activities more successful.
Meanwhile, Minister within the Ministry of Indigenous Peoples' Affairs Valerie Garrido-Lowe during her presentation embraced the legacy of our indigenous ancestors have left while passionately encouraging this generation of indigenous peoples to pause for a moment to ponder on the contribution or contributions they have made towards their own development.
"Today this generation, what are we going to leave for our descendants? I would like our indigenous brothers and sisters to think seriously, how long are we going to just feel good that our ancestors have brought us here, so far, and have left us with this beautiful legacy, how are we going to expand, how are our descendants going to celebrate us, what will be this generations' legacy?".
Minister Garrido-Lowe encouraged the indigenous peoples to further embrace their culture and many talents they possess so they can leave that indelible mark for future generations.
The Minister also cited Climate change as a critical area that can have dire consequences to wellbeing of the nations' first people noting that "I have seen firsthand how it affects our hinterland resident; this includes our indigenous and non-indigenous residents who live in the hinterland. We must be able to look at how we can design our homesteads and communities to better fight climate change".
Just recently, several families were displaced in Regions 7 and 8 following torrential downpours that caused the Potaro River to overtop its banks forcing families to seek higher ground and damaging several roads making them impassable.
Minister Garrido-Lowe said she will be championing the climate change cause so that the lives and livelihoods of the indigenous peoples can see development rather than destruction.
The curtain came down on five nights of scintillating performances from talented indigenous persons through music, poems, drama, dancing and storytelling which embraces this year's theme: "Guyana's First Peoples: Sustaining a Rich Cultural Environment".