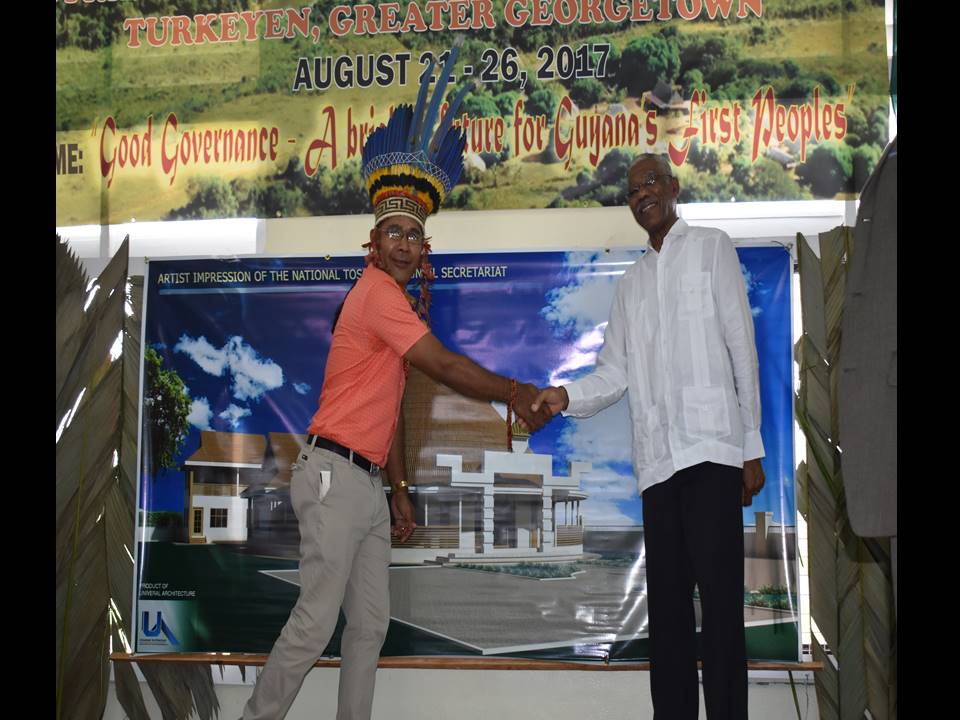 Vice President and Minister of Indigenous Peoples' Affairs was witness to history in the making when President David Granger and outgoing Chair of the National Toshao's Council (NTC) Joel Fredericks unveiled the design for the NTC's Secretariat.
The Secretariat will be constructed in the Compound of the Sophia Exhibition Center.
During the 2016 National Toshao's Conference the Council requested a plot of land from the Government to construct its long awaited Secretariat.
His Excellency David Granger, Prime Minister Moses Nagamootoo, Vice President and Minister of Indigenous Peoples' Affairs and NTC Chair turns the sod paving the way for the construction of the historic National Toshao's Council Secretariat. Minister of Social Cohesion Dr. George Norton was also on hand to witness history in the making. 
President Granger said he is pleased that his Government was able to facilitate the process of acquiring a permanent home for this important indigenous body.
Before turning the sod President Granger said "it is all together fitting that we should not see the NTC as a talk shop where they meet from time to time to talk, but as a workshop, this must become a workhouse where they can meet and deliberate, where they can plan, where they can keep records, where they can communicate with all two hundred and twelve communities where persons coming from those regions can come to their NTC Office".
Vice President and Minister of Indigenous Peoples' Affairs Sydney Allicock said he is honored to be part of such a significant milestone in the life of the National Toshao's Council.
"Toshao's and friends at this historic site, I would like to say that this is a dream that is now becoming reality and it just goes to show the seriousness of this government and especially the leader of this coalition of the interest at heart, for each and every Guyanese, and I see this secretariat being of the unification for our people between the coast and the hinterland".
Minister Allicock said he sees this project as "the approach towards building a united country".
Meanwhile, outgoing NTC Chair Joel Fredericks also noted the significance of this exercise stating that "I am very honored and pleased Mr. President that you listened to our request last year and your government did act on it. The NTC will work with your administration to make the NTC Secretariat a reality".
The design was unveiled during the August 21 opening of the NTC at the Cyril Potter of College of Education, Turkeyen Campus, E.C.D.