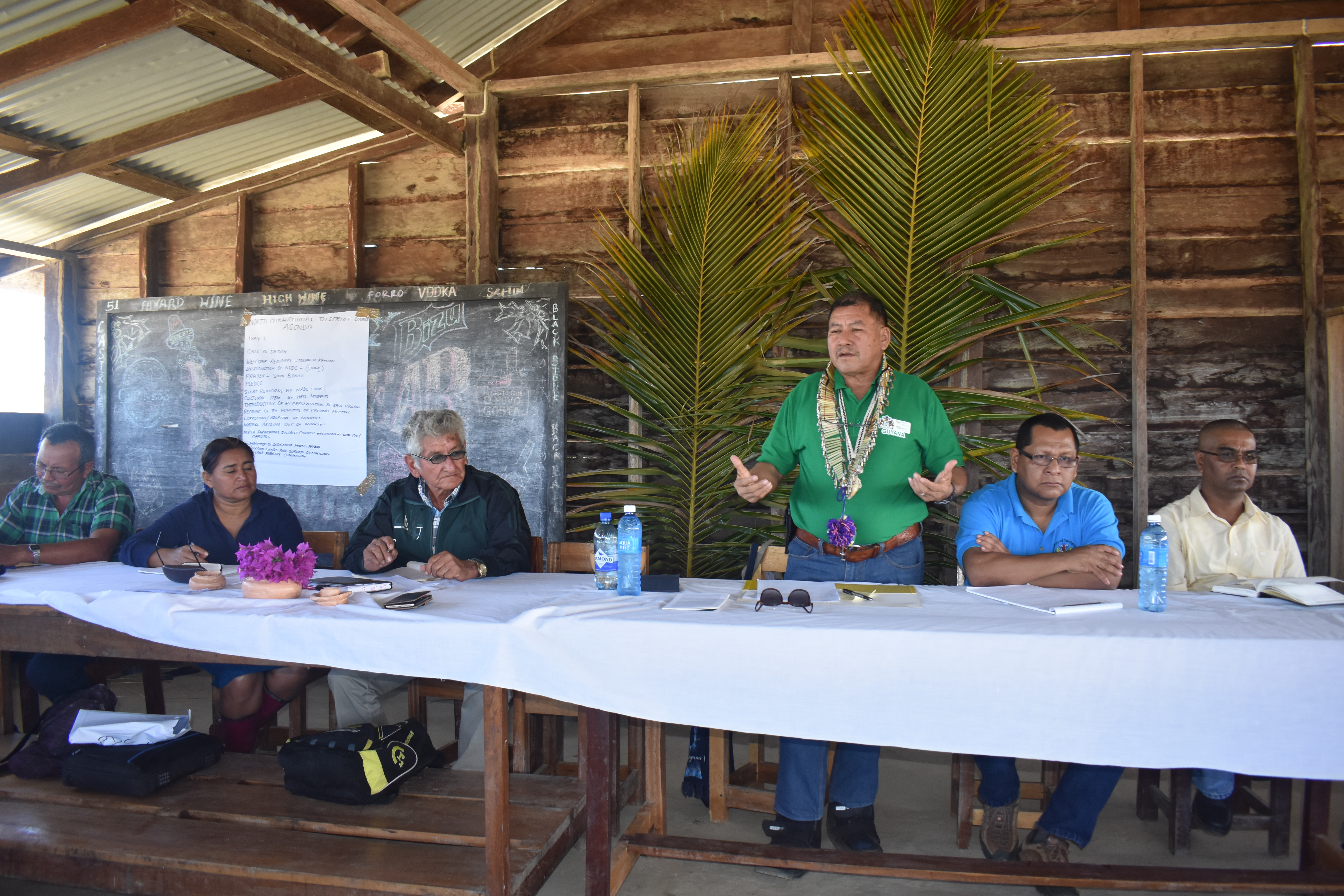 Toshao's from across the North Pakaraima Sub-Region # 1 were encouraged to formulate Village Improvement Plans V.I.P's which will ensure social, economic and other benefits are realized.
This call was made by Vice President and Minister of Indigenous Peoples' Affairs Sydney Allicock during the opening of the 5th North Pakaraima District Council Board meeting on Thursday which was hosted by Kamana Village, Region 8.
Minister Allicock said it is imperative that V.I.P's are produced so that villages can work towards building sustainable economies.
"When you look at the VIP's and the plans that you come up with, and you share that with the region, they will be able to help and we will be able to move on to CAD, and to infrastructure and to all those things. We need to lift the capacity of what we are doing we cannot stay like that all the time like we are in a stagnated boat, there are areas that we can access support and that is why the VIP is important".
He added that many of the challenges that arise in a number of villages will be addressed through the successful implementation of the V.I.P's.
The Minister also emphasized "cooperation" as a key tool to fostering development as he encouraged village councils to continue building fruitful partnerships with the Ministry, other Ministries and agencies as Guyana moves progressively towards becoming the "Green State".
A section of village leaders who gathered for the Meeting.
The V.I.P's according to the Minster will boost economic initiatives such as "community based tourism you must be able to plan it, you have other villages, extended families and I will use the North Rupununi as an example where we do not compete but support each other and there is where hard currency comes into this country, we all help".
The V.I.P is a long term sustainable plan which will be formulated by a community to guide its development in keeping with internationally-agreed goals covering poverty, education, health, environment, governance, etc. that Guyana has agreed to achieve and report upon.
Meanwhile, Regional Executive Officer Acting Gavin Gounga who was a member of the visiting team addressed several concerns raised ranging from health concerns, education and infrastructural developments.
He assured leaders that the region is willing to continue working with them in realizing key development.
One of the burning issues raised by leaders is the fact that local contractors are unsuccessful in their bid for projects despite they have the necessary skill to compete in this field.
In response the R.EO Acting said "the Ministry of Communities is also concerned about local contractors not getting the opportunity to win contracts in the region and we understand what is happening there because the contractors don't reside or belong to the region who win these contracts and the monies are not spent in the region so we are working closely, and Minister Bulkan wanted to meet with those contractors from the region to find a way forward".
He noted that what is critical is the need to establish "a human resource inventory we have to find all our skilled people in or village …so anything that is coming to your community we know what is on register so we don't have to bring people from outside your village or community to get the work done".
Minister Allicock led a five member team which included the R.E.O Acting, Special Assistant David James, Personal Assistant Errol Ross and Communications Officer Alethea Grant-Charles to the region to listen to and address concerns that are affecting the respective villages and coming up with solutions that will effectively address them.