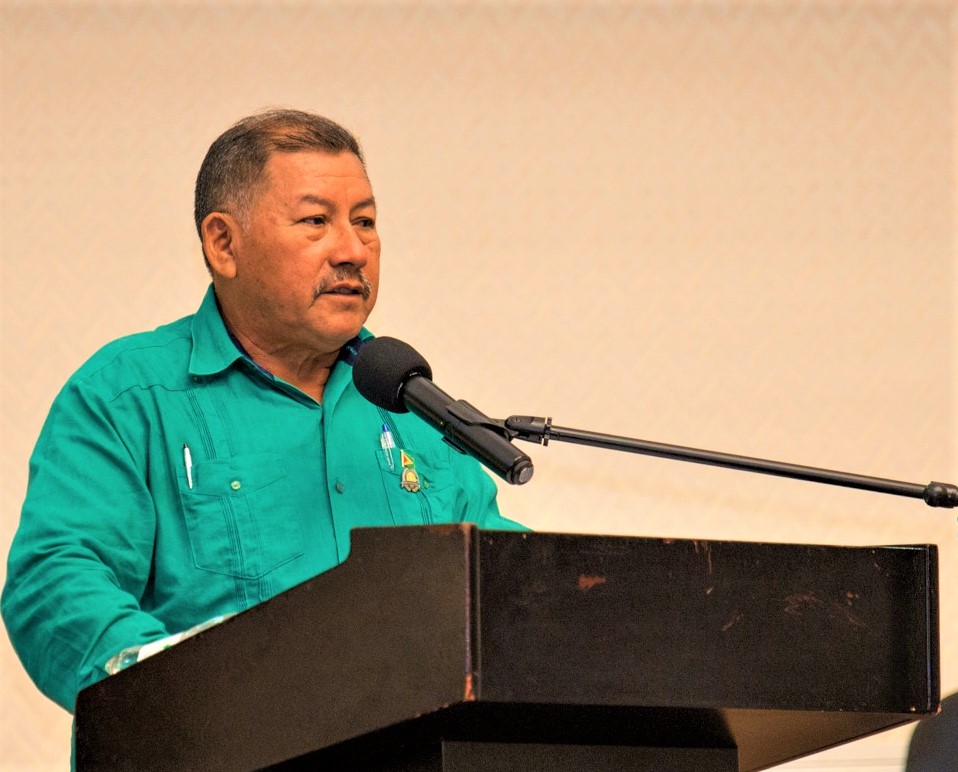 Statement from V.P Sydney Allicock on COVID 19.
Hon. Sydney Allicock, MS, MP.
Vice President & Minister of Indigenous Peoples' Affairs
The corona virus has become a feared worldwide phenomenon, Guyana has four confirmed cases with on-going screening being continued under the umbrella of the Ministry of Public Health.
The corona viruses are a large family of viruses that cause illness ranging from the common cold to more severe diseases such as respiratory syndromes according the WHO. The COVID-19 or Coronavirus disease as it is known, is a new strain of the virus discovered in 2019 which was not previously identified in humans.
Now it is very easy to plunge into panic and fear because of the rapid growth of this virus and the harmful effects it has associated with it.
But we must prepare ourselves to the best of our abilities – we can do this by taking precautions to remain in good health, equipping ourselves with accurate knowledge on the virus and by considering and caring for each other, especially those who are most vulnerable.
In taking the necessary precautions, standard recommendations include regular hand washing, covering mouth and nose when coughing and sneezing, thoroughly cooking meat and eggs.
Avoid close contact with anyone showing symptoms of respiratory illness such as coughing and sneezing.
We must also supplement this with ensuring our bodies are stronger, use vitamin C, in every form available, fruits and vegetables as well as supplements.
In the meantime, the ministry has taken proactive steps to safeguard employees' and the visiting public's health but adhering to the protocol enforced by the Department of Public Service on the direction of His Excellency, President David Granger, by rotating staff and by enforcing the preventative measures as mentioned earlier and stipulated by the Ministry of Public Health.
We each have a personal duty to safeguard our health and that of others by ensuring we take proactive steps to avoid getting ill and if we do, we must isolate ourselves and ensure we do not put others at risk.
I wish to especially use this opportunity to call on the National Toshaos' Council in their representation of their villages and communities, all CDOs and Welfare Officers to join in supporting Regional and National efforts as we face this disease together.
I urge all persons, including persons living in the Hinterland to be cautious, no one is above getting ill, and as such we MUST be cautious, if not for ourselves for those persons we interact with, who may be at risk.
Ensure you vet your information, use safe reliable websites and contact medical personnel through the Ministry of Public Health.
On that note, common signs of infection include respiratory symptoms, fever, cough, shortness of breath and breathing difficulties. In more severe cases, infection can cause pneumonia, severe acute respiratory syndrome, kidney failure and even death.
If you experience any of these symptoms, call the hotline number at 227-4986 (Ext 215) or 624-3067, also reach out to your Regional Health Authorities and seek help when you need it.
Finally, it would be remiss of me not to recognize and thank our modern-day heroes, our doctors, nurses and all persons in the medical profession, including the Minister of Health and her team on the frontline fighting this virus and caring for our ill and working tirelessly to strategize in the best possible way forward for our nation
I pray that this too shall soon pass and I wish you and your families good health, it is truly our greatest wealth.
Thank you all very much.