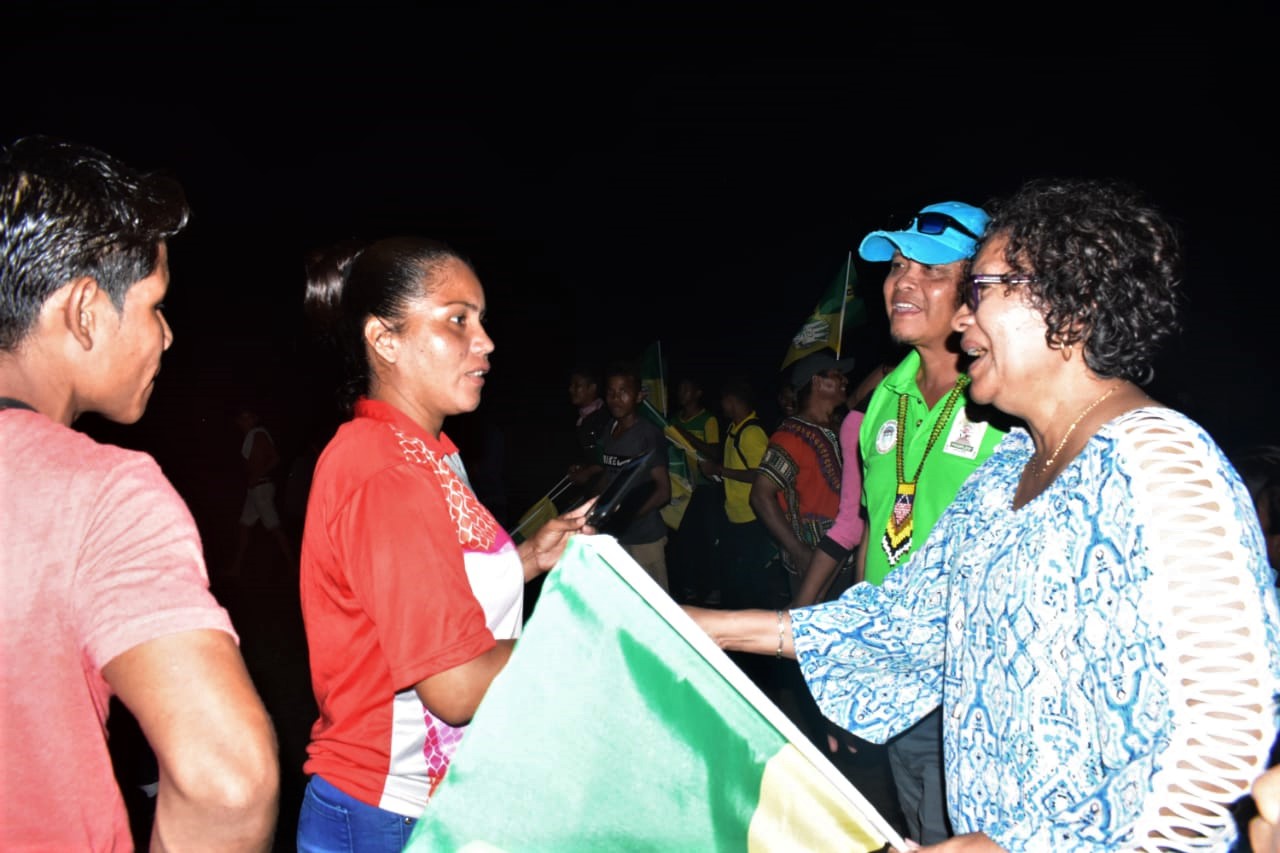 Minister within the Ministry of Indigenous Peoples Affairs Valerie Garrido-Lowe has assured residents, particularly farmers in Kwebanna Village, Moruca sub-district, Barima/Waini, Region 1, that the Government which is led by President David Granger will continue to invest heavily in Agriculture production.
Kwebanna which is known for its Agriculture exploits, will soon be operating a Cassava Flour Processing Facility with the aim of supplying local, regional and international markets.
Some thirty farmers are currently cultivating thirty acres of cassava to supply the factory.
Minster Garrido-Lowe told residents "the farmers in this world are the most important people because they give us the subsistence, they (farmers) are the richest people in the world and that is what the people of Kwebanna is going to be. We intend to make money out of our farming now, not five dollars here and there, we are putting those days behind us".
Kwebanna recently hosted a mini cassava festival which saw the Farmers Group along with the Hand-in-Hand Women's Group with support from Catering facilitator in the Ministry Margret Cornette produced appetizing indigenous foods from the cassava and according to Minister Garrido-Lowe it "exceeded expectations".
She said "all this delicious tasting food is just an introduction to show the people how we can use the cassava flour and who better to show them than you, you will produce the flour and you will show them how to use it, and we are going to have a national cassava festival when that building (cassava factory) opens. So let us be big, and your government will respect that and continue to invest in you."
Minister Garrido-Lowe warned "do not let anybody stop progress, they had twenty three years to give you anything they wanted to give you, twenty three years to give you roads, internet, cassava factory and they did not, so when they coming now and say we will give you roads, we will give you this, we will give you that or this was our idea do not believe them. We are here for only four years and we did it."
Minister Garrido-Lowe assured that free education, improved infrastructure, communication, health, impowering women, children and youth will be realized, which will be another promise of a "Good Life" delivered by President David Granger.
Kwebanna which has a growing population, is on the cusp of realizing real development, and according to the Minister, much more will be realized from Guyana's oil revenues.
She challenged villagers to capitalize on the many opportunities which will become available and use them for economic and social empowerment.
Meanwhile, the Minister also took the opportunity to share in the spirit of the festive season by putting smiles on the faces of scores of children who attended the days' activity when she presented them with gifts.
They were overjoyed and thanked the Minister for her kind gesture. She also wished the families present a Joyous Christmas and a Prosperous New Year.