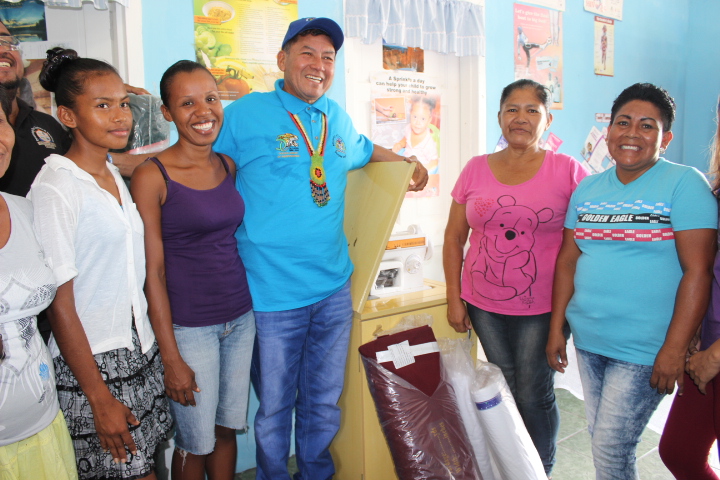 Economic advancement remains the focus for the women living in the small but cohesive village of Moblissa located on the Linden/Soesdyke Highway, Region Ten.
This was further emphasized when Vice President and Minister of Indigenous Peoples Affairs the Honorable Sydney Allicock and team visited the community and made a timely donation of sewing equipment including a singer sewing machine and fabric to the women folk.
An ecstatic Carmelita Rutherford described the donation as enormous since the women there will now be better able to put their sewing skill into practice thus putting money in their pockets.
Rutherford explained that every effort will be made to ensure the sewing group becomes an economically viable establishment since taking into consideration the groups ability to overcome a number of challenges.
She explained that a bale of cloth which was donated a few years ago had brought with it the hope of expanding since out of that bail of cloth the women were able to produce and market table cloth, hand towels and pillow cases among other handiwork.
However, she explained that when they were out of sewing material they were almost back to where they began.
An adamant yet unfazed Rutherford reminded that fortitude overcomes all challenges including the fact that they have to take on dual roles owing to the absence of the men folk from the village since they have to seek employment opportunities elsewhere.
She said "the contribution that we receive is a big help because in Moblissa we don't really have people with jobs so if we can sew school shirts for the children give them at a lower price than Linden it will be a real relief to the parents."
Rutherford further explained that plans are also in train to assist the elderly, since "some of them are blind they can't move around so we talked among ourselves in the group that once we get these things sell we can like give them a hamper for the Holidays to just make their holidays a little more nice."
Coleen Williams another group member believes the donation will result in progress since according to her "we get we own material, we own machine, we own thread so we don't have to go out to Linden and buy these things so we will try and make uniform for our children and so on."
Annie Dey a seamstress for some time now believes working together will yield positive results for the group and by extension the village economy.
"We will go there and search market and see if we get our produce sell and we will continue investing and investing," Dey assured.
Vice President and Minister of Indigenous Peoples Affairs Sydney Allicock made good on a promise to the thriving Women's Group there after the women highlighted  a number of challenges they face in acquiring materials and other much needed equipment.
The Minister commended members of the group who assembled at the Moblissa Health Center to receive the items, which according to the passion demonstrated was very encouraging to his Ministry.
The Minister also reminded that the current Government is working assiduously to ensure there is economic development within communities including enabling the women folk.
"We have a desire for economic drive within communities and also the importance of women in development, women in leadership roles we have decided to start to give support to you the women here in this community. I'm happy to say that we have been able to meet some of the request you have made, we have been able to provide more than eighty percent of that request for the women's group, we have a sewing machine for you, cloth, thread, needles, scissors among others," the Minister said.
"I would like to hand this over to you as a beginning to your greater dreams and I am happy that you can come here which means that you are really serious and that's what we are looking for, we are looking for the opportunity that you can be able to allow yourselves to become highly professional in what you do and since you have shown the interest, the Ministry and the Government would support," was the assurance given by the Indigenous Affairs Minister.
Stressing the need to ensure there is accountability; Minister Allicock said "it is the delivery of service to your community to your people and the upliftment of your skills individually. This is not only for this community but for all of the communities across Guyana."
Moblissa is located approximately and approximately ten minutes away from the Mining Town of Linden, then through a trail that leads for about twenty five minutes to the community of about two hundred residents.