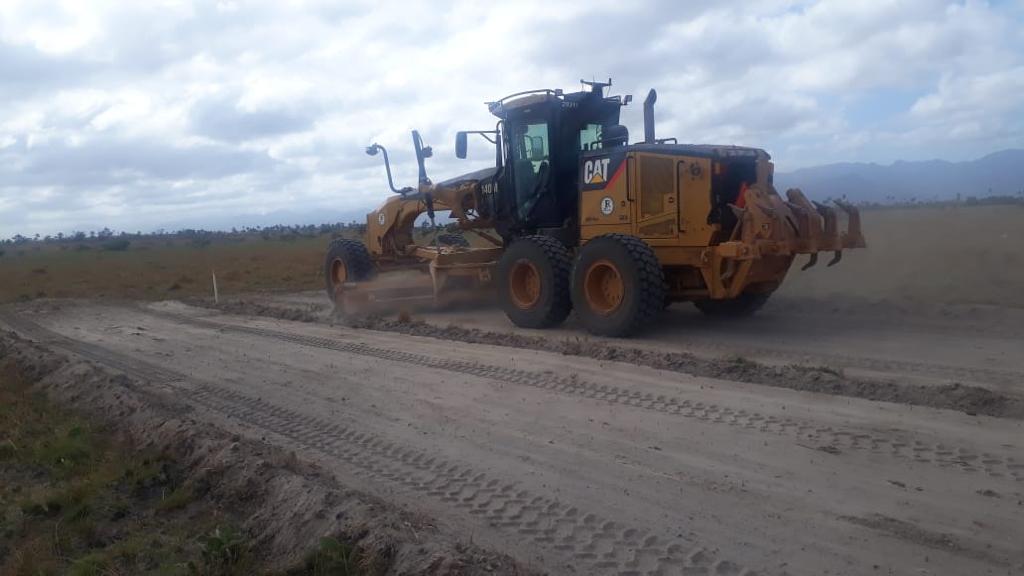 Close to four thousand residents of the Rupununi, (Upper Takutu-Upper Essequibo) Region 9 will soon benefit from improved road connectivity with the commencement of phase one of the alignment of new roads through Nappi and its satellites and Yupukari and its satellites.
The alignment which commenced almost a week ago sees road improvements stretching from Toka Village in the North Rupununi into Kwaimatta, Yupukari, Quatata, Kaicumbay, Fly Hill, through Parishara, Nappi, Hiawa and into central Lethem.
This covers approximately seventy miles of what will be an all-weather road, the first of its kind, since what existed in the past were trails through the respective villages.
Sections of the road alignment. 
J.R Ranch Construction and B&R Construction are the contractors' executing the project.
Minister of Indigenous Peoples' Affairs, Sydney Allicock led a team to the Region in late January and residents were vocal in expressing gratitude to the Government for its commitment to indigenous development.
During the consultation, villagers pointed out that this is a dream come through after only hearing about such improvement for years.
They said it will ensure improved access to education, health and other services, boost economic activities and other planned initiatives.  Village leaders form Nappi, Kwaimatta and Yupukari and other concerned residents say they are eagerly anticipating the commencement of works there.
During the meeting Minister Allicock pointed out that Government has recognized the importance of having proper roads in communities which will improve access to markets, health care, education and other opportunities, as well as ensure services and supplies to the now-accessible villages.
"The opening up of roads is needed everywhere, we need better roads so that your vehicles could last longer so that you will be able to access markets. so, the road will run from Lethem through Hiawa and Nappi and your airstrip can also be developed….and it will be more easily accessible and then you will see more activities in your villages, more jobs and more demand for more products", the minister said.
Toshao of Yupukuri, Russian Dorrick, said "for instances, there are a lot of children in this area attending Secondary School at St. Ignatius and parents find it difficult to visit the school because it takes a long time to get there. At the moment, some parents who can afford to purchase a motorcycle will go often, but there are those parents who find it hard to get there regularly."
Guy Fredericks Toshao of Nappi Village in echoing similar sentiments during the consultation said "right now, we have to travel for miles to get to Lethem, which is very arduous and costly, so with the construction of the road linking North to Central and Lethem, it is going to be a great benefit and we are in full support, let progress continue and let the work begin."
"This is what we have been waiting for, for a very long time and we are really happy that it is going to happen," Kevin Edwards, Toshao of Kwaimatta said.
Janet Francis who is the Community Health Worker in Yupukari Village says she is anticipating the construction of the road since it will allow patients to travel faster and in comfort while en route for medical attention to Lethem.
Lorna Andrew who is a farmer (Yupukari Village) said when the road is completed she will be able to market her produce and the proceeds of which will see her getting into large scale farming in the near future.
Government continues to address the needs of residents in the fifty seven villages stretched across the plains of the Rupununi and the road improvement project is among several planned initiatives for the region.
Improved road network fits perfectly into planned initiatives for the Ministry's (through the Government) Hinterland Green Enterprise Development Center at Bina Hill, which seeks to build the capacity of youth from across the Rupununi (and further afield) and to stimulate green economic growth through management, sustainability and leadership.
Guyana Geology and Mines Commission is funding the road network project with a budget of approximately $200M dollars.